PM Narendra Modi unfurled the national flag and vowed to build a "New India" minus corruption and terrorism by 2022.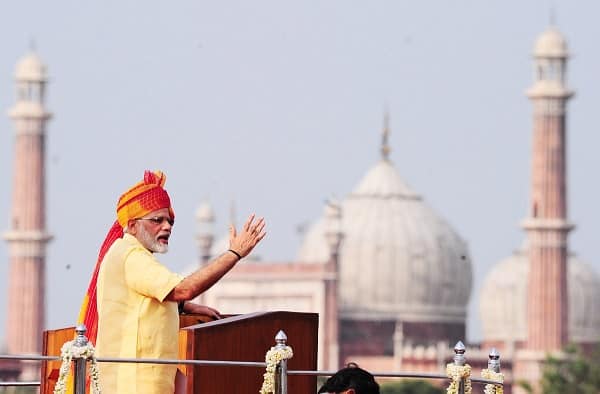 India celebrated its 71st Independence Day, with Prime Minister Narendra Modi declaring that "goli" (bullet) and "gaali" (abuse) cannot resolve the Kashmir problem.
Millions poured out of their homes to take part in events big and small all across the country. A shutdown called by separatists affected life in the Kashmir Valley and in some parts of the northeast.
The highlight of the day was Modi's fourth speech from the 17th century Red Fort where he unfurled the national flag and vowed to build a "New India" minus corruption and terrorism by 2022.
न्यू इंडिया का संकल्प लेकर आगे बढ़ें, देश के लिए करें, पहले से अच्छा और पहले से ज्यादा करें। 2022 तक एक भव्य और दिव्य भारत का निर्माण करें! pic.twitter.com/lVDZ2Cu9pl

— Narendra Modi (@narendramodi) August 15, 2017
"Security of the country is our priority. Internal security is our priority. Whether it is our oceans or borders, cyber world or space, for all kinds of security India is capable of defeating all such inimical forces," Modi said amid a dragging border row with China.
He said "bullets" and "abuses" cannot solve Jammu and Kashmir's problem but love can, urging people to embrace Kashmiris and asking the militants to take to the mainstream.
Beyond India, the day was also celebrated by Indians living abroad. Even the Indian cricket team got into the act at its hotel in Colombo.
Amid clear weather, thousands thronged the Red Fort to listen to Modi. Similar scenes were seen in almost all major venue across the country.
PM @narendramodi inspecting the Guard of Honour at Red Fort, on the occasion of 71st Independence Day, in Delhi on August 15, 2017. pic.twitter.com/Zw3jqkYU6q

— PIB India (@PIB_India) August 15, 2017
From tricolour marks on cheeks to flag designs printed on T-shirts, from tricolour caps to suits, the Indian flag could be seen everywhere.
Despite persistent tensions, border guards of India and Pakistan exchanged sweets along the International Border in Punjab.
RSS chief Mohan Bhagwat's unfurling the Indian tricolour at a government-aided school in Kerala's capital Thiruvananthapuram even after being told by authorities that political personalities are not allowed to do so triggered a row.
Days after over 60 children died in a Gorakhpur hospital, Uttar Pradesh Chief Minister Yogi Adityanath termed the tragedy an "eye-opener" and sought to blame it on encephalitis.
Independence Day celebrations were also reported from Hyderabad, Shimla, Thiruvananthapuram, Dehradun, Chandigarh, Gurugram, Gurdaspur, Aizwal and other state capitals and major cities.
– IANS