Reading Time:
4
minutes
Yoga Festivals are a harmonious celebration of uniting renewal, strength and community while preserving its heritage. It is an unparalleled experience where people immerse themselves in meditative exercise and spirituality to connect with their surroundings with the aim to gain inner peace.
These festivals offer an opportunity to learn various forms of yoga from instructors, spiritual leaders and wellness experts from across the world no matter what the experience level or interest
Here are six yoga festivals from around the globe that can help you find tranquillity and explore the art of yoga. Whether you are starting yoga or years into your practice there is a festival that will vibe with you.
Norwich Yoga Festival, Whitlingham Lake, Norwich, England, August 5, 2023
A city which is enveloped by a fusion of modern and traditional influences, Norwich, England is centred around celebrating wellness. Focusing on giving attendees a distinctive experience, the Norwich Yoga Festival aims to bring together a huge range of activities. The yoga festival offers a wide selection of events from exercising your body to nourishing your mind, including Pilates, Earth Elemental Yoga, Rocket Yoga, Breathwork and Norfolk Yoga Therapy. Additionally, you can explore Norwich with the Hop-on, Hop-off Sightseeing Bus Tour to learn about the city's highlights, as the city has something to offer for everyone.
Inspire Yoga Festival, Verbier, Switzerland, August 25-27, 2023
If practising yoga amidst the Swiss Alps is your dream, then the Inspire Yoga festival might be just the place to be. Experience a weekend of yoga and self-discovery immersed in nature at the beautiful mountain location of Verbier in Switzerland. The festival offers participants of all levels the opportunity to rejuvenate by exploring classes, workshops, holistic therapies, meeting new people and sharing experiences while being immersed in the beauty of the Swiss Alps. The festival is like a pilgrimage in the mountains, featuring activities such as Nidra Yoga, Movement Medicine, Sound Healing and others for relaxation. Rejuvenate, relax and feel inspired.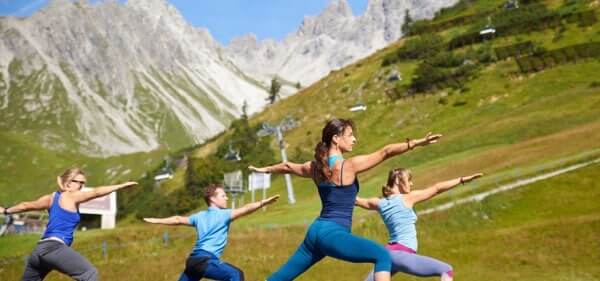 Mountain Yoga Festival, St. Anton, Austria, August 31 – September 3, 2023
Surrounded by the beautiful Alps, the Mountain Yoga festival is held at St. Anton am Arlberg, Austria often known as the "cradle of alpine skiing". This festival is a union of yoga enthusiasts and nature lovers from all over the world. Held over 4 days, the festival is designed to find the right balance for everyday life with selected hikes in the Alberg region, mountain yoga, meditation and workshops. Participants can practise yoga, dance, laugh, learn, hike, sit still and connect with each other during their time here. Soak in the mountain sun, breathe in the fresh air from the mountains and enjoy your time off in the Alpine environment.
Kirtan Bhakti Festival, Barcelona, Spain, September 16-17, 2023
Within the hustle and bustle of the city, one can also experience peace at the Kirtan Bhakti Festival held in Barcelona in September this year. With music, dance and training sessions, the festival combines yoga with kirtan and endeavours to spread the Vaishnava legacy of Kirtan, Bhakti and Bhava. You can also explore Barcelona with the Full-day Tour of Barcelona's Iconic Landmarks, and learn more about the historic capital of Catalonia which is full of artwork, museums, attractions and vibrant restaurants. A captivating seaside with boundless culture, renowned architecture and history, Barcelona is a great place to attend the yoga festival and spend some quality time exploring the city.
Lamu Yoga Festival, Lamu, Kenya, October 25-29, 2023
From sunrise yoga sessions on pristine beaches to moonlit meditations beneath the stars, Lamu Yoga Festival is a celebration of yoga, culture and tranquillity and takes place in the coastal region of Kenya. Discover the allure of Lamu Old Town, a UNESCO World Heritage Site, with its charming architecture and captivating history. With no cars in sight and away from the chaos, the festival creates a true escape from everyday hustle and bustle. While in Kenya, experience the local culture and traditions through an awe-inspiring opening ceremony on the beach, a traditional Kenyan dinner, a scenic sailing trip, and a mesmerising bonfire to close your journey.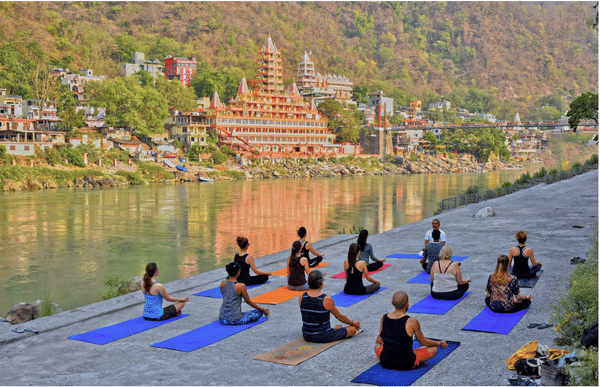 International Yoga Festival, Banks of Ganges, Rishikesh, India, March 2024
A week-long celebration of yoga and meditation, the International Festival attracts thousands of people from around the world to the birthplace of yoga. Nestled amongst the Himalayas, on the banks of the holy Ganga the international Yoga festival takes place annually in Rishikesh, fondly known as the yoga capital of the world. This celebration, with over 70 hours of yoga classes helps participants connect with themselves and their spiritual practice. Additionally, explore the Parmarth Niketan Ashram, the largest ashram in Rishikesh, which welcomes hundreds of thousands of festival attendees from India as well as abroad.
Read More: Bringing yoga to students in WA's Ngaanyatjarra Lands