Reading Time:
3
minutes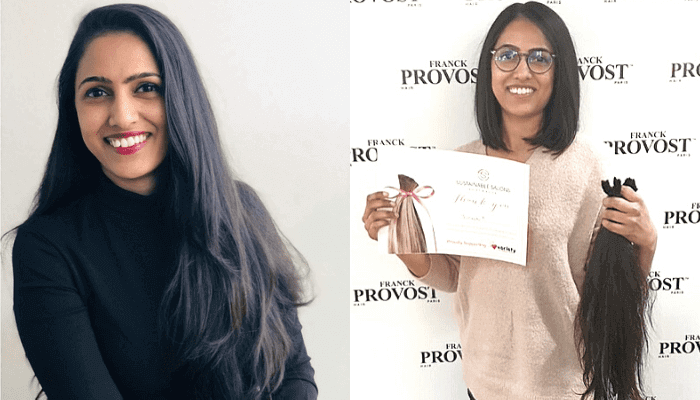 Coming from an Indian background, your crowning glory is your pride and exudes a different kind of confidence. But what used to be a powerful symbol of womanhood, is now slowly changing. Women are opting for not only shorter hair, but also shaved heads, and owning it boldly.
When I learnt that hair can be donated, it got me excited and I couldn't wait till it grew longer. I still had some doubts and questions about the process.
Where does my hair go once it is cut? Who gets the wigs? Who makes the wigs? Where do they make them? How many people does it help? Which NGO/organisation/salon is best? Before I
made that final cut, I found the answers.
Back in India, salons in most metro cities are associated with NGOs and organisations that fashion them into wigs. I read about all the requirements, started taking better care of my hair,
and as soon as I reached a required length, I took an overnight journey to a different city and placed an appointment with a salon that was famous for hair donations. Later, I received a
certificate from the NGO stating that my hair had been donated. It was a wholesome experience and the best way to celebrate my 30th!
READ ALSO: A brave shave
It's not only women who can donate their mane, even hipsters with man-buns can donate their 12-inch tresses. In southern India, the practice of sacrificial offering of chopped hair is
symbolic of killing your ego and doing away with vanity. But helping someone who is battling a disease is kinder and empowering.
When I moved to Sydney, it was the upcoming bushfire season that prompted me to say goodbye to my long locks of two years. I did remember though, what an amazing experience hair donation was. Just googling 'hair donation Sydney' popped up many options. However, most of the alternatives offered an address where you could send your chopped braids. I was a bit reluctant and sceptical doing it on my own, so I looked for salons that helped with the haircut and the donation part. I was overjoyed when I came across Sustainable Salons – a resource recovery program for salons across the world! The website has a salon locator and you can place an appointment with a sustainable salon near you. You will receive a certificate for the donation you make. With my father's recent detection of cancer, back in India, and his hair loss due to chemotherapy, this was akin to my contribution to his well-being and recovery, from here in Sydney.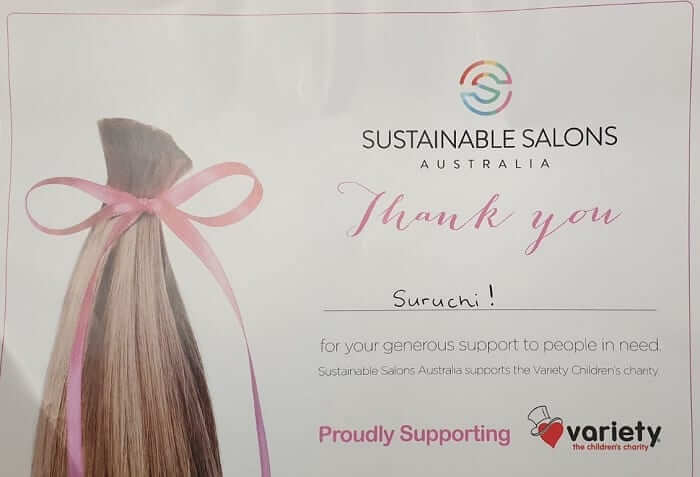 My hair is now on its way to a non-profit – Variety Children's Charity – working for children with hair loss due to long term medical conditions. The charity works with a wigmaker to provide custom-made, suction wigs that can be worn during everyday activities including swimming and other sports, with the hope of building confidence and self-esteem.
Hair loss is one of the most visible signs of chemotherapy treatment and can not only be emotionally tough but also painful as the hair sheds from the scalp.
Kids suffering from medical conditions generally opt to purchase wigs that are not only expensive but also last for around three years only. Hence, charities are always looking for
donations of human hair to make wigs. On average, it takes 10 to 20 ponytails and many months to make a human hair wig. Wigs can help some very sick children ease back into society after their recovery.
Australia's Leukaemia Foundation also hosts the annual campaign World's Greatest Shave nationwide, a fundraising event where people shave, cut or colour their hair to
raise awareness and vital funds for the campaign.
So this World Charity Day, think about chopping your locks and gaining some gratitude!
READ ALSO: Hair for care: Indians raise funds to fight cancer