Garima Sisodiya, a banking professional, works in the CBD. A year ago, she constructed her home in Tarneit, a suburb of some 35,000 residents, 20,000 of who are believed to be her compatriots from India.
Every morning Sisodiya drives out to Tarneit station – the nearest bus stop is about 2.8 km away from her home. Most days, she finds the parking all taken at the second busiest train station in the city; she is forced to drive back home and call for a cab. Sometimes she leaves her car wherever she can find room, such as on the paddocks, only to find a $95 parking fine waiting for her upon her return.
Sisodiya is not alone. Thousands of Tarneit residents face a similar situation every single day. Appeals to the authorities for better infrastructure and better planning have gone unheeded, and one of the fastest growing suburban communities in Melbourne finds itself at crisis point.
A large group of residents staged a protest at the stairs of parliament on 20 June, organised by a social group called 'My Tarneit'.
The protest identified the significant shortage of over 2,000 car parks, inadequate bus services and poorly planned routes, appalling entry and exit points, and overcrowded and congested trains with safety issues.
Arnav Sati, spokesperson of the group My Tarneit said, "This is the situation when less than half of the region is currently built. Imagine what will happen in the next 5 years, when another 15 – 20 thousand people will make Tarneit their home. Infrastructure is simply not keeping pace with the growth in population and severely affecting quality of life."
Local Council has been of no help either.
Wyndham City Council continues to blame the state government, but still makes huge revenue from parking fines totaling over $300,000 in the last three years alone. Sati said, "Residents are keen to know how the local council has used any part of the fines collected to solve the actual problem, rather than simply using it as an addition revenue stream."
The median age of the Traneit resident is 32, second youngest after Melbourne City Council, Sati observed, which means there are many young people commuting for work. Additionally, the region is home to a large chunk of international students due to the low cost of rent, who just cannot afford the taxi and are forced to travel long distances on foot.
While there was absolutely no representation at the protest from the Labor Party, the Minister for Public Transport Jacinta Allan came in for much criticism: she "continues to neglect the plight of the residents and provide relief," it was claimed.
Safe-seat representatives were seen as doing precious little for their electorates – as evidenced by the placards "Safe seat voters also matter."
Sati observed that the sitting MP does not even live in the area, preferring the CBD instead; and neither does the Labor candidate for the upcoming elections, Sarah Connolly, who has only just moved in from interstate.
"Connolly said if the residents have any issue they should come and talk to me," Sati related. "In a way she said no to attending the protest and hearing our concerns."
Bernie Finn, Rachel Carling-Jenkins and Huong Truong were among the politicians from Western Metropolitan Region who did attend the protest. They expressed the view that the Labor Government has not yet joined the dots on the unprecedented growth that our suburbs are experiencing, that voices in the west matter, and that better planning is needed for urban growth.
"Being a safe Labor seat, this area is neglected," a communique from MyTarneit noted. "The state government continues to generate millions in revenue in land tax and GAIC (Growth Area Infrastructure Contribution) but avoids investing back, while funding major projects in marginal seats."
The Victorian Government's Public Transport Guidelines For Land Use and Development (2013) aims to provide public transport to residential localities within a radius of 300-400 metres. However in reality, there are over 50 localities identified in Tarneit where transport can't be accessed within 700 meters of walk.
Many of the residents believe that if the transport service was in order, with adequate frequency of buses, they would leave their cars behind in their daily commute to work.
A voice for the people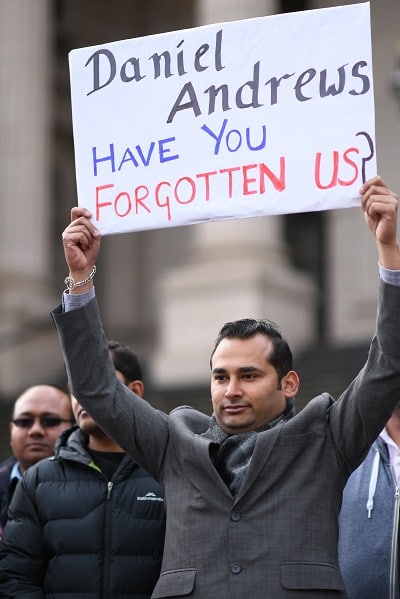 Arnav Sati, a 35-year-old business analyst, finds himself thrust in the spotlight as the call for better infrastructure is now being heard. The issue came up on ABC TV's Q and A program not so long as a young Tarneit woman asked a compelling question in front of a national audience. And since then, Arnav has been out speaking at a Special Meeting of Wyndham Council, to local newspapers, ABC Radio and other media outlets. Each time, his sincerity comes through as he looks to get his community the attention it deserves.
Clearly, Arnav is passionate about social issues.
He arrived in Australia in 2001 as an international student and moved to Tarneit in 2017. In January 2018 he formed the Facebook group 'My Tarneit' to provide a forum for residents to talk about issues relevant to them. It now has 1678 residents as members.
"The development in Tarneit is occurring at a slow pace," Sati mused. "Besides the transport issue, the crime rate is increasing day by day. Burglaries are common."
But he will not be silenced. He said on the platform recently: "Never be afraid to raise your voice for truth, honesty and compassion against injustice, lying and neglect."
Demands of Tarneit residents
Build multi-level park or significantly increase the capacity of the current car park
More bus routes with increased frequency to make access to public transport easier
Add additional carriages to the V/Line trains to ease over-crowding and increase commuter safety
Perform audit on commuter safety for V/Line trains put to service Tarneit Train Station
Increase pickup/drop-off spaces
Re-design entry and exit to the station
Fast-track the construction of Truganina and Tarneit West train stations
Fair share of Growth areas infrastructure contribution (GAIC) to be spent on Tarneit and its need