India's rich musical palette meets top Australian jazz talent, in a collaboration that includes revered Hindustani singer Shubha Mudgal, jazz saxophonist Sandy Evans, tabla maestro Aneesh Pradhan and his disciple Bobby Singh, and classical harmonium player Sudhir Nayak. They are accompanied by 17-piece jazz super-collective Sirens Big Band, who showcase Sydney's leading female and trans musicians.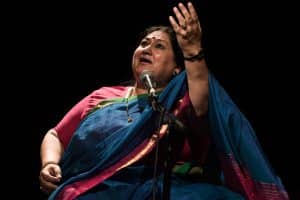 With music composed by Shubha Mudgal, Aneesh Pradhan and Sandy Evans, and recorded between Mumbai and Sydney, the Bridge of Dreams project is all about exchanging ideas between world-class collaborators working in complex, ever-evolving genres.
Bridge of Dreams, in its world premiere at the Sydney Festival, spans everything from improvisational jazz to Hindustani, classical, Bollywood and Indipop.
WHEN 12 January
WHERE City Recital Hall