Reading Time:
5
minutes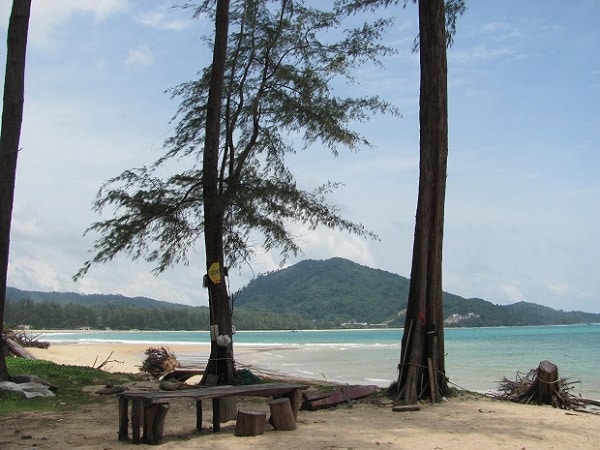 The teardrop-shaped island of Phuket has long been known for its golden-sand beaches and nightlife, and more recently the catastrophic tsunami of 2004. It is the size of Singapore, and is regarded as southern Thailand's premier beach destination. It's the wealthiest province in Thailand, offering a multitude of stunning hotels, top-notch restaurants, offshore islands to explore, and the historic Phuket Town.
"Where are you going again? Phuket, wow, I'm going there too, let's catch up!" exclaimed my daughter Nicky. The morning after my arrival, I woke to a glorious tropical sunny day with views of Naithon Beach and the Andaman Sea beyond. I inquired how far it was to the next beach, where I hoped to find Nicky. "Three kilometres, very close," was the reply. I set off up and down hills, since Phuket is renowned as picturesque, largely due to its lush hilly terrain, to Naiyang beach lined with rustic restaurants and boutique hotels. Further along, I walked along the blissfully deserted Mai Khao Beach, part of Sirinat National Park. Between water stretching out to the horizon and a backdrop of casuarinas and palms, a wide swath of powdery sand lies undisturbed, except for once a year when turtles lay their eggs here. I began the long 9km trek back to my hotel, with no sign of Nicky, or a taxi charging less than an extortionist's fare.
On seeing me return exhausted and suffering from prickly heat rash, one of the manager's promptly packed me off to the spa for a curative aloe vera treatment, while apologising for the kilometric miscalculation.
Phuket Town was my next destination, with public buses called songthaews conveniently radiating out to all beaches stretching down along the west coast. Between the beaches though, tuk tuks and taxis are the only form of transport.
Komala and Kata are quiet and pretty, while Karon is livelier. The boisterous party crowd included rowdy Australians on my flight heading for Patong, with its bars, tattoo parlours, fast food restaurants and tacky souvenir shops. While the walk between Kata and Karon was pleasant, Patong was five kilometres further north.
I must have affected a weary nonchalance, as I eventually found a tuk tuk driver willing to take me there for 100 Baht, which in any other part of Thailand would be considered a lot. Dropped off at a vast shopping centre called Jung Ceylon, I then walked along beer-soaked Bangla Road where Phuket is at its brashest and seediest with a heaving crush of bars, 'ladyboy' cabaret shows and microphones blaring out details of the kick boxing event to be staged that night, starring an international line up of rather scary looking young men. The sport is brutal with fighters pummelling each other with fists, feet, elbows and knees. Patong beach however, is perhaps Phuket's finest and to its northern end are high-ranked resorts and quality restaurants.
My excursions included elephant trekking through shallow streams and groves of rubber trees; visiting the Gibbon Rehabilitation Project, a non-profit organisation that returns captured gibbons to their natural habitat; visiting the laid-back village of Rawai, near the island's southern tip, known for its sea gypsies; and viewing artist's enclave of talented local artists.
You can also go to nearby islands by long-tail boat or ferry. It was as I was disembarking from the Phi Phi Island ferry, that I unexpectedly saw Nicky and her girlfriends. Negotiating my way past Chinese tour groups, I caught up with her as she was about to depart in the hotel's taxi. "Let's catch up at the airport," she said, and with that they were gone.
Phuket was one of the major trading routes between India and China, and an important trade centre for Indian, Malay, Arab and European traders seeking tin and rubber. The boom in tin mining at the beginning of the 19th century led to the construction of mansions and shop-houses with architectural features known as Sino-Portuguese, built by prosperous Chinese merchants from Singapore, Melaka and Penang.
Phuket Town is slowly undergoing a transformation; the shop-houses and mansions are being carefully restored with quirky boutiques, cafes and arty boutique hotels, offering an eclectic mix of funky and chic.
Along Yaowarat, Krabi, Thalang and Dibuk Roads, and Soi Romanee you'll find Chinese temples and shop houses with old wooden doors and shutters and Chinese fretwork carvings. At night, the food market becomes a lively food court with portable stalls and carts pulled up to the curb, and a sea of plastic tables and chairs that spill out onto the street. Tasty Thai and Chinese dishes include my favourite pad see ew, made of noodles, thick soy sauce and stir fried vegetables, green papaya salad, barbecued pork buns, coconut curry, seafood and for dessert, sticky rice with mango. At Kopitiam Phuket, I enjoyed soaking up the atmosphere in a restaurant filled with memorabilia, old photos and antiques.
I spent several days exploring Phuket Town before departing for the airport. With a call to board my flight and no sign of Nicky, I handed a postcard of a Koala to airline staff, asking if they could pass it on to her. As I walked along the glass corridor, I caught a glimpse of her. On my return home, a message awaited me: A postcard, thanks! Next time, we really must catch up!
Travel Notebook
Getting there: Jetstar (direct), Thai Airways International, Singapore Airlines, Malaysia Airlines and Air Asia all fly to Phuket. Watch for specials.
Getting around: While there is an airport bus to Phuket Town, departures are infrequent. I'd recommend booking a transfer with your hotel and avoid an airport taxi. Public buses radiate to the beaches from Phuket Town but for getting between the beaches, tuk tuks and taxis are your only option. Agree on the fare beforehand.
Where to stay
Travellers are spoilt for choice with a multitude of resort hotels to suit all budgets and preferences for location. My daughter loved her stay at the vast Le Meridien near Karon, set on a private beach with a resident baby elephant, expansive landscaped grounds and huge pool. I stayed at the newly opened Pullman Phuket Arcadia, overlooking low key Naithon beach and convenient to the airport. Villas are spacious, elegant and beautifully appointed in muted tones, and dining options are first rate. With a well-equipped gym, kid's club and spa, your stay will be restorative. E: H7488-RE@Accor.com /www.pullmanphuketarcadia.com. In Phuket Town, there are many small boutique hotels. I liked The Memory at On On Hotel, dating back to 1929 and Phuket's first hotel, now fully restored E: askme@thememoryhotel.com/www.thememoryhotel.com Even if you don't stay here, at least spend a few hours strolling by the picturesque streets.
Dining
Kopitiam Phuket, 18 Thalang Road for great food in a restored shop house.
Insider's tip
The Phuket Tourist Map and Phuket Town Treasure Map are useful. The Tourism Authority of Thailand at Level 20, 56 Pitt Street, Sydney.
T: (02) 9247-7549 has a plentiful supply of brochures and maps.