From the Beatles to the harbour, resounding nightlife and architectural wonders, the city has many exciting avatars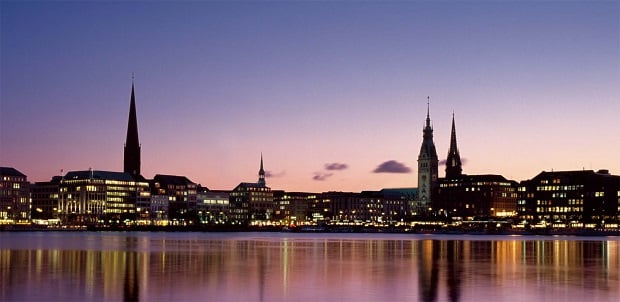 Hamburg is like a pilgrimage site to many rock music fans, because it was from here that a bunch of young singers from Liverpool in England shot into fame in the sixties, creating an unforgettable name for themselves in the music-world as the 'Beatles'.
According to records, in August 1960, a completely unknown band comprising of John Lennon, Paul McCartney, George Harrison, Pete Best and Stuart Sutcliffe arrived at this second largest city of Germany to play at the Indra Club in the Reeperbahn district, famous for its pulsating nightlife. Being good, it didn't take them much time to impress the local audience with their rock 'n' roll gigs. Soon they began performing at other clubs in the area, and their rising popularity gave them their first recording break. The rest, as we all know, is glory-filled history.
Hamburg acquired a special place in the heart of Beatles and naturally amongst their worldwide fans. "We were born in Liverpool, but grew up in Hamburg," John Lennon once remarked with emotion. Later they went back to Hamburg for concerts which were sold out as soon as the ads came out. Many who didn't ever go to Reeperbahn clubs for a beer or two, were happy to pay any price for a ticket to their recitals.
The relationship between Hamburg and Beatles over the years has grown to become a major attraction of the city, even if you are not that high on rocky rhymes. Commemorating their stint at Reeperbahn, a Beatles Memorial featuring stainless steel sculptures draws huge crowds, some of whom, driven by nostalgia, start singing their favourite Beatle's songs. Local tour companies offer Beatles Tours that take you to the nightclubs where they performed, show you the places where they lived and tell you many stories of their hard life in the city. Till recently there was also Beatles Museum in the area housing numerous star memorabilia, unfortunately its doors closed due to lack of interest.
Most visitors add the Beatles odyssey to their itinerary during their visit to Reeperbahn; a visit to Hamburg isn't complete without browsing this domain. It's the city's most famous and exciting thoroughfare that comes to life only after sundown when Hamburgers, joined by thousands of visitors, storm into this quarter to party. You will find here many great bars, restaurants, theatres, and nightclubs, the eclectic mix of which makes the quarter interesting. Even just walking along the main street and sideways is fun-filled. The neon-lit signs of the establishments, the loud music from the bars, the aroma of grilling sausages from wayside stalls and the cheering and jeering of the crowd creates a magical atmosphere. But be aware that there is one particular street in the area where women visitors are not welcome. If someone goes there by mistake, she is likely to be rewarded with a bucket of water!
Hamburg's dynamism and vibrant character stem from its long-standing maritime history. Arriving here, the first thing that catches the eye is water everywhere – the Elbe River, the Alster lakes and canals criss-crossing the cityscape make water the city's lifeline.
Water makes Hamburg special, and for that reason harbour cruising becomes priority for first-time visitors to understand the metropolis from where it grew to become a modern urban settlement, occupied presently by a cosmopolitan population of 1.8 million. While water-faring, you can view historic vessels and giant container ships, maritime memorials, romantic piers and a stunning architectural silhouette of old and new, dominated by the tall spires of Hamburg's several churches.
Like its European counterparts Rotterdam and Antwerp, trade through this port for the last 800 years has made the city wealthy enough to become one of the richest metropolitan areas of European Union. The docks have also witnessed large movements of people. After the two World Wars, millions of Europeans voyaged to the newer world from here, giving the city its other name, 'The Getaway to the World'.
The attractions of Hamburg to an outsider, go much beyond its water boundaries. The cityscape is powdered with architectural wonders, many of which have been rebuilt after allied force bombing during World War II reduced the city to almost rubble. The city lives around its medieval Rathaus, one of Europe's most opulent edifices. This neo-renaissance structure dominates a paved square bustling with shops, eateries and people, both locals and tourists, proclaiming that this is where the heart of the city beats.
There are historic churches nearby, the most significant being the St Nikolai Church, famous for its towering steeple, once recognized as the tallest in the world. The edifice burnt down to its wall during the war in 1943, and its remnants today serve as a memorial for the victims of war. A newly installed lift takes visitors' to a platform 250 feet above the ground from where the outside vista is breathtaking, while a collection of historic photographs of wrecked Hamburg after the war provides an idea about the scale of transformation. However Hamburg's signature building is the baroque-styled St Michael Church. According to guidebooks, a visit here is almost mandatory. The large white and golden interior is more impressive than its imposing exterior.
A good place to chance a bit of raw encounter with Hamburg culture and the opportunities to rub shoulders with locals is at the Fish Market, which opens only on Sundays mornings at the crack of dawn. Planning a visit there will also give you a good excuse to party all Saturday night. In fact, its routine for many local night-owls to stay up at Reeperbahn the whole of Saturday night, and finish the night or start the day with a hot German breakfast at this high energy marketplace which has been operating since 1703.  The stars here are the market criers who hawk their wares at full volume while competing with live entertainers, their old German pop songs bursting out from high volume loud speakers.
India and Hamburg have a very special relationship. Every three to four years the city hosts India Week, during which a multitude of cultural programs showcase India to the Hamburg citizens. They love it; they learn more about India, taste hot curries, watch Hindi and regional movies, dance to the lively tunes of Bollywood music and keep enquiring when the event will be held again.
TRAVEL NOTEBOOK
Getting there: Singapore Airlines (www.singaporeair.com) to Frankfurt from where convenient train connections (www.raileurope.co.in) to Hamburg
Accommodation: Adina Apartment Hotel Hamburg Michel (www.adina.eu) is located close to the harbour