Reading Time:
3
minutes
No, that's not a typo! We're talking beer in your broth!
Let me state at the very outset – I am not a great fan of beer. Actually, I'm not even that fond of alcohol, in any form. I have cooked with wine in the past, and quite successfully too, but when the idea of a 'beer soup' came up, I pushed back a little. But hey, I'm up for a challenge any day! As I went about my research, I found that it is really not such an atrocious idea.
What about the bitterness of the beer, you ask? No problem, the cheese takes care of that!
With plenty of cheese, bacon, jalapenos and cream, this soup is not for the faint hearted. Or the calorie conscious! But it is perfect for the unusually cold winter we've been having in Oz this year.
Good quality cheddar can make a huge difference to the flavours of this soup. I used a mixture of vintage cheddar and flavoured cheddar (onion and chive). It is not necessary to stick to these flavours; the only important thing is to use one or two types of really good cheddar with at least one being vintage or aged cheddar for that sharp punch.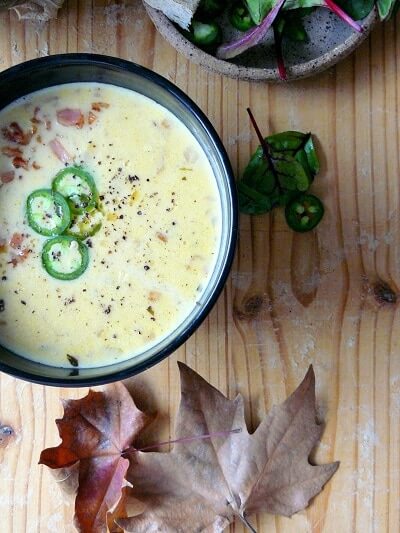 The soup turned out to be a delicious experience. All my skepticism vanished with that first spoonful. Even my 6-year-old loved it, proclaiming it to be 'the best soup ever'. (Don't worry about giving it to your children, most of the alcohol is cooked off before the dish reaches the table).
This beer and cheddar soup is just as much about texture as it is about flavour. The soft onions and celery mix wonderfully with the salty, delicious bits of browned bacon. And just when your taste buds are lulled into a safe sense of flavour, the fresh jalapenos pop up for that vibrant heat which explodes in your mouth.
You've probably figured, I can rave non-stop about this soup, so you know what… let's just get cooking!
Beer and Cheddar soup
Ingredients
150gm bacon, chopped
2 celery stalks, finely chopped
1 onion, finely chopped
1 jalapeno, finely chopped
2 garlic cloves, finely chopped
2 sprigs thyme, finely chopped
300 ml bottle pilsner (or ale if you prefer)
2 ½ cups chicken stock
4 tbsp unsalted butter
¼ cup plain flour
250 ml cream
100 gm flavoured cheddar (onion and chive), grated
150 gm vintage/aged cheddar, grated
Salt, to season
Freshly milled black pepper, to season
To serve
Garlic toasts
1 jalapeno, finely sliced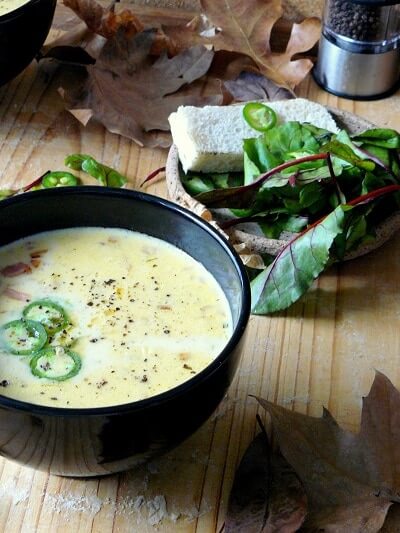 Method
In a large pot, cook the bacon pieces till browned. There is no need to add any extra oil as the fat of the bacon will render and crisp up the pieces. Remove and keep aside leaving the remaining oil in the pot.
To the same pot, add the chopped onions, celery, jalapenos and thyme. Cook till softened which should take around 8 – 10 minutes.
Once the veggies have softened, add the beer and cook till the liquid has been reduced by half; this will take you around 5-7 minutes.
Then add the chicken stock and continue to simmer on low heat.
In another pan, make the roux by melting the butter and whisking the flour into it. Whisk till the mixture has lightly browned and then add this to the stock and mix well to combine.
Continue to cook till the stock has thickened and then add the grated cheese and cream.
Cook for another 5 minutes and then add the bacon (reserve 2 tbsp for garnish); taste and season with salt and pepper.
Serve warm with garlic toasts.