Reading Time:
4
minutes
If there is one thing that Queenslander Vedant Sawant learned from his World Championships debut last month, it is the significance of mental fortitude in the face of an intense competition. When a 20,000-strong audience is watching you compete against 140 gymnasts at an elite level, the feeling of pressure can be an expected reaction.
Not for Vedant.
Rather, he used the international opportunity to measure his abilities "against gymnasts from diverse corners of the globe".
The 20-year-old Australian National Pommel Horse Champion travelled to Belgium in September to stake his claim at the 52nd Artistic Gymnastics World Championships held in Antwerp. It was a qualification event for the 2024 Olympic Games in Paris.
Vedant narrowly missed securing a spot in the finals, standing at 11th place, but the experience fuelled his determination for the next season.
The goal is clear: to secure an Olympic spot, and bring home the gold.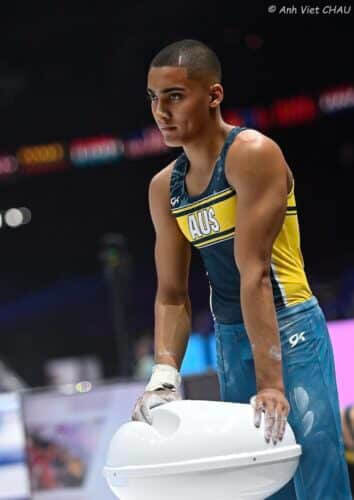 Humble beginnings
Vedant, a Maharashtrian who spent his childhood years in Gujarat's Baroda, was destined to enter the gymnastics world.
"I have vivid memories of spending time with my grandfather in the parks near our home," he reminisces. "I would swiftly climb up coconut trees, and his face would fill with astonishment and joy just watching my agility."
Sports wasn't something that ran in his family. But his folks quickly noticed his strong reflexes, and knew he was destined for more.
Vedant's athletic journey began with tennis at the tender age of 5, continuing till he turned 9. Between this, at age 6, Vedant moved to Australia with his parents.
A pivotal moment came during a day in a park when Vedant was casually doing chin-ups. "It was like a light-bulb moment for my mother," he smiles. "She found a gymnastics class and enrolled me in it."
Vedant was only 10.
Unwavering spirit
It wasn't until Vedant set a specific goal for himself – to win medals at the interclub championships in 2015 – that things started to change.
By 2018, he was actively involved in training, trying new elements and pushing himself to new limits.
"There were moments of intense dedication; I remember finding myself stretching in the middle of the night, half-asleep, fuelled by an unwavering commitment to excel in gymnastics. Gymnastics had become not just a sport for me, but the 'be all and end all.'"
The Covid-19 pandemic was a significant turning point. It bought challenges as well as new opportunities.
"I created a makeshift mushroom out of an old car tiye, showcasing my resourcefulness and determination. My gymnastics club generously provided me with an old pommel horse, and we invested in other gymnastics equipment to set up a home gym. My training continued, uninterrupted."
Defying gravity
In 2021, Vedant had three major surgeries on his foot. He took 11 months to fully recover. But it was also during this period that he broke a World Record for the most circles on a mushroom (1,057 to be exact).
View this post on Instagram
This was when Vedant and his coach Jack Coates determined that he needed to focus on pommel horse. "It was the only apparatus capable of taking me where I wanted to go," Vedant points out.
Also known as the side horse, the pommel horse routine involves a series of complex and highly coordinated movements, including swings, circles, flairs, and various forms of leg work.
Vedant Sawant became the National Pommel Horse Champion that year, the first Australian of Indian descent to do so.
Today, he sees the pommel horse everywhere, and cannot restrain himself. A sturdy cushion-seat in the library. A spherical roadside divider. A postbox. A concrete seat by the road.
It's the last thing he does before bed.
View this post on Instagram
Is there anywhere this man won't do circles, someone asks on his Instagram. Clearly not!
It was time to go international.
"I earned the privilege to represent Australia in my first World Challenge Cup in August 2022, spanning Croatia, Slovenia, France, Hungary, and Turkey. Subsequent strong performances led to my selection for the FIG Artistic World Cup Series on February 23, 2023, across Germany, Qatar, and Azerbaijan."
Following these events, Vedant Sawant bagged the chance to compete at the World Championships in Belgium last month.
"The prospect of becoming an Olympian is a dream that has been a driving force in my gymnastics journey since my childhood days," he says, adding, "The idea of representing myself, my country and my heritage, especially being the first Indian-Australian to do this, holds profound significance for me."
READ ALSO: Melb gymnast Ashari Gill on her 2022 Commonwealth Games win