Defending champs show they've still got what it takes
Riding on the brilliance of opener Shikhar Dhawan's dazzling 137, and backed by the full-throated support of a packed MCG – which was bathing in the colour blue and saw the tri-colour being waved all over – Mahendra Singh Dhoni and his men managed to raise their game to another level.
In doing so, the Men in Blue not only recorded their second straight victory in the 2015 ICC World Cup, but they also outclassed a major opponent in South Africa to go to the top of the table in Pool B. Of course, India's thumping victory also ended their 23-year World Cup jinx of losing to the South Africans thrice on the trot.
Indeed, much like the game against Pakistan, this was another day when the Indians executed their plans perfectly.
"It's very nearly humiliating. You never need to lose by that measure of runs. We're going to need to lick our injuries for some time," said South African skipper AB De Villiers, making an honest confession.
Putting things in perspective, he added, "It's not just about qualifying for the quarterfinals. It's not about that. Your confidence takes a bit of a knock with performances like that. For now I just want to sort of go feel sad in my room for a while, and we'll see again how I feel tomorrow."
The Men in Blue hardly put a foot wrong after skipper Dhoni won the toss and decided to bat. As luck would have it, both Sachin Tendulkar and Anil Kumble were in attendance to see the team dish out another sensational performance.
For the second game in a row, the Indian top order found a rhythm and got going to put up a total in excess of 300 runs. Once the batters had done their job, the Indians bowled and fielded with fire and passion.
The match was in a precarious position at 108 for two, with both AB De Villiers and Faf Du Plessis looking good. However, a moment of brilliance in the field from Mohit Sharma changed the course of the game decisively in India's favour.
As expected, South African skipper AB de Villiers proved to be a major stumbling block for the Indians. His class, authority and improvisation, had just started to worry the Indian camp before Mohit Sharma ran him out with a direct hit from deep mid-wicket.
That wicket acted as a tonic for the Indians who then ran through the South African line up with merciful quickness setting off frenzied celebrations in the stands.
Faf Du Plessis, who was also locked in a battle of attrition with the Indian bowlers, followed his skipper quickly. Having scored a fighting half century, he holed out in the deep off Mohit Sharma.
"I think more than just the result, it was how we played. Back to back performances by both the bowling and batting units. South Africa are a very good side, so it was one more complete performance," remarked Indian skipper Mahendra Singh Dhoni.
"What's happening really well is we are able to execute our plans. I can give fields to the fast bowlers. They are not bowling loose balls. They bowled tight lines and the batsmen had to play big shots to get runs. The amount of effort the fast bowlers are putting in the nets is beginning to show now," Dhoni explained.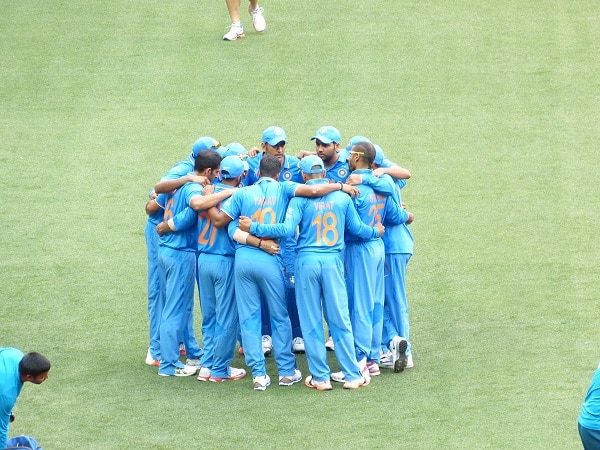 Earlier, in the afternoon, Shikhar Dhawan batted with the freedom of a bird singing in the trees. Lovingly called 'Gabbar' by his team mates, the left-hander flexed his muscles with such power and authority that he almost duplicated Gabbar Singh's terror reign in Ramgad.
Continuing from where he had left against Pakistan, Dhawan constructed an innings of such beauty and imagination that it had the packed audience at the MCG on the edge of their seats. His innings of 137 (146b, 16×4, 2×6) was his seventh one-day tonne and also his career-best knock.
The 29-year-old shared century stands, first with Virat Kohli, and then with Ajinkya Rahane, as he eventually turned on the heat after initially batting with a lot of caution against Dale Steyn and Morne Morkel.
To be sure, Kohli was more of an anchor and Rahane the adventurer while Dhawan was in the 'zone'. His power-packed innings comprised of the Nataraja shot (one-legged pull), upper cut, besides the customary drives. A straight six off Dale Steyn and a wristy flick off Morkel were pure gems.
Young Ajinkya Rahane – who came out to bat in the 28th over – made up for his first-ball duck against Pakistan with a free flowing innings that rattled the opposition bowlers. The shortly built Mumbaikar set the stands on fire as he tore into the South African bowlers sending the ball all over the park. He made a 60-ball innings of 79 studded with seven fours and three towering sixes.
By winning both their big games, against Pakistan and South Africa, Dhoni's team has made a statement loud and clear. As the defending champions, they really mean business in this World Cup as they head for the top spot in their group.
For more photos check out our Facebook page HERE