Reading Time:
2
minutes
Acknowledging the contributions of the Hindu-American community in the US state of Georgia, Governor Brian Kemp has declared that October will be celebrated as 'Hindu Heritage Month' in the state.
With this move, Georgia joins a list of states from across the country, including Texas, Ohio, New Jersey, Massachusetts, Georgia, Florida, Minnesota, Virginia, etc, to commemorate Hindu heritage, culture, values, and traditions.
October is significant as it is the birth month of Mahatma Gandhi and is often when major Hindu holidays such as Navratri and Diwali are celebrated.
"The Hindu heritage, culture, traditions, and values provide their followers invaluable solutions to many of life's problems and often serve as a source of inspiration, reflection, and contemplation for the millions of individuals who look to the teachings of Hinduism for guidance," the Proclamation read.
"During the month of October 2023, the Hindu community across the State of Georgia and across our great nation will collectively celebrate its heritage by focusing on its culture and the diverse spiritual traditions rooted in India."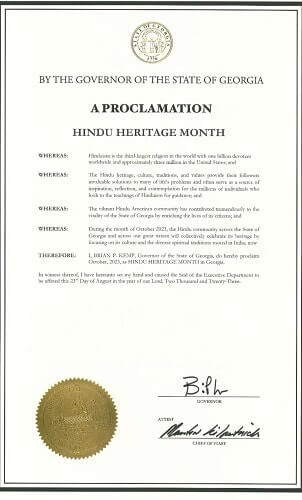 Welcoming the move, CoHNA (Coalition of Hindus of North America), a Hindu advocacy group in the US, said that "it is gratifying to see Georgia recognise the contribution of Hindu-Americans".
"Our thanks to Governor @BrianKempGA for this recognition. This was made possible by the untiring dedication of our friends at the Hindus of Georgia PAC. Hinduism has contributed greatly to the cultural milieu of America," CoHNA wrote on X on late Wednesday.
"It is gratifying to see Georgia recognise the contribution of Hindu-Americans and Hinduism at the same time that California is targeting us with #SB403," the Hindu group said, mentioning the recent passage of the anti-caste discrimination bill recently moved in the California Assembly.
CoHNA has slammed the passing of SB403, calling it a "black day for California history".
On March 23, the Georgia Assembly passed a resolution condemning Hinduphobia and anti-Hindu bigotry, making it the first American State to make the move.
The resolution said Hinduism is one of the world's largest and oldest religions with over 1.2 billion adherents in over 100 countries and encompasses an array of diverse traditions and belief systems with values of acceptance, mutual respect and peace.
Read more: Diwali will be a public school holiday in New York City from 2023