Can a curry change the world?
Maybe not. But a curry can definitely contribute towards putting food on another family's table. The Great Australian Curry is an annual fundraising campaign by Opportunity International Australia which gives a hand to families living in poverty.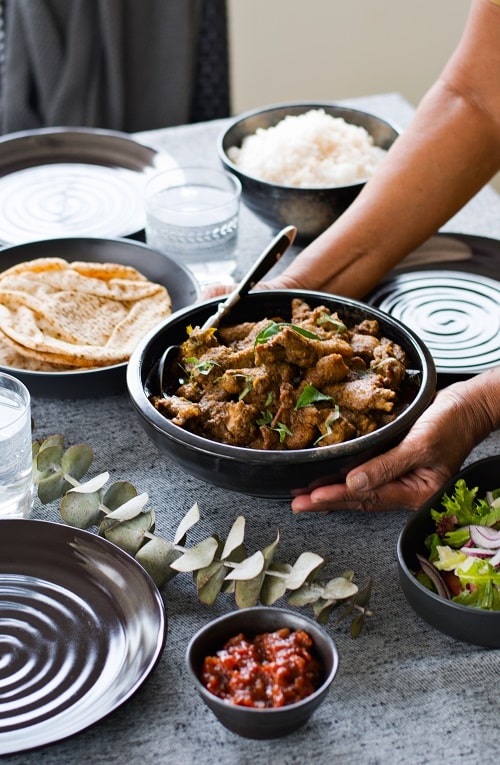 Opportunity International Australia works through a unique system of microfinance, community development, training, local presence, technology and rural outreach programmes in developing countries including India.
And the 'Great Australian Curry' campaign is a great way by which food lovers like us can contribute in a meaningful manner towards poverty and diminishing its impact.
This year's campaign was officially launched last month with a spicy cook-off between two teams: Stephanie Rice (Triple Olympic gold medalist) and Courtney Ferdinands (Finalist, My Kitchen Rules) took on Michael Kasprowicz (former Australian Test Cricketer) and Valerie Ferdinands (Finalist, My Kitchen Rules) in this curry contest.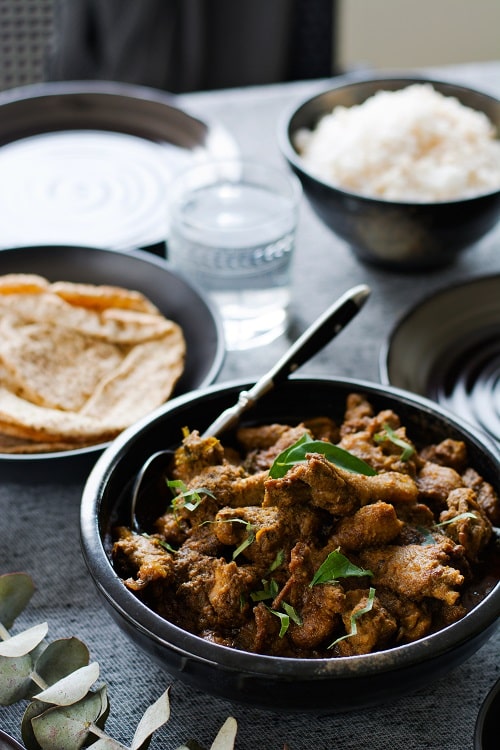 Michael Kasprowicz said, "I recently visited Opportunity's work in Delhi, India. Seeing firsthand the impact of small loans empowering parents to meet the needs of their children, was so rewarding.
Kids can dream of becoming whatever they want in the future, whether it be sportspeople or teachers, because they know their parents can afford to give them an education. It's the way it should be."
It's a great cause and with curry being a favourite at most Australian homes, it's so easy to organise a small fundraiser in your home or office.
Invite a couple of your friends home for a dinner (plenty of delicious curry recipes on the blog to help you with the cooking) and organise a small fundraiser of your own. Or perhaps arrange a curry potluck in your office where you can pitch in with your colleagues to raise a target amount.
Remember that even the smallest amount can go a long way in being a helping hand to those in need.
Robert Dunn, the Opportunity Chief Executive Officer, said that last year the campaign was able to raise $108,000 which was used to help out 1500 families start small businesses and provide a livelihood. "We hope to help even more families this year through the generosity of Australians."
There are also many exciting prizes up for grabs this year to encourage you to start a campaign. "The first 20 people to set up a fundraiser on Opportunity's website will receive Rick Stein's mouth-watering cookbook, 'India'.
There is also a writing competition and the prize is a signed copy of renowned Sydney Quay chef Peter Gilmore's cookbook Organum.
And of course you need a delicious, lipsmacking curry recipe to get your fundraiser started. So here's a Chettinad style Duck Korma – absolutely flavourful and fingerlickin' good!
Korma is a type of curry preparation that was bought to India by the Mughals. While it has evolved much over the years, it is essentially a rich creamy curry and can be both vegetarian and non vegetarian.
However in the Chettinad region of the south of India, the cream gets replaced by coconut which is blended with poppy seeds, cashewnuts and other spices to form a rich and flavourful curry.
I have veered away from the usual proteins, opting for duck instead of chicken or lamb as it's a delicious meat that pairs beautifully with the spices and coconut. And also because we get such high quality duck meat in Australia.
Use any meat of choice or replace with eggs or mixed vegetables/paneer/tofu for a vegetarian option.
DUCK KORMA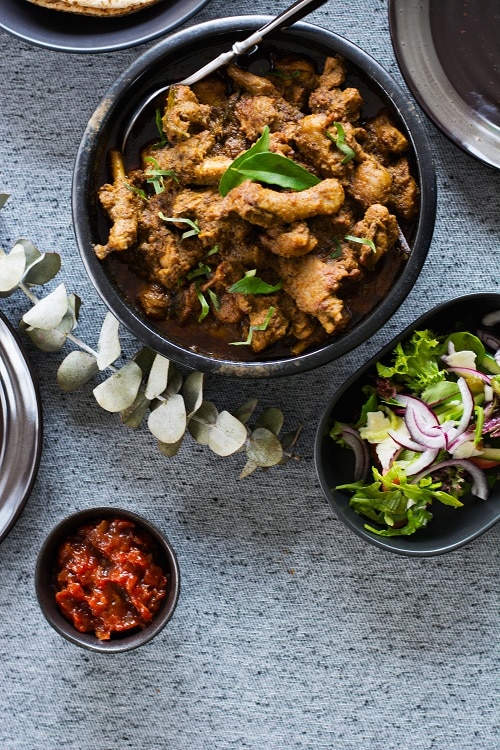 Ingredients
Wet spice paste:
2 tbsp vegetable oil
2 tsp fennel seeds
2 tsp cumin seeds
3 fresh green chillies; broken in half
2 tsp white poppy seeds
10 raw cashewnuts
7 garlic cloves; crushed
2 tbsp roasted Bengal gram (split)
1 ½ inch piece ginger, crushed
60 gms fresh grated coconut
For the curry:
Whole duck (approximately 1.1kg), cut into curry sized pieces
3-4 tbsp vegetable oil
2 inch piece cinnamon bark
4 green cardamom
1 large onion, finely chopped
½ tsp turmeric powder
2-3 sprigs curry leaves
2 large ripe tomatoes; pureed
2 tsp red chilli powder
Salt, to season
Method
To prepare the wet spice paste:
Heat oil in a large pan and add the cumin, fennel seeds and green chillies. Then add the poppy seeds, cashews and garlic; sauté for a few seconds.
Next add the Bengal gram, coconut and ginger. Mix well and sauté for a minute or two till the coconut turns a little toasty but not too brown.
Remove from heat and allow to cool thoroughly. Blend with just enough water to get a wet paste.
To make the curry:
Heat the remaining oil in a large wok/kadhai and add the cinnamon and cardamom followed by the onion. Sauté till the onions are softened and turn light brown.
Next add the turmeric powder, chilli powder and curry leaves; mix to combine.
Add the tomato puree and season with salt. Cook on medium heat till the mixture comes together and you can notice oil appearing at the sides of the masala.
Next add the wet spice pasta and mix well to combine. Sauté for about 5-6 minutes on low to medium heat stirring continuously.
Add the duck pieces; mix well and cook for 1-2 minutes. Then add 1-2 cups water (depending on how much gravy you prefer) and bring to boil. Turn down the heat and simmer gently till the duck pieces have cooked perfectly and the gravy has thickened. Taste and season with salt if necessary.
For more information about the campaign visit the fundraising website au.opportunity.org/great-australian-curry