Reading Time:
3
minutes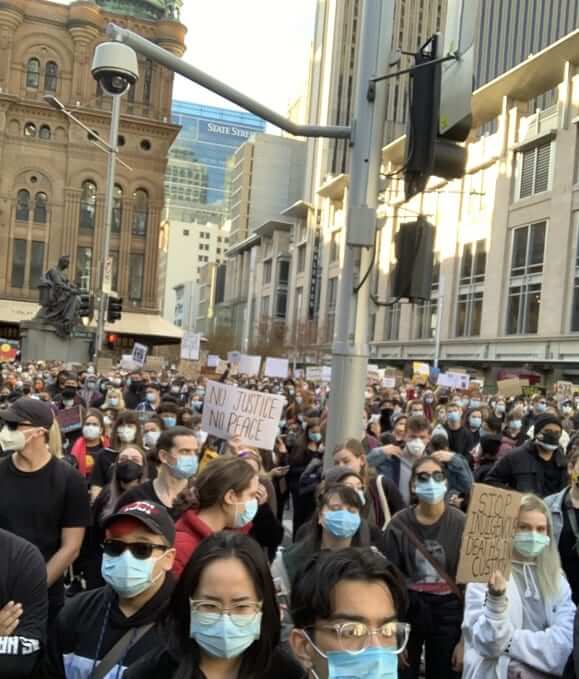 The news and nature of George Floyd's passing hit close to home for Indigenous and non-Indigenous Australians. It brought back attention to Australia's own First Nations Peoples who face similar injustices, especially in custody. There have been 437 Aboriginal deaths in custody since 1991.
The #BlackLivesMatter movement began with the hashtag posted by Alicia Garza in 2013 after receiving news that the man who shot and killed Trayvon Martin, a 17-year-old black high school student, had been acquitted.
Although slavery was abolished in 1865, activists continue to stress the modern bias of systemic racism and violence (with negligible accountability) against black people in America.
On 6 June, I was at Sydney's Town Hall as the Black Lives Matter rally took place. It felt like a significant day – a day that would be recounted in the country's history. While still facing a global pandemic and functioning under public health orders, another pandemic that had been around for centuries was about to be addressed: racism.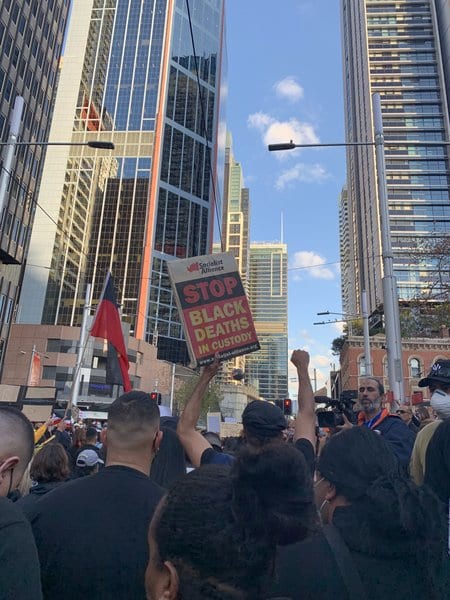 Still under the impression that it had been banned by the NSW Supreme Court, I practiced physical distancing. No sooner did the organisers begin to address the crowd than I noticed groups of police officers in triple-file lines leaving the site; the ban had been reversed thanks to a last-minute appeal.
And so, the rallying began.
It was inaugurated by an Aboriginal smoking ceremony to pay respect to ancestors and the earth, also meant to ward off bad spirits. The traditional smoke from burning native plants was seen rising above the steps of Town Hall, at once, seizing everyone's eyes.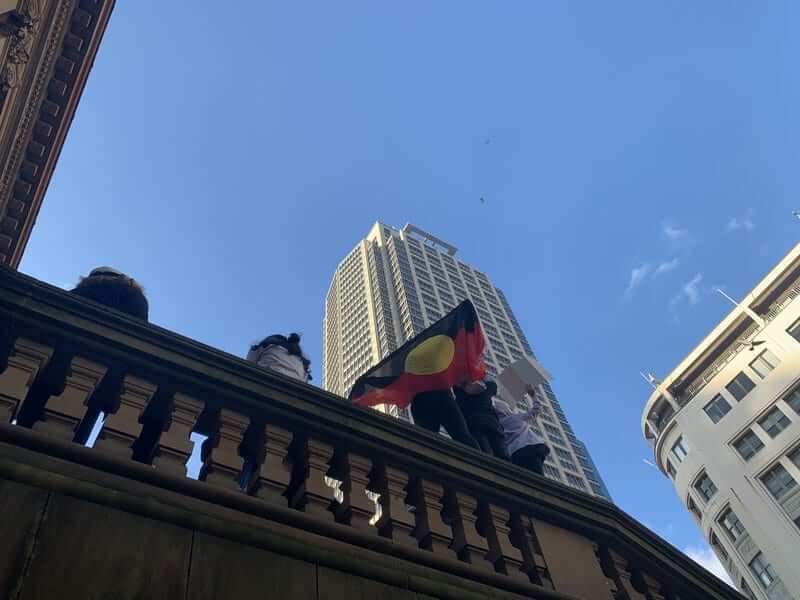 These rates of disproportionate incarceration were published by the Australian Law Reform Commission in 2018, "Aboriginal and Torres Strait Islander adults make up around 2% of the national population, they constitute 27% of the national prison population".
The first speaker, Leetona Dungay (mother of the late David Dungay Jr, a Dunghutti man who died in custody) publicly recounted the loss of her son while also referring to the unlawful death of Floyd at the hands of police. Her voice sounded weary, like a mother that had been speaking up at many gatherings asking for the same justice for her son, still, it wasn't any less powerful.
A chilling and awe-inspiring moment arose in the crowd as thousands of protesters collectively chanted, "I can't breathe! I can't breathe! I can't breathe!", the final words of the two black men.
Another speaker at the rally was Majeda Beatty, a singer with roots in Aboriginal, Torres Strait Islander and Black American heritage. She highlighted a secret admiration for and appropriation of black culture. An example she gave was people regularly use words like "lit" and "fam", but step back when it comes to showing solidarity with the BLM movement.
I spoke to Noeline, someone who grew up with Leetona Dungay. She was troubled by the conditions faced by black people all over the world, including her own community. She conveyed the severity of the injustice and asked, "Is it going to stop?"
"No one has been held accountable for these deaths," said Paul Davis, who is from the same hometown as David Dungay Jr. "Dark-skinned people have been dealt the blow for a long time."
He wanted the world's justice systems to treat everyone equally.
Many children accompanied by their families stood along the sides of the crowd, enthusiastic to voice their support. They donned T-shirts with slogans like "No justice, no peace".
The rally of 20,000 and more marched down Castlereagh St, all kneeling on the ground at one instant, to Belmore park, where a vigil was held for George Floyd and David Dungay Jr.
As protesters marched down unceded Gadigal land, the message was loud and clear – injustices against Black and Aboriginal lives are acknowledged and will be challenged.
READ ALSO: America burning