As the drought continues in NSW and the stories of hardships come through on our media feeds, many of us have felt driven to do our bit for the farming community.
In their latest fund-raising activity, the United Indian Associations Inc (UIA) will walk from Sydney to Canberra to raise funds for drought relief in NSW. Calling their initiative Our Farmers Our Pride, UIA will set off from Parramatta this Saturday 22 Sept, and arrive at Canberra on Monday 1 October. They hope to raise $150,000 for drought-stricken families.
Sreeni Pillamarri, President of UIA told Indian Link, "We will be visiting the communities along the way. We want not only to learn how they are faring, so that we can raise awareness about their difficulties to our own community, but also, we want to be able to tell our farmers, we are there for you."
Only weeks ago, UIA had dedicated the proceeds of their annual flagship event – which they called Mateship Fair this year – to the farmers, by donating to the farming charity Aussie Helpers. Brian Egan from the charity, a farmer himself, was handed the cheque on the occasion.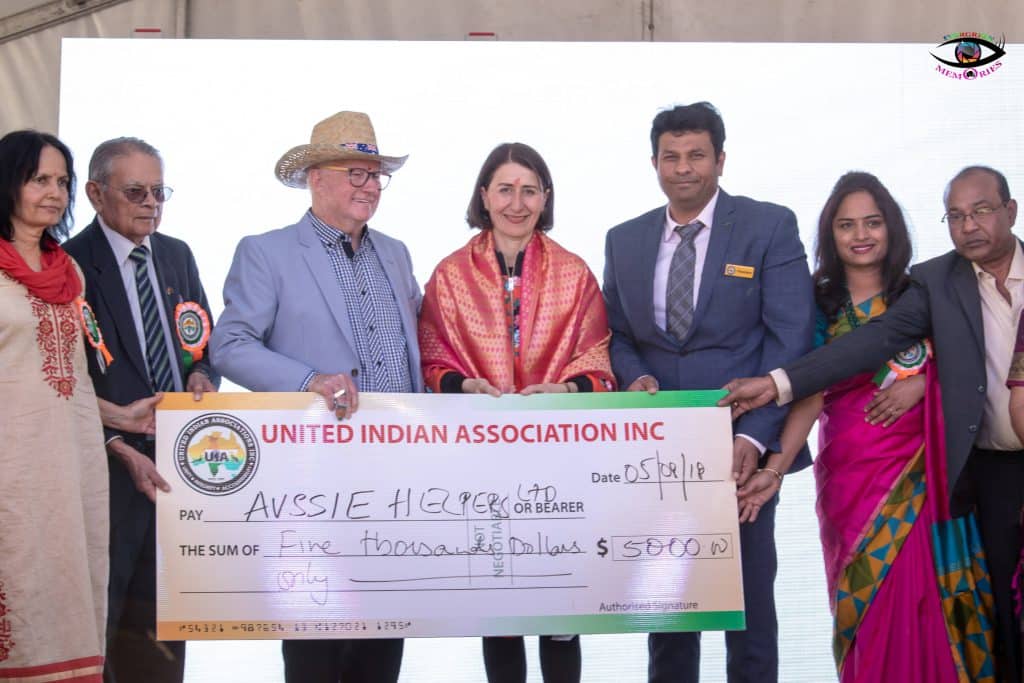 At a personal level, Sreeni claims to have been deeply affected by reports of farmer suicides, an issue that we are all too familiar with from our own home country. "I was shocked to learn recently that Brian, who we welcomed at the UIA Mateship Fair not so long ago, is in hospital following a heart attack."
Clearly, he sees the walk as a way of giving back to the wider community in which we live. The 10-day trek will take Sreeni and his mates through Campbelltown, Picton, Bowral, Mittagong, Moss Vale, Goulburn and Collector at the NSW-ACT border. At the end of it all, they will have walked some 400 kms.
Describing the logistics, he said, "There are five of us in the core group who will walk the entire trek. We will be joined on a daily basis by bump-in-bump-out participants. On the last day, so far we have 30-odd confirmed trekkers."
A 6-seater caravan will accompany them, providing refreshments every 10 kms, and sleep facilities for the night. "Driving the caravan is our team member Suvarna Raju, 65, who we're calling the 'ratha sarathi' of the enterprise," he laughed. (It is a reference to Krishna as the provider of spiritual nourishment to the battle-weary warriors).
Suvarna Raju, a great inspiration to the team, has offered to play mum as well, cooking all the meals for them. Insurance and medical checks are all up-to-date for all the padayatris (long-distance walkers,) Sreeni assured us. "We've also organised for a couple of GPs from Canberra to be available to us in case of need."
The trekkers will be flagged off by Lord Mayor of Parramatta Andrew Wilson, and will be received at the Canberra end by members of the Federation of Indian Associations of ACT (FINACT).
Mahatma Gandhi will be in their thoughts as they finish on 1 Oct, given that 2 Oct is Gandhi Jayanti (and also because the Father of the Nation took on many long-distance walks himself in his campaign for wide-reaching causes, inspiring others to join him enroute). "It is also Gandhiji's 150th birth anniversary this year, which is why we picked $150,000 as our target," Sreeni revealed.
Show your support to the UIA by donating to:
Account Name: UIA – Benevolent Account
BSB: 032078
Account number: 792868
Bank: Westpac
Reference: Supportfarmers
If you want to join the walk, email teamuia.org.au