Reading Time:
5
minutes
Medical student Nikhil Autar took out the 2024 NSW Young Australian of the Year award at a ceremony at Sydney's Museum of Contemporary Art on Tuesday night. 
Mr Autar has been recognised for his work on social enterprises and charities including Bheem Health, Knia Maps and Doctors Against Violence.
He is also a nominee for 2024 Young Australian of the Year.
"12 years ago, I didn't know if I'd be alive in five years," Mr Autar said.
"Today, I get to wake up every day and work on things that can make a difference to vulnerable people like me."
At age 17, Mr Autar was diagnosed with leukaemia and has undergone chemotherapy, bone marrow transplants, and open-heart surgery.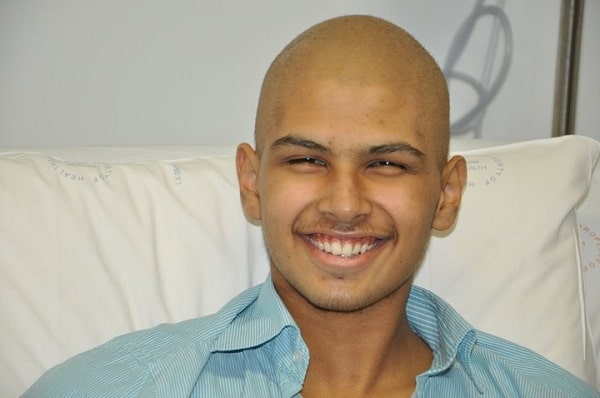 The now 30-year-old is cancer-free and graduates from Western Sydney University on 14 December.
'Dad taught me to help people'
Mr Autar said he always wanted to become a doctor.
"Not just because I'm Indian," he joked. 
"I watched M*A*S*H growing up – the TV show about the doctors in war."
"Dad always taught me to help people; when you're standing in line or you're at an event, always look behind you to make sure other people can see and always try to leave a smile on people's faces. That's the kind of person he was."
After his cancer diagnosis, Mr Autar said he knew he needed to study medicine.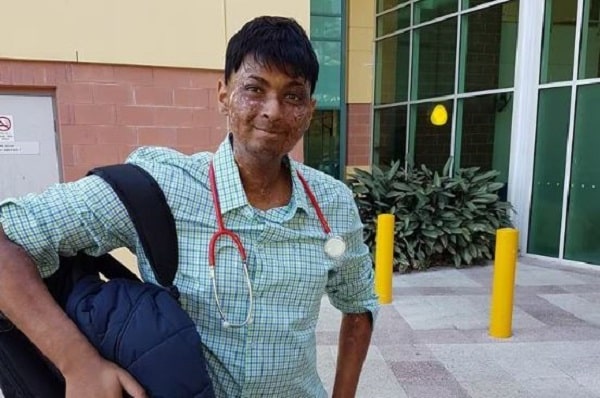 The degree has taken him 12 years to finish because he suffered from relapses, secondary cancers and went blind in one eye.
During the periods he was unable to study, Mr Autar spent his time researching solutions to issues he cared about. 
"I was like, I can make a difference without needing to do a medical degree, right?"
"You can create lasting change that helps people – that's what I did."
Affordable medical devices for the sick
Mr Autar founded his first company Bheem Health after losing a couple of friends in the timespan of one week.
He said one of those friends fell in hospital and wasn't attended to for more than an hour. 
"It's not the diseases that often kill or harm you most. It's often things like falls, pressure sores, pneumonia which are complications of your condition," the 2024 NSW Young Australian of the Year told Indian Link.
"I, myself, had experienced some very preventable complications of being sick."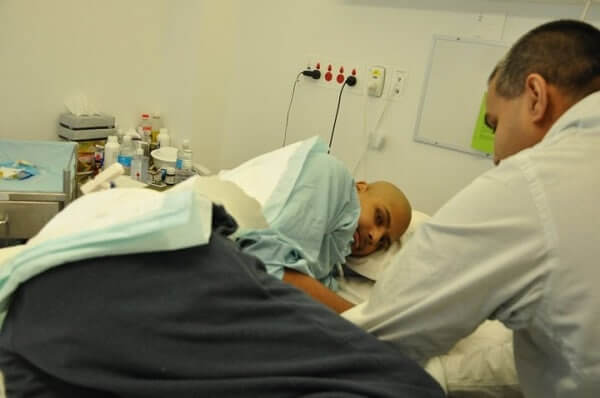 Because of these incidents, Mr Autar began brainstorming affordable solutions.
His first device, BheemUP, allows any bed to convert into a hospital bed.
He's now developing BheemSense, the world's first sensor mat that tracks sleep phases and helps minimise pressure sores to keep people safer at home or in nursing homes for longer.
"The idea is that it can detect pressure sores and if someone's at risk of falling, it can alert nurses or loved ones."
"Because, even in hospitals, there's no way of knowing if someone's safe at any point unless you've got them in a high monitoring unit."
Building 'the Google Maps of accessibility'
Mr Autar needs a wheelchair to get around longer distances.
One day, when he was trying to get to an education room in Blacktown Hospital, he said he was unable to find information about access like parking and ramps.
"I was like, this is ridiculous," Mr Autar said.
"I thought back to all those times over the years since cancer, when I was going through chemo and I wasn't going out because I just didn't know basic information about places like if there's shade on the way to and around the building, if there's a water fountain somewhere because I needed to take some medication…"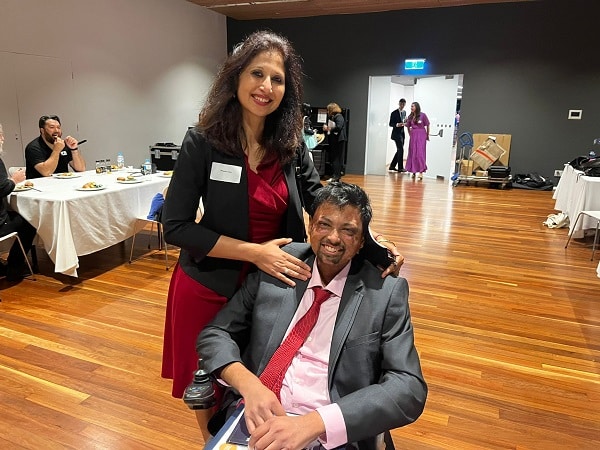 The 2024 NSW Young Australian of the Year decided to build the Google Maps of accessibility by creating Knia Maps, which crowdsources and plots in-depth accessibility information at major Sydney hospitals, universities, public venues and transport, and hundreds of small businesses and counting.  
"We're trying to map out the world for people because people with disabilities are severely lonely," Mr Autar said.
Almost 30 percent of people with disability aged 15 to 64 in Australia experience loneliness according to the Australian Institute of Health and Welfare. 
"I've felt that myself, and that's something that shouldn't happen."
"So hopefully, something like this allows people to access and be part of their community."
Doctors Against Violence
In 2019, Mr Autar said he was struck by the story of Sydney dentist Dr Preethi Reddy who was murdered by her ex-boyfriend in a hotel room. 
"I saw it all unfold online because friends of mine were literally searching… they were like, where is she? Has anyone seen her? And then we got the news that she was found in a bag."
The incident drove Mr Autar to get in touch with a group of doctors who were supporting each other to help victims of domestic violence.
He then helped create and grow the charity Doctors Against Violence Towards Women – a coalition of more than 750 doctors committed to improving the lives of those suffering intimate partner violence.
Hopes to make a difference
If you ask Nikhil Autar what his most proud achievement is, his answer will surprise you. 
"I caught a huge tuna a couple of months ago, that was my biggest fish," he jokes.
Jokes aside, Mr Autar said he was honoured to be nominated for 2024 Young Australian of the Year.
"I lost my dad last year so I'm just sad he couldn't have seen something like that."
"But the ability for whoever wins to make a bigger difference than they already are – that would be great. I'm keen to see that flourish, whatever happens."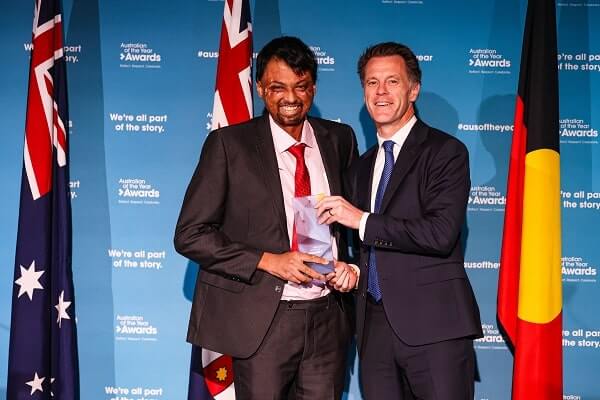 Mr Autar migrated to Australia from Fiji when he was 3-years-old. 
"As a migrant, someone told me that education is the equaliser when you come from hardship to a place without any help or assistance," he said.
"It's great if you have the ability to get educated and make a bigger difference to your community."
The 2024 Young Australian of the Year will be announced on 25 January.
READ ALSO: Veena Sahajwalla: NSW Australian of the Year 2022