Indian Link talks to three members of the community who were awarded for their exemplary services in various fields.
Dr Nayana Parange, Volunteer Category
Dr Nayana Parange, Associate Dean for Online education in the Division of Health Sciences
at the University of South Australia, works in antenatal ultrasound. A particular passion for her has been improving pregnancy outcomes in remote Aboriginal communities. Her volunteering efforts include leading ultrasound outreach programs in developing countries such as India, Ghana, Indonesia, PNG, Samoa, and Cambodia in communities where there is no access to medical sonography. Dr Parange, voluntarily, in her own time, developed a training model and delivers the training to upskill doctors, technicians, nurses and midwives in remote and regional areas. This has made a huge difference in perinatal mortality rates in remote communities.
Nayana arrived in Adelaide as an international student from India. With a background in medicine, obstetrics and gynaecology and ultrasound, she became passionately involved in the health and wellbeing of mothers and babies and committed to improving pregnancy outcomes especially in Aboriginal communities. She also works tirelessly as a volunteer for several organisations contributing to many projects embracing cultural diversity and social responsibility. She is passionate about her voluntary work providing training to health professionals in ultra-sound technology that has provided or helped professionals use life-saving scanning skills in regional South Australia and the Northern Territory.
Dr Parange told Indian Link, "We don't often realise that in remote areas, pregnant women and other patients have to travel long distances, sometimes up to 2 days, to get an ultrasound.  There is no funding for someone to care for their other children, so often, they can't go at all. This means that life-threatening conditions go undiagnosed, and in-utero conditions put a baby and mother's life in grave danger."
She explained that the training model she developed and delivers, trains health professionals in utilising ultrasound equipment so that they are able to use it without having to wait for the appointment of a qualified technician.
Dr Nayana Parange won the 2015 Regional Rural Remote Winnovation Award for developing an education and training model to help upskill midwives and GPs caring for Aboriginal women in remote locations. In 2016, the Australian Centre for Leadership of Women awarded her the National Diversity Award for Women's leadership, empowerment and community engagement.
Since 2012 Dr Parange has been invited to Port Moresby PNG, annually to conduct workshops training medical students, doctors (ob gyn, remote medicine, emergency medicine) and midwives working in remote provinces to train them in point of care, life saving ob gyn ultrasound. She self-funds her travel and gives time freely and also applies for funds for purchase of equipment.
After 4 years, in 2016, she inspired and led a team of ultrasound experts from Australia and New Zealand to volunteer in PNG so as to expand the original initiative under a formal ASUM-ISUOG outreach banner. She trains professionals in remote communities in India too and, at the same time, tries to educate doctors and community members to utilize ultrasound technology more for diagnostic purposes.
Dr Parange hopes to expand and extend the work she is doing which, she says, will be possible with more funding for this high need medical training in remote communities.
Deepak Bharadwaj, Community Service Category
"Deepak Bhardwaj established a multicultural sporting hub, which promotes integrating children from culturally and linguistically diverse backgrounds into local AFL and cricket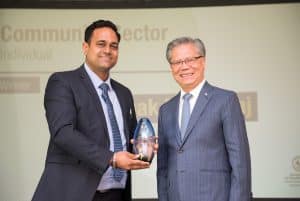 clubs," reads the award citation.
But Deepak Bhardwaj is also a community worker who has helped several South Asian communities with health and other information and working with families and individuals in times of crisis.  He richly deserves the Governor's Award in the Community Service Category for the work he does as a community member and as a community worker.
Deepak got involved with footy when the Adelaide Crows wanted to popularise Aussie Rules Football among South Asian migrants. With new migrants not familiar with the game, Deepak was successful in his efforts in getting children from diverse communities such as India, Nepal, Afghanistan etc to take up the sport. While the children played, the parents got an opportunity to engage and connect with each other. They were encouraged to be volunteers on future programs and training schedules.
Then, when SACA organised the Mile In2Cricket for Multicultural Kids, Deepak played a leading role once again. He recruited 78 children, boys as well as girls, from many different communities including India. This program ran for 8 weeks. Another initiative by Deepak Bhardwaj was that when the English cricket team was in Adelaide for the Ashes, these young cricketers got an opportunity to go to the game, get on the ground at Adelaide Oval and also examine the pink ball which was used for the first time in Adelaide.
He told Indian Link with much pride, "These kids have made such improvement that I'm sure, by the time one of these kids turn 15, at least one of them will be vying for a place in the Australian Junior team or at least the SA team!"
Deepak's efforts in connecting communities through sport to promote multiculturalism has another advantage. In his words, it "introduces a healthy lifestyle, minus drugs and other distractions, and helps inculcate a positive fighting spirit, social justice and team work among the kids."
Deepak first started using his 'fighting for social justice spirit' years ago as President of the Taxi Drivers Association. He tried to make the work environment safer for taxi drivers by working closely with senior police to address violence in this sector.
"I realised then that community service was my passion and started volunteering for MCA, RASA, IAASA and other organisations."
Deepak is also studying social work and is glad his study, work and volunteering are all intertwined.
Working as a Community Liaison Officer with Relationships Australia SA (RASA), Deepak has provided support in designing programs for the wider community and has done some incredible work in creatively tackling subjects considered taboo in many of our communities. Deepak has organised and presented many workshops dealing with HIV, Hepatitis, problem gambling etc.
Dr Meera Goel, Aged Care (Individual Category)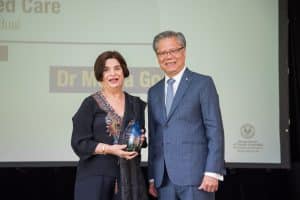 Dr Meera Goel won the award for her services to the Aged Care Sector. She impressed with the "cultural competency training she provides to her nursing and caring staff, and that she is passionate about understanding the cultural and religious needs of individuals at a time when they are vulnerable, physically limited, and trying to re-experience their original culture."