The ongoing FIFA World Cup is a chance to ignite, revive or boost our interest in football. Over the course of just over a month, almost 50 matches between the world's best nations keep us awake until the early hours of the morning screaming the nicknames of our favourite players. During this time, the world's most popular sport truly shines.
For Faiz Mohammed, it's a chance for him to play his part in saving the environment.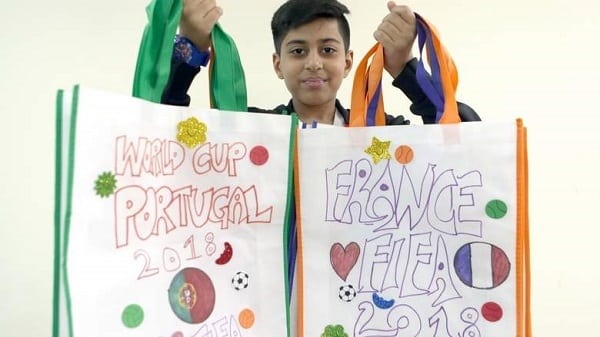 The 10-year-old from Dubai has used his love of the World Cup to distribute reusable shopping bags in lieu of plastic bags in his local area. Each of his bags, adorned with simple hand-drawn logos, emblems and colours of each participating nation, have given grocery shoppers in his area the chance to express their support for both country and environment in a simple but effective way.
The Indian-origin lad started with 130 reusable bags, which cost him a total of 150 UAE Durham – approximately $A55. Much of this amount was his Eid gift money.  Mohammed  was able to distribute these in 25 of his local supermarkets. He has since seen his operation expand and his prominence rise.
Just this Tuesday, the young innovator has been named one of the Dubai Municipality's Sustainability Ambassadors, an opportunity that will see him conduct lectures and workshops on the environment with a particular emphasis on sustainable waste management.
An initiative like this is particularly important for the United Arab Emirates. Grocery stores and delivery boys use upwards of 30,000 plastic bags per month, with 1,200 in Mohammed's local area alone. Their consumption of plastic bags, which reached an average of 13 billion last year, is only recently being countered by successful alternatives such as Mohammed's. Biodegradable plastic bags have been adopted and charges for plastic bags debated, but still the nation is falling short of its goals; the United Arab Emirate's Ministry of Environment had hoped in 2016 to be a non-decomposable plastic bag-free nation.
Thankfully, people like Mohammed are taking great strides in leading this charge.
Adbulmajeed Abdulaziz Saifaie, Director of Dubai's Waste Management Department, reflects this in his comments on the young boy's actions. "He has a good hobby. If his family and community keep encouraging that, he will have a good future and so will the environment."
And this doesn't end at the World Cup's conclusion on the 16th, when France take on Croatia. Speaking to the Khaleej Times, Mohammed assures his work will not stop.
"I plan to carry on distributing the bags, but this time I will add catchy slogans instead. I want people to ask questions about the bags. If delivery men are using bags that aren't the norm, people will wonder why and this can lead to conversations about being more sustainable."
IANS and other sources