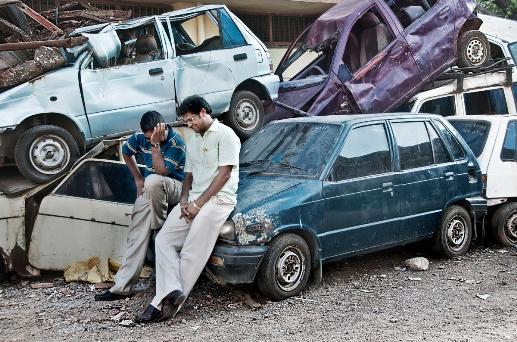 Film: Ship Of Theseus
Starring: Aida Al-Kashef, Neeraj Kabi and Sohum Shah;
Director: Anand Gandhi
Rating: *****
Sometimes ailing and healing become a unified process. Just as suffering is a precursor to wisdom, so too a film about the curative process can, and in this case, does, provide some profound insight into the workings of the human heart.
There are three stories of infinite reverberations in debutant director Anand Gandhi's film. And what a debut Gandhi has made! Ship Of Theseus is so luminously layered, so spectacularly segmented, and yet so cohesively assembled, that you fear the entire burden of existence would weigh down the narrative. But no. The 'Gandhian' miracle is that there is a sense of lightness running through the three stories.
We can comfortably say, this is the neo-Gandhi's 'experiments with truth'.
Anand Gandhi doesn't fear the unknown. He explores the darkest areas of the human soul and waits patiently for answers to emerge in the questioning light. Often we see the three protagonists walk that talk to an area of enlightenment through intersectional interactions that don't subscribe to basic rules of engaging cinema.
The film's three editors – Adesh Prasad, Sanyukta Kaza and Satchik Puranik (presume each edited one of the three stories), don't prune down the shots to get our attention. Instead, we are invited into this world of spatial scrupulousness where cinematic rules of time-management are undermined for the sake of something much larger and vital.
Hence, when in my favourite story, the ailing monk (played with inscrutable veracity by Neeraj Kabi) speaks to his young beatnik lawyer-friend as they walk briskly across the bustling streets of Mumbai, the camera trails their dialogue without cuts.
No one would dare interrupt a discourse on the exigencies and practicalities of a non-violent protest against medical experiments on animals when two such iconoclasts are at it with an extempore exuberance.
The importance of this film lies in its complete eschewal of self-importance. Anand Gandhi takes on questions that echo across eternities. Rather than assume a position of infinite disposition, the film's tone is one of contained exposition.
As a writer and director, Gandhi doesn't get carried away even when his characters do. Not that they are susceptible to extravagant self-expression. The one trait that connects all three protagonists is their aversion to overt emotional display.
In the first story, the very beautiful Aida El-Kashef plays Alia, who in blindness, discovers an inner incandescent vision that enables her to become an outstanding photographer. Alia tends to get argumentative with her patient boyfriend in her state of non-visibility.
Even when Alia loses her cool, she loses it coolly. Very coolly. The disposition to allow the characters an emotional and spiritual freedom is pre-empted by a stark austere state of expression which doesn't encourage self-indulgent narrative devices. The images that run through the film are qualified by a minimalist beauty. Even the streets, sights and sounds of Mumbai are not used to convey the overpowering desolation of the dispassionate bustle that we saw in, say Kiran Rao's Dhobi Ghat.
Monks walking bare feet through acres of windmills, or the solitary monk barely able to walk through his illness plodding through Mumbai's compromised hinterland…For some reason, the best visual images occur in the monk's tale.
Cinematographer Pankaj Kumar (what a maestro of the lens!) is given the daunting task of visually manifesting a series of abstract intangible images of suffering and redemption that run through the director's head. The camera never lies. This film wouldn't allow it to, even if it tried.
The visuals constantly assume positions that manifest the lost inner world of the characters while making sure not to lose sight of the ambience that fosters their individual space. As the characters seek to find a centre to their fractured conscience, we are privy to an extraordinary process of filmmaking where the director builds a connecting bridge between the world of ideas and their outward manifestation.
The most straightforward and the least lyrical of the three stories is the third story where Sohum Shah (born to play his character) is a stockbroker, who sets off on trail to Stockholm to retrieve the stolen kidney of a poor chawl dweller.
Retrieval and redemption run across the length of this unconditionally nourishing cinema. Gandhi's narration is so devoid of cinematic affectations and so emphatically rooted to a reality that shuns coyness, that we straightaway become a part of the world that the director has built brick by brick into this edifice of uncluttured beauty.
Indeed, the more profound the ideas get in Gandhi's narration, the less complicated is the storytelling. Finally, when the three stories come together through the theme of organ transplant, we are no longer looking at and for binding threads. Ship Of Theseus takes us so far away from the acceptable prerequisites and definition of 'good cinema' that we forget that so far, we have never forgiven cinema that dares to be self-indulgent.
Ship Of Theseus is a cinema of self-indulgence at its most sublime. Gandhi weaves his ideas into coiled urgent vignettes that tell us so much about the quality of life without engaging us in unnecessary polemics. This is a film of ideas.
What we come away with is a sense of loss even as the film weaves a hypnotic tale of repair, redemption and renewal.
This is a sombre, meditative, profound and yet weightless work of unfettered beauty. A life-changing experience. No less. Anand Gandhi defines life's mysteries in mysterious ways, showing a command over his mammoth philosophical world that Mani Kaul and Jean-Luc Godard would have envied.
Subhash K. Jha