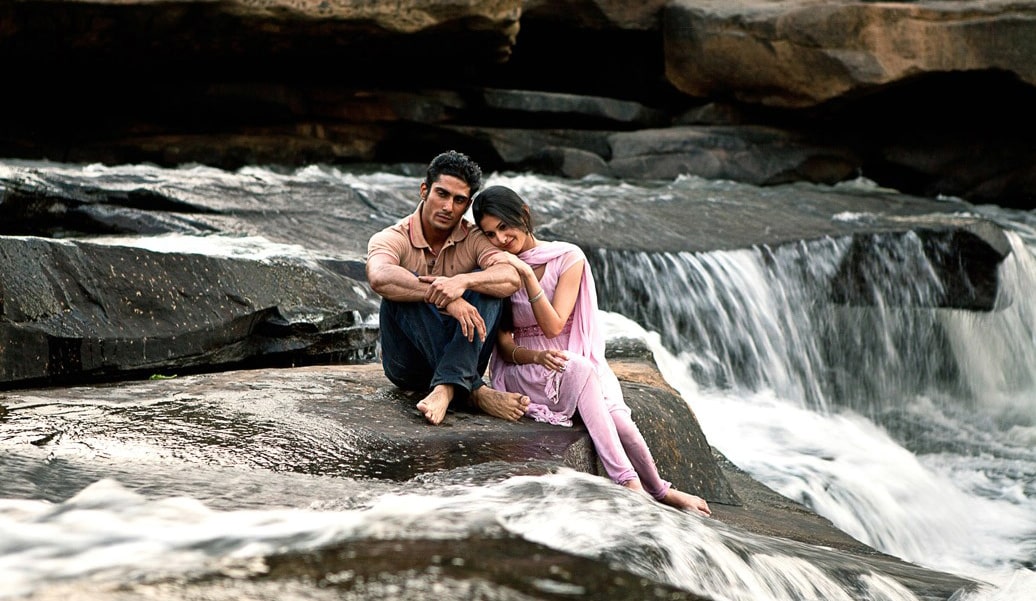 Film: Issaq
Starring: Prateik, Amyra Dastur, Ravi Kishen, Rajeshwari Sachdev, Makarand Deshpande, Prashant Kumar and Prashant Narayanan
Director: Manish Tiwary
Rating: ****
Nothing prepares you for this. Wonder what Shakespeare would have thought of director Manish Tiwary's desi Varanasi must-see adaptation of one of his most famous works.
With considerable support from his co-writers Padmaja Thakore-Tiwary and Pawan Soni, Manish Tiwary has written a raw and rugged Romeo and Juliet, which has no balcony scene (thank god!) and yes, Juliet remains a proud virgin till the end. The deviations apart, Issaq is a frightfully fertile film filled with images of rancour and tenderness.
Tiwary wastes no time in getting into the thick of Montague-Capulet feud. Here they are named the Mishras and the Kashyaps – but what's in a name? These are families teeming with gun-toting leery men whose voracious appetite for killing is matched by their libidos.
But, if Tiwary chooses not to tamper with the original Shakespearean ending (down to the apothecary's potion working cruel deceptions on the couple's turbulent destiny), he makes radical changes in the play's politics.
Naxalism and Maoism are interwoven into the courtship, while the couple in love couldn't care less if the world around them is going up in flames. Manish Tiwary manages to make his lead pair look so much in love and so oblivious to its damning repercussions that we wonder if this pair's karma is engendered by despair.
Indeed doom has seldom seemed so desirable on screen. Tiwary's brilliant production designer Ashwini Shrivastav gives to Varanasi a look of lived-in and loved-in splendour. We've been through the crowded bylanes and river ghats of the holy city in a number of films. But somehow Varanasi looks… born again! Vishal Sinha's cinematography is plush and passionate and yet never garish.
Romeo and Juliet's turbulent togetherness comes across well.
Rahul and Bachi, Tiwary's desi Romeo and ghar ki Juliet, meet at a Holi bash. As they stroll in a bangles market, the loud vibrant colours of the glass ornament screaming out a riot of lovelorn messages.
This lush sequence transpires right after Rahul's two sardonic friends (one of who will die a gangwar-infused fearless death soon after) discuss how nowadays Rahul has lost his machismo.
But we are jumping the gun. Can't help it. Guns blaze all across this choleric love tale…  Manish Tiwary knows his Shakespeare as well as he knows the rugged north Indian hinterland of blood savagery and abuses!
Tiwary cleverly holds back the boorishness. There's little or no vulgarity in the script. Issaq manages to project the perky innocence of first-love without getting over-cute, cloying or cheesy.
Much of the endearing and enduring impact of the romance comes from the two players.
Prateik's smitten Romeo is so good that you tend to forgive his past embarrassing performances. There's a marked improvement in his diction delivery. The UP accent does fall off, but what the heck! This Romeo is real. So are the songs, which mesh fluently into the plot.
Amyra Dastur, a prized find, is precocious, pretty, expressive and agile, a star in her very first film. True, she does come across as slightly too 'convent' to be a Varanasi girl, but her radiant sincerity simply melts your misgivings.
Among the rest of the fine cast, Ravi Kishen is outstanding as Amyra's protective, angry, violent uncle. Rajeshwari Sachdev as Amyra's stepmom steps into a randy role with relish, bringing in a sexual frankness and a moral ambivalence on which hangs the impact of the tragedy.
Love and war come together in a passionate embrace.
Subhash K. Jha