Reading Time:
2
minutes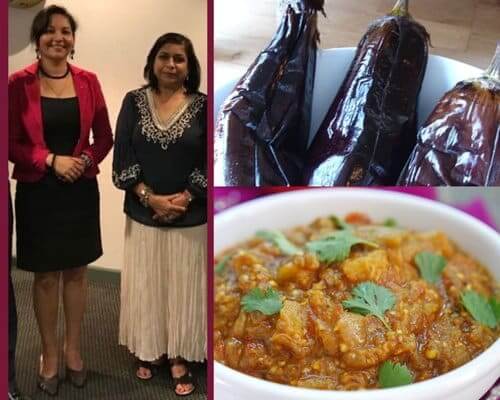 I have always been amazed at how much my mum can tirelessly cook, and how quickly she can prepare numerous dishes. This dates back to my first birthday when there were no Indian caterers in Sydney and she cooked a feast for a party of about 70 people at our family home. There are countless times when my mum has packed delicious food for me when I have been away. I admire all mothers who cook for their children while balancing many roles, taking on the role of Supermum. I guess one of their main sources of energy is love and dedication in keeping their children well fed and nourished.
Baingan bharta is one of my favourite dishes cooked by my mum.
Supermum's eggplant: Baingan Bharta
1 medium baingan (eggplant)
1 medium onion chopped fine
2 medium red tomatoes
1 clove garlic cut into 4 pieces
1 small piece fresh ginger, grated
1 tablespoon plain yoghurt
1 tsp cumin seeds
1/4 tsp mustard seeds
1 tsp coriander powder
1/4 tsp red chilli powder (paprika)
1/4 tsp turmeric powder
Pinch of asafoetida
1/4 tsp garam masala
3 tbsp oil
1 red hot chilli (to taste)
Green coriander
Salt to taste
Wash whole baingan, dry and cut slits in it on four sides. Pierce each side with a garlic piece each and microwave for approximately 8 minutes. The cut slits ensure that the baingan doesn't explode and the garlic adds flavour. You can roast the baingan too, giving it a smoked flavour. Remove and cool, then cut the stem and peel the skin off slowly. Next, chop the baingan into very small pieces. Keep aside. Puree tomatoes with yoghurt in the blender. In a non-stick pan, fry chopped pieces of onion in oil until golden brown. Add cumin seeds, mustard seeds, grated ginger and asafoetida, and let them roast. Add the pureed tomatoes and yoghurt mixture. Let it cook for a while before adding the rest of the spices – red chilli powder (paprika for colour), turmeric powder, coriander powder and pieces of green coriander for flavour. Keep frying the spice mix until the oil separates. Then add the cooked chopped baingan and mix well, stirring and mashing until done. Serve hot, garnished with chopped coriander leaves and thinly cut fresh red chilli pieces.
READ ALSO: A dish Mum taught me to cook: Neelam Vasudevan's Cocoa Cake