Reading Time:
2
minutes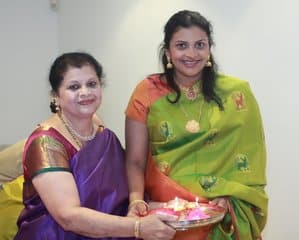 To me, Majjige Hulli (yoghurt-based sambar) is one of the tastes of my mum.  When working in London I would have sudden cravings for it, and despite Mum teaching me how to make it several times in the past, I would invariably forget the recipe.  My desperate urge to eat Majjige Hulli would override any sensible awareness of geography and time differences, and I would immediately call Sydney to ask Mum how to make it.  And she would patiently explain, regardless of whether it was 2am or in the middle of a busy working day. We would then chat about anything and everything else afterwards.  Perhaps it was not just comfort food I missed, but also a comforting voice!
Anytime Majjige Hulli (Yoghurt-based Sambar)
½ kg vegetables, chopped into 2-3 cm pieces (these can be pumpkin, chokos, fresh spinach, cucumber or green capsicum)
3 cups thick or set yoghurt – slightly sour yoghurt is preferable
2/3 cup grated fresh (or frozen) coconut
1 tsp chana dal soaked in water for 30 mins
2 tsp jeera (whole cumin)
5-6 dried red chillies
½ tsp turmeric powder
¼ tsp asafoetida powder
5-6 curry leaves
Salt to taste
1 tbsp chopped coriander
For the tempering
1 tsp jeera
¼ tsp asafetida
2 dried red chillies
5-6 curry leaves
In a food processer, grind the coconut, jeera, drained chana dal, chillies, turmeric and asafoetida into a rough paste, adding a little water if too dry. You can do this with a mortar and pestle if you have the time and patience!
Boil or microwave the vegetables until just tender. Leave the vegetables in the pot with just enough water to cover them and add the coconut paste. Add salt to taste. Stir continuously on medium heat. Bring to a boil and cook, stirring, for a further 4-5 minutes.
Reduce heat and add yoghurt, stir on low heat for 2-3 mins. Take care not to overheat as this will cause the yoghurt to separate.
For the tempering: In a separate small pan, heat 1 tsp oil. Add jeera, chillies, asafetida and curry leaves. Control the heat to prevent the jeera from burning and stand back from the sizzling mixture! Add this tempering to the Majjige Hulli and stir through.
Garnish with the coriander and serve with rice.
Enjoy!
READ ALSO: A dish Mum taught me to cook: Rani Jhala's Aloo Dhania