Ambani, Mittal, Birla, Kotak – if there's one thing that's common across all these names, what would you say it was? Power. These names – and the people behind these names – are the ones that have for years now influenced the direction that India has progressed in, economically and otherwise. They are the brands that dominate India's stock market, and for good reason.
Through extensive research, checks and cross-checks, London-based media house RAYMEDIA has come out with its third edition of the list in 2017 that combines 160 Indians, non-resident Indians and persons of Indian origin or overseas citizens of India.
The qualification for inclusion on the list is a minimum net worth of US$1 billion or its equivalent. The aggregate net worth of the people featuring on the list is well over 20% of India's GDP. As one might expect, the names are pretty much the same with a slight shuffle here and there. Indian Link, which has the exclusive Australian rights to publish the list, brings you the top 25 names.
The template for the compilation was created by Philip Beresford, one of the most experienced wealth estimators in the world. He has been compiling the UK's Sunday Times annual rich list for 27 years. The net worth figures are best estimates and subject to fluctuation, given the volatility of the markets. All figures are in US dollars. Here are the wealthiest Indians of 2017.
1
Mukesh Ambani
India
$39.9 billion
Various
Mukesh Ambani remains the richest person in the Indian diaspora. His Reliance Industries Limited is a petrochemicals, oil and gas giant which provides around 5% of the Indian government's tax revenue. In the telecom sector he has launched 4G services called Jio, which in one year has secured 130 million subscribers by offering free or virtually free services. Reliance also directly or indirectly controls several television channels, including news networks. According to an MBA student at Stanford Business School in California, his home in Mumbai is the world's most expensive residential property. He owns about a third of his company. His interests include ownership of Mumbai Indians in the Indian Premier League and promoting the Indian Super League football.
2
Azim Premji
India
Software
$19.4 billion
After his father's death in 1966, Azim Premji had to cut short his studies in electrical engineering at Stanford University to take charge of the family business. He turned it from a seller of hydrogenated cooking fats, soaps and other consumer products into Wipro (short for Western Indian Vegetable Products), the third largest Indian software exporter, which has since 2000 been quoted on the New York Stock Exchange. His acquisitions include Florida based insurance technology firm HealthPlan Services. He has pledged 39% of his stake in Wipro to his charitable trust.
3
Hinduja family
UK/Switzerland/India
Various
$18.6 billion
The Hinduja Group have assets in truck-making, lubricants, banking, energy, chemicals and cable TV. The Old War Office in London that they bought for £350 million, is being re-launched as a hotel. They also started NXT Digital, a digital TV distributor, in India. Captained by the second of four brothers, Gopichand, their businesses include India's second biggest truck maker Ashok Leyland, British electric bus maker Optare, interests in Gulf Oil, US chemical company Houghton and IndusInd Bank, which has a presence in Switzerland, India and Britain.
4
David and Simon Reuben
UK/Switzerland
Property & Internet
$17.8 billion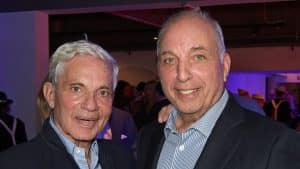 Born in Mumbai, the Jewish family started out in metals. Their property portfolio includes prime buildings in London, airports and heliports. They are leading investors in the UK's Metro Bank and still own 51% of Global Switch, a data hosting company, having sold 49% to Chinese investors Elegant Jubilee for $3 billion less than a year ago. Grosvenor House Hotel in London and Plaza Hotel in New York are mortgaged to them against loans granted to Sahara India. Reubros and Aldersgate Investments, controlled by them, are estimated to be worth $14 billion. Their net worth took a hit because of the lower value of the pound since the Brexit vote.
5
Pallonji Mistry
India/Ireland
Construction & Investments
$17 billion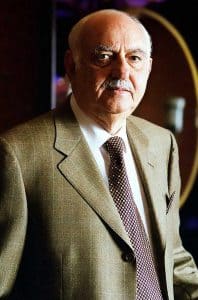 The Mistry family have a stake of 18.5% (the largest) in the $126 billion Tata Group. His son Cyrus is locked in a legal battle with the Tatas, after being ousted as chairman of Tata Sons in 2016. Mistry heads Shapoorji Pallonji Group, pioneering builders in India since the 1860s, credited with the creation of some of India's most iconic structures. Since the 1970s, the company has also had a significant presence in the Gulf. It is presently engaged in a $200 million venture to construct 20,000 affordable homes in India. Mistry, recipient of the Padma Bhushan – is now an Irish citizen.
6
Lakshmi Mittal and family
UK
Steel
$16.9 billion
As chief executive of the Luxembourg-headquartered ArcelorMittal, Lakshmi Mittal seems to be as strong as the steel he makes. After a $7.9 billion loss in 2015 due to an industry-wide crisis caused by over-capacity and dumping by China, the world's largest steelmaker made a profit of $1.8 billion in 2016. Mittal moved from Kolkata to Indonesia before settling in Britain in 1995, where he was declared the wealthiest person for eight years, but is now only 11th on the Sunday Times Rich List.
7
Godrej family
India
Various
$14.2 billion
In 1918, the Godrej Group, now headed by MIT graduate Adi Godrej, with brother Nadir and cousins Jamshyd and Smita Crishna-Godrej part of the empire, launched the world's first soap product made from vegetable oil. After 120 years, it is now involved in real estate, industrial engineering, appliances, furniture, security, agriculture, and consumer goods – ranging from mosquito repellents to refrigerators – that are also sold in other parts of Asia, Africa and South America. Godrej Properties is now developing its vast and nearly 100-year land holdings – its biggest asset – in suburban Mumbai.
8
Shiv Nadar
India
Software
$13.3 billion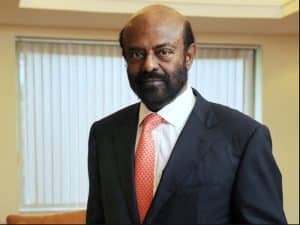 HCL Group, co-founded by Shiv Nadar in 1976, began by selling micro-computers, and is now India's 4th largest software firm. Its customers include Boeing, Microsoft, Cisco and UBS. HCL also invested $780 million in an intellectual property partnership with IBM. Nadar also possesses a $100 million art collection.
9
Kumarmangalam Birla
India
$12.6 billion
Aluminium, Cement & Telecom
Hindalco Industries, a part of Birla Group, is India's second largest aluminium maker. It acquired Atlanta-based Novelis for $6 billion in 2007 and bought the rival Jaypee Group for $2.4 billion. Birla also launched a fashion portal abor.com. He merged his firm Idea Cellular with Vodafone India to compete with Reliance Jio.
10
Dilip Shanghvi
India
Pharmaceuticals
$11.6 billion
Despite drop in shares, Shanghvi's company remains India's biggest firm in the sector and the 5th largest generics maker in the world after acquiring rival Ranbaxy Industries for $4 billion in 2014. In 2016 it introduced a generic version of Gleevec, a cancer drug made by Novartis, in the US.
11
Gautam Adani and family
India
Infrastructure & Energy
$11 billion
Adani is known as much for his business interests in ports and power as he is for his association with Narendra Modi. In 2014, he acquired major ports in eastern and southern India. He has received approval for a coal-mining project in Queensland but the plan has also raised environmental concerns.
12
Uday Kotak
India
Financial Services
$10.2 billion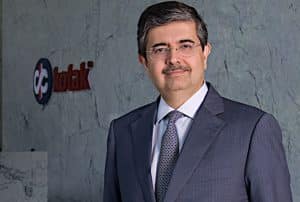 Uday set up Kotak Capital Management Finance in 1985 and converted it into Kotak Mahindra Bank in 2003. After acquiring ING Vysya Bank, it is now India's 4th largest bank. It also has a stake in MCX, India's largest commodities exchange. Kotak Mahindra Bank also owns Business Standard, an Indian financial daily.
12
Sunil Mittal and family
India
Telecom
$10.2 billion
Bharti Airtel, controlled by Mittal with SingTel of Singapore, is the world's third largest telecom company by way of subscribers. Airtel is engaged in a price war with Reliance Jio in the 4G data space. It enjoys a presence in 18 countries in Asia and Africa. Mittal has also launched Airtel Payment Bank.
14
Radhakishan Damani
India
Investor
$9.6 billion
A jump from No 134 to 14, Damani's net worth is a result of an IPO of his hypermarket chain D-Mart. He has a 26% share in cigarette maker VST Industries and in India Cements. Damani has also acquired the Radisson Blu Resort in Alibag, a beach getaway near Mumbai.
15
Cyrus Poonawalla
India
Pharmaceuticals
$8.9 billion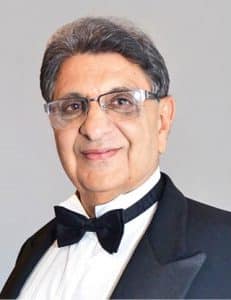 From owning stud farms in Pune, Cyrus and his brother Zavaray launched Serum Institute of India in 1966. It is the world's largest producer of vaccines. Its range of new vaccines includes one for dengue. Poonawalla has investments in real estate and hotels, but his net worth has declined since 2016.
16
Savitri Jindal and family
India
Steel, Power & Energy
$7.6 billion
Savitri Jindal took charge after the death of husband Om Prakash in 2005, and delegated the four divisions of the company – steel, power, mining and oil and gas – to her sons, Prithviraj, Sajjan, Ratan and Naveen. Apart from JSW Steel operated by Sajjan, the other businesses have declined.
17
Vikram Lal
India
Motorcycles
$6.8 billion
Eicher, which used to make tractors, switched to manufacturing motorbikes by acquiring a stake in Enfield India. After growing more than 50% annually since 2010, it has partnered with Volvo to make trucks and personal utility vehicles. Vikram Lal, who oversees operations with his son Siddhartha, commands a 55% share.
18
Acharya Balkrishna
India
Consumer Goods
$6.6 billion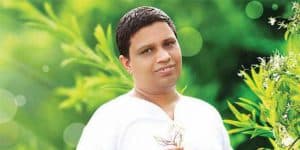 A new entrant, Acharya Balkrishna's rise has been meteoric. Patanjali Ayurved is a joint venture with Baba Ramdev, a yoga teacher who is close to the current ruling party in India. Balkrishna holds 98.6% of the company, which sells a range of products, including toothpastes, cosmetics, noodles and jams.
19
Sri Prakash Lohia
Indonesia
Petrochemicals
$6.4 billion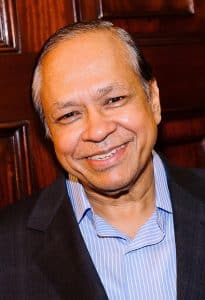 Indorama is the world's largest producer of polyester. In addition to Indonesia, it has production plants in Malaysia, India, Sri Lanka, Uzbekistan, Turkey and Senegal. In London, he and his wife Seema bought and restored a 1772 five storey mansion known as Sheridan House for around $66 million.
20
Benu Gopal Bangur
India
Cement
$6.3 billion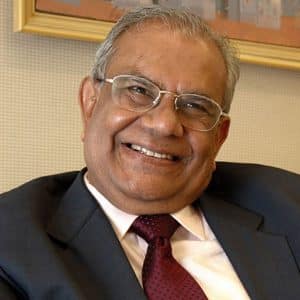 Inheriting an under-performing cement company in a family carve out in 1992, Bangur turned it around. Kolkata-based Shree Cement has in recent years maintained its buoyancy despite bearish demand. Bangur is reputed to reside in a 51,000 square foot mansion which possesses a temple, home theatre, a gym and volleyball court.
21
Nusli Wadia
India
Various
$6 billion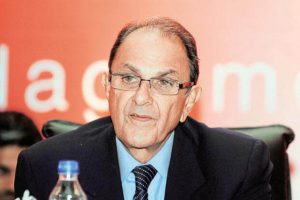 The Wadia Group, a marine construction company for Britishers, today owns Bombay Dyeing and Manufacturing Company, Bombay Burmah Trading Corp, Britannia Industries and many properties in Mumbai. It also promoted Go Air, an Indian airline. Ness, Nusli Wadia's son, has a stake in IPL Twenty20 cricket franchise King's XI Punjab.
22
Kushal Pal Singh
India
Urban Development
$5.9 billion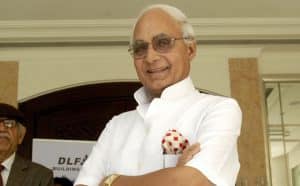 He heads DLF, India's largest urban development company with son Rajiv. Shares have tumbled by a third in 2015-16 due to low demand and debt rose to $3 billion. But Singh sold his 40% stake in DLF's rental arm to Singapore sovereign wealth fund GIC for $1.9 billion to stabilise the situation.
22
Vivek Chaand Sehgal
Australia/India
Auto Parts
$5.9 billion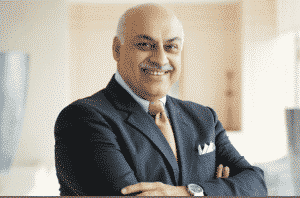 Co-founded in 1975 by Sehgal and his mother, it is now a leading manufacturer of car components, with a tie-up with Japan's Sumitomo, which owns 25% of the company. Its clients include Volkswagen, Porsche, Mercedes-Benz, BMW, Ford and Toyota, with 230 factories in 37 countries including Europe and South America.
24
Pankaj Patel
India
Pharmaceuticals
$5.6 billion
Pankaj Patel's Cadila Healthcare claims to have discovered a new drug for diabetes. Its Zydus Wellness division makes a popular sugar substitute called Sugar Free. It took a hit when US authorities warned it of contravening manufacturing standards. Around 30% of its annual revenues come from the US.
25
Madhukar Parekh and family
India
Adhesives
$4.8 billion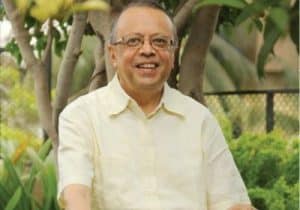 Pidilite Industries, owned by the Parekhs, owns Fevicol, M-Seal and Dr. Fixit, household names in India. Its share values continue to rise. Madhukar, who has an MSc degree from Wisconsin University, inherited Pidilite from his father who died in 2013.  The family have a 70% stake in the business.
26
Rahul Bajaj and family (Motorcycles)
$4.7 billion
India
26
Ajay Piramal (Various)
$4.7 billion
India
28
M A Yusuff Ali (Retail)
$4.6 billion
UAE
29
Subhash Chandra (Media)
$4.5 billion
India
29
Kalanithi Maran (Media)
$4.5 billion
India
31
Kapil and Rahul Bhatia (Aviation and Hotels)
$4.3 billion
India
32
Harsh Mariwala and family (Consumer Goods)
$4.2 billion
India
32
Pawan Munjal and family (Motorcycles)
$4.2 billion
India
34
Mangal Lodha and family (Property Development)
$4.1 billion
India
35
Micky Jagtiani (Retail & Hotels)
$4 billion
UAE
36
Ravi Pillai (Construction)
$3.8 billion
UAE
36
Bavaguthu Shetty (Healthcare & Foreign Exchange)
$3.8 billion
UAE
38
Vinita and Nilesh Gupta (Pharmaceuticals)
$3.6 billion
India
39
Kuldip Singh and Gurbachan Singh Dhingra (Paint)
$3.5 billion
India
39
Sudhir and Samir Mehta (Pharmaceuticals & Power)
$3.5 billion
India
39
Radhe Shyam Agarwal and Radhe Shyam Goenka (Health & Personal Care Products)
$3.5 billion
India
39
Karsanbhai Patel (Various)
$3.5 billion
India
43
Shashi and Ravi Ruia (Energy & Logistics)
$3.4 billion
India
44
Ashwin Dani (Paints)
$3.3 billion
India
44
Baba Kalyani (Various)
$3.3 billion
India
44
Samprada Singh and family (Pharmaceuticals)
$3.3 billion
India
47
Anil Agarwal (Metals & Oil)
$3.2 billion
UK/India
48
Romesh Wadhwani (Private Equity)
$3.1 billion
USA
49
Indu Jain and family (Media)
$3 billion
India
49
Ashwin & Mahendra Choksi and family (Paints)
$3 billion
India
49
Rakesh Gangwal (Aviation)
$3 billion
USA
49
Rai Gupta family (Electricals)
$3 billion
India
49
Rakesh Jhunjhunwala (Investor)
$3 billion
India
54
Hasmukh Chudgar (Pharmaceuticals)
$2.9 billion
India
55
P V Ramprasad Reddy (Pharmaceuticals)
$2.8 billion
India
55
Raj Kumar & Kishin R K (Property Development)
$2.8 billion
Singapore
55
Rajan Raheja and family India (Various)
$2.8 billion
India
55
Chandru Raheja (Property Development)
$2.8 billion
India
55
Sameer Gehlaut (Property Development)
$2.8 billion
India
55
Kishore Biyani and family (Retail)
$2.8 billion
India
61
Feroz Allana (Food)
$2.7 billion
UAE
61
Rishad Naoroji (Inheritance)
$2.7 billion
India
61
Abhay Vakil and family (Paints)
$2.7 billion
India
61
M G George Muthoot and family (Financial Services)
$2.7 billion
India
65
Rajesh Mehta and family (Jewellery)
$2.6 billion
India
66
Vijay Chauhan and family (Biscuits)
$2.5 billion
India
66
Abhay Firodia (Vehicles)
$2.5 billion
India
66
A Krishnamoorthy and family (Tractors)
$2.5 billion
India
66
Dalmia family (Cement)
$2.5 billion
India
70
Murugappa family (Various)
$2.4 billion
India
70
Vinod Khosla (Private Equity)
$2.4 billion
USA
70
Aloke Lohia (Textiles)
$2.4 billion
Thailand
73
Mansoor and Aminmohammed Lalji and family (Property Development)
$2.35 billion
Canada
74
Sunil Vaswani (Transport and Food)
$2.3 billion
UK/Nigeria/UAE
74
Kiran Mazumdar-Shaw and John Shaw (Bio-Pharma)
$2.3 billion
India
74
Sunny Varkey (Education)
$2.3 billion
UAE
74
Rajendra Agarwal and family (Pharmaceuticals)
$2.3 billion
India
78
Anil Ambani (Various)
$2.2 billion
India
78
Murali Divi (Pharmaceuticals)
$2.2 billion
India
78
Harsh Goenka (Various)
$2.2 billion
India
78
Leena Tewari (Pharmaceuticals)
$2.2 billion
India
82
Sanjiv Goenka (Various)
$2.1 billion
India
82
Kavitark Ram Shriram (Private Equity)
$2.1 billion
USA
82
Mofatraj Munot (Property Development)
$2.1 billion
India
82
Jitendra Virwani (Property Development)
$2.1 billion
India
82
Vikas Oberoi (Property Development)
$2.1 billion
India
87
Vivek Chand Burman (FMCG & Natural Healthcare)
$2 billion
India
87
B Parthasaradhi Reddy (Pharmaceuticals)
$2 billion
India
87
Arvind Tiku (Oil & Gas)
$2 billion
Singapore
90
Lachhman Das Mittal (Various)
$1.95 billion
India
90
Murli and Bimal Gyanchandani (Detergents)
$1.95 billion
India
90
N R Narayana Murthy (Software)
$1.9 billion
India
90
Juneja family (Pharmaceuticals)
$1.9 billion
India
90
Simon, Bobby and Robin Arora (Retail)
$1.9 billion
UK
90
Ranjan Pai (Education and Healthcare)
$1.9 billion
India
90
Anurang Jain (Auto Parts)
$1.9 billion
India
97
Anand Burman (FMCG & Natural Health Care)
$1.8 billion
India
97
Genomal family (Garments)
$1.8 billion
India
99
Singhal family (Agrochemicals)
$1.8 billion
India
100
Nandan Nilekani (Software)
$1.75 billion
India
Jeweller Nirav Modi is under investigation for a fraud case against Punjab National Bank and hence, has been taken off this list.