Reading Time:
3
minutes
The calming crash of waves against shores of speckled sand quietly engulfs the hum of local traffic and beachgoers as laughter drifts with the cool breeze, and conversations pause at an impressive sculpture.
Overlooking the never-ending beauty of the Indian Ocean and stretches of sand at iconic Cottesloe Beach, Perth, an intriguing sculpture has been delicately and thoughtfully installed.
Featured among 78 other works at the annual Sculpture by the Sea exhibition, Column of Sound is a thought provoking and conversation starting sculpture.
Announced winner of the $50,000 Rio Tinto Sculpture Award, multidisciplinary artist Harsha Vardhan Durugadda has rightfully earned his place as a rising virtuoso in the artistic community.
Column of Sound stands as a unique form, sculpted specifically using audio from the site's location. After a painstaking process of recording audio from the planes of land surrounding the sculpture's site, the artist conceives a physical representation of the sounds. He constructs his art and adjusts the sculpture based on the rhythms and movements heard. The final product stands as a profound transformation between audio and visual realms.
Having received the Andrea Stretton Memorial Invitation at Sculpture by the Sea, Bondi 2016, Durugadda's explorations in the perceptions of audio and visual certainly question the normative approach by imploring critical and imaginative thinking.Sensory concepts are commonly interpreted singularly, as smell is correlated to the nose, sound is parallel to ears and touch is mutually exclusive to feel. Durugadda has instead achieved the almost unthinkable in his feat by purposely disrupting common perceptions and inviting onlookers to be a part of this sensory breakthrough as he forges binaries between otherwise opposing senses and notions.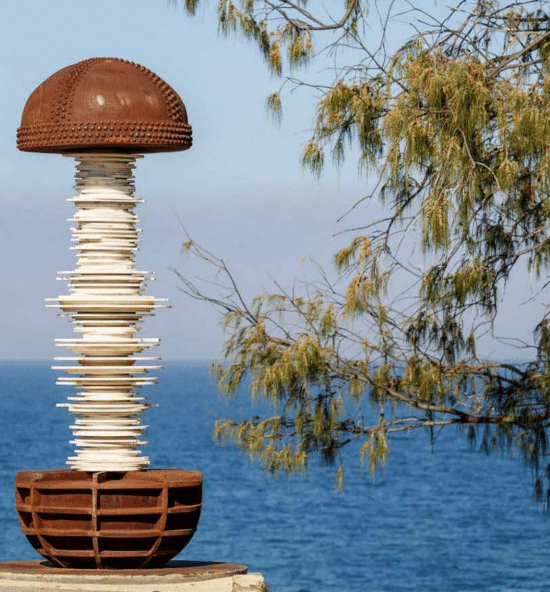 "We are used to whatever is already in Physics books. People are not ready to touch or feel sound. I'm working to change perceptions and disturb people's thinking of life. When they touch the sculpture, they touch the sound of the site," explains Durugadda.
"It is never the same sculpture in visual, the slices of marble pieces are different each time. The sculpture changes according to space."
Appropriately situated at the forefront of an oceanic landscape where the worlds of nature and artificial construction collide, Column of Sound is a deep expression of nature inspired art coupled with anthropomorphic ideologies.
Born in Andhra Pradesh, India and now based in New Delhi, Durugadda completed his Masters in Visual Arts and began practising with a number of different mediums. Experimenting with performance art, video, prints and sculptures, he then ventured out of the nation successfully holding exhibitions and publishing work in London and here in Australia.
In its 13th year, Sculpture by the Sea has become a household name as perhaps the world's largest annual outdoor sculpture exhibition. Each year the beautifully captivating shores of popular Cottesloe beach become home to a temporary sculpture park with local, national and international artists showcasing their visionary art.
Attracting hundreds of thousands to its shores, the free outdoor exhibition has people pouring in all times of day and night, from residents in Perth to tourists and even local AFL football stars.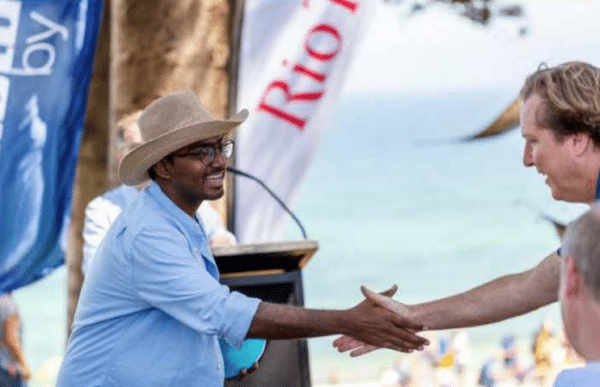 The event invites the public to appreciate and participate in contemporary art in a physical and interactive manner as all are welcomed to view the pieces at their own pace and create their own imaginative perspectives.
"[Sculpture by the Sea] is a great opportunity and a great way to judge different works. It is a great benchmark for other organisations and especially for younger artists working alongside more experienced, senior artists," says Durugadda. "[The win] is such an overwhelming welcome, I was so surprised. This is a great step for my career and such a confidence booster. I have received the highest reception for my work here in Australia."
Apart from being the major prize winner, Column of Sound will soon be installed in the town of Busselton through the efforts of Rio Tinto.
"As an emerging artist, I was hiring most things before. Now I want to build up my studio and invest in tools that will allow me to continue doing my work," reveals Durugadda."I will be applying to be exhibited in Bondi next year, as well as applying for exhibitions elsewhere in the world."
Following his success in Australia, Durugadda encourages aspiring artists of Indian origin to venture further than pursuing the pattern of being doctors or engineers.
"I was more welcomed here than at home in India," says Durugadda.  "Usually in Asian countries they go for senior artists and only they end up receiving awards. [Australia] is open for everybody to engage with."
Sculpture by the Sea, Cottesloe WA, will be open to the public until 20 March 2017.
Images courtesy of Jessica Wyld.