As a junior doctor interested in gastroenterology and liver disease many years ago in Melbourne, Winita Hardikar found a young family in her care. Their baby suffered from biliary atresia, a rare disease of the liver and bile ducts that occurs in infants. Today most such babies would undergo a liver transplant, but back in the early '80s, they would simply be put in palliative care, as the doctors had nothing to offer. Most babies survived to two years.
"I was pregnant with my own first child then," Prof. Hardikar recounted to Indian Link. "The young mum knitted some booties and a hat for my baby. I felt helpless in my inability to do anything for her. When liver transplants began in 1985, I knew I had to get involved."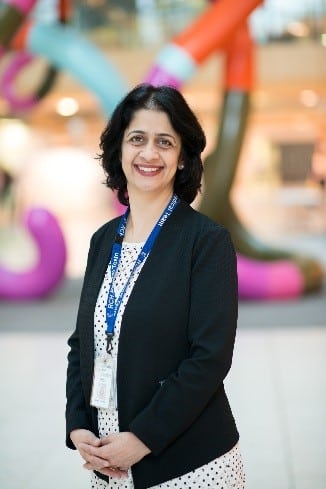 Today, Winita Hardikar, one of the country's leading liver transplant specialists, attends the birthday parties of early patients as they turn into young adults.
In a career spanning 30 years, which has seen multiple transplants, she has won many Special Commendation and Innovation awards, and has produced a treasure trove of research literature. An eponymous syndrome has been named after her: the Hardikar Syndrome is a very rare multiple congenital malformation syndrome characterised by obstructive liver and kidney disease.
She is also credited, along with her colleague Dr Katie Allen, for having performed the first liver cell transplant in Australia. (Less risky than a full transplant, in a liver cell transplant there are no surgical incisions, with liver cells from a donor liver distributed through the liver by blood cells.)
"I'm happy my work has been appreciated, with this AM honour," Dr Hardikar said. "Yet there's a lot more to do. Going forward, I hope also to be able to play a more significant role in advocacy with government bodies."
The Pune-born doctor moved to Australia as a young child and did her paediatric training at the Royal Children's Hospital in Melbourne before taking a PhD at the University of Melbourne. Then, as a Fulbright scholar, she spent three years at Yale.
She has been Head of Liver and Intestinal Transplantation at the Royal Children's Hospital since 2013; Director, Gastroenterology and Clinical Nutrition since 2016, and Head of Hepatology since 2003.
What does she feel about the recent reports on racism and sexism in the medical fraternity?
"I've never encountered racism; in fact I would say I have been well supported throughout. But sexism, that's another story. As an intern at Melb Uni I topped my year in surgery and was keen to get into that field. But a senior surgeon told me straight out, I don't think women should become surgeons. I didn't – perhaps because of my cultural background then where we were taught to respect authority. Some of my women friends did get into surgery though. Still, I get to go to theatre a lot in my work!"
Prof. Hardikar has her own words of advice for young people out there who may be considering a career in medicine.
"Do it if you really love it," she maintained. "It is an all-consuming career: it infringes on your nights, weekends, family life, social life. You take the mental burdens home with you. Don't do it just because you got the marks for it. And this is particularly important for parents in our community: don't push your kids into medicine for prestige – your own, or theirs. Give greater importance to all careers."
There's similar counsel for the Indian community in general.
"I agree we come from a rich culture and have so much to offer but we should lose some of the things we were brought up with, such as rote learning, not thinking for ourselves, or saying 'that's fate'. I think we should also integrate with others, and not restrict ourselves to our own kind. See another culture, be part of it. There's a much richer life here that we should make the most of, and contribute to in as many different ways as we can."