After firing the imagination of the South Asian community and rallying unprecedented support for breast cancer awareness, Pink Sari Inc. and NSW Multicultural Health Communication Service (NSW MHCS) continue their winning streak, this time at the 2017 Australian Multicultural Marketing Awards (AMMAs).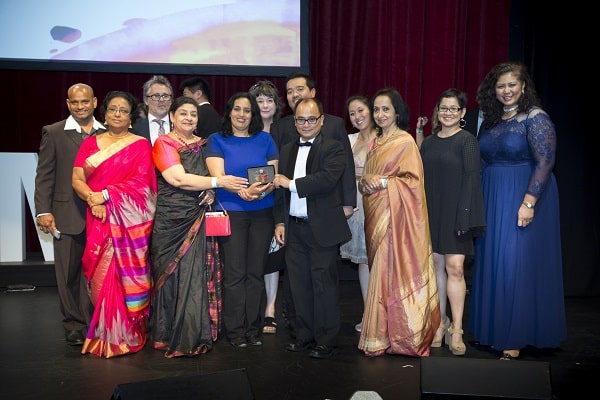 At a glittering ceremony in the Sydney Opera House, the Pink Sari Project's National Song Writing Competition has taken out the honours in the Art & Culture category.
Now in its 28th year, the AMMAs recognise excellence in multicultural marketing and communication, promoting cultural diversity across Australia's corporate, community and public sectors.
It is open to Australian public relations, advertising and digital agencies that have created socially cohesive campaigns which recognise the value of cultural diversity through the use of talent, copy and imagery.
The Pink Sari Project's National Song Writing competition was developed by MHCS' Kevin Bathman as an innovative and exciting way to promote the core message of early detection and intervention through the power of music, thereby breaking the culture of shame and silence previously associated with breast cancer among migrant communities.
Aimed at creating awareness about the importance of breast screening amongst Indian and Sri Lankan communities, the competition was open to aspiring and professional songwriters and musicians from all communities and provided a means to showcase music as well as spread inspiring messages to encourage women to take charge of their health and book their regular mammograms.
Open to amateurs and professionals from across Australia, the theme for the competition was 'The women in my life' with words 'pink sari' woven in the compositions. The contest also included a song writing workshop at the Australian Institute of Music (AIM) to help aspiring songwriters to craft their compositions.
The efforts of this campaign resulted in an increase of up to 51% of 50-69 year old women in NSW getting breast screens.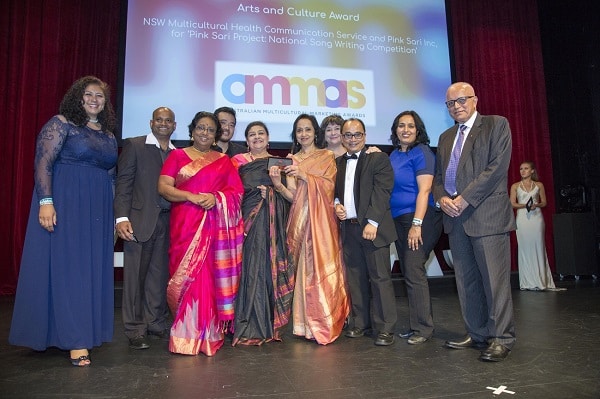 Community engagement, and an excellent partnership between Pink Sari Inc. and the NSW Multicultural Health Communication Services, have been vital to this success.
Pink Sari's Shantha Viswanthan attributes its triumph to the creative genius of Kevin Bathman and the mentorship of Michael Camit.
"The success of this campaign proves that the creative arts are a powerful medium for communicating social messages and that music can have a very profound impact," Viswanathan explained.
Bathman told Indian Link, "For this project, it was a huge undertaking to 'trial' a new approach to arts and health using music and song writing."
"Hopefully, with the win, we will be able to advocate for health campaigns to realise the power of the arts in conveying complex issues surrounding health and well-being in multicultural communities," he added.
However, even with supportive clients, it would not have gotten off the ground without the support of the community, the talented songwriters and musicians who participated, the generosity of I&G (Chris Soulos, Lee Hubber and Phil Muscatello) for their studio and lastly, the passionate women driving Pink Sari Inc. "Thankfully, this project had all the right ingredients for its success," he reiterated.
Both Viswanathan and Bathman are particularly grateful for the profound contributions made by songwriters Anu Sitaram, Daniel Vijayakumar, Deepa Srinivasan, Gary Luck, Priyanka Pinto, Rekha Shashikanth, Russell Vincent, Sheyana Wijesingha and Sumathi Krishnan, the musicians and vocalists Devaki Parthasarthy, Aditi Sreyashi, Abhijit Dan, Pushpa Jagadish and Marshall David as well as competition judges.
Canberra-based songwriter Russell Vincent won the top gong with his Women with our hearts. Rekha Shashikanth's Kannada melody O Sumana came a close second, while Anu Sitaram's Naari, featuring well-known Sydney artist Pushpa Jagdish, won the audience award. The third prize was jointly shared by Melbourne-based singer/songwriter Gary Luck for Pink Sari Women and Anu Sitaram. The compositions of nine finalists have been professionally recorded.
"Without their lyrics, without their music and without their voices, there would have been no Pink Sari Melodies," Viswanathan noted. "This award is also one to be shared with everyone in our amazing community who were so willing and so giving of their time and their talents and to the excellent media coverage."
Besides the national song contest, Pink Sari Project's stellar trajectory includes high profile marches, portrait exhibitions, fashion shows and leaderships forums as well as the daughters multimedia campaign, all of which garnered national and international headlines.
Going forward Pink Sari's newly elected committee comprising Shatha Viswanthan, Rugmini Venkatraman, Priya Burgess, Aparna Tijoriwala, Viji Dhayanathan and Anoop Johar are committed to sustain the momentum that has been created.
"Whilst we will continue to focus on early detection, to improve and increase mammogram rates, we will also be looking at scaling up to address other issues relating to the health and well-being of South Asian women," Viswanathan stated.
"The project is a great example of how health organisations and community groups can work together to achieve a positive outcome for the community," project lead Michael Camit concluded. "We, at MHCS, are particularly humbled to see what started as a two-year campaign become the long-term movement of Pink Sari Incorporated."
Read also (https://indianlink.com.au/tickled-pink/)
https://indianlink.com.au/in-tune-with-health/
Pink Sari Inc. invites community members to get on board the initiative and play a role in changing attitudes and behaviours to increase mammogram rates. Contact @pinksariinc or pinksariproject@gmail.com