Reading Time:
3
minutes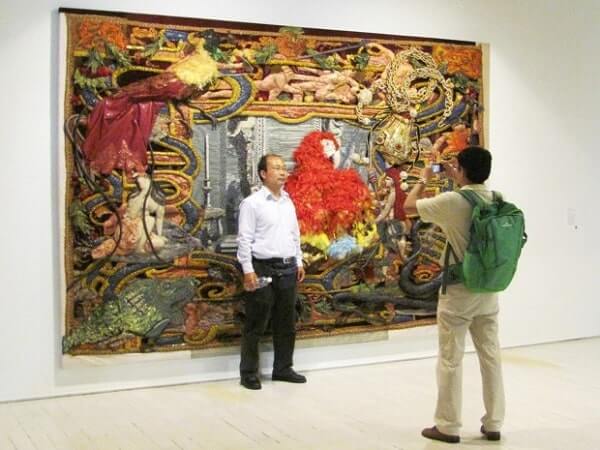 As a child I recall driving with my family through country towns where there would always be a Chinese restaurant offering standard fare such as Fried Rice and Chop Suey. I often wondered how it was that they came to be there.
The origins of Chinese settlement in Australia can be traced back as long ago as 1818, when Mak Sai Ying, a free settler, arrived from Guangzhou and settled in Parramatta, opening a public house called 'The Lion'. Small numbers of Chinese followed during the 1820s and 1830s, working as labourers, carpenters and shepherds. When the transportation of convicts ceased in 1840, there was a shortage of labour and after Hong Kong was ceded to England in 1842, Chinese indentured labourers were shipped out to work on farms in rural New South Wales, with more arriving after gold was discovered in 1851.
Sydney's original Chinatown was located in The Rocks before moving to Haymarket and into Surry Hills. Chinese churches, temples, shops and boarding houses were built; but it was the gambling houses, opium dens and overcrowded squalid conditions that gave the area a notorious reputation. Much of it was demolished after an outbreak of the bubonic plague hit Sydney in the early 1900s, the catalyst for a program of urban renewal that saw hundreds of terraces demolished. Chinatown was moved once more to its current location at Dixon Street, after the opening of Paddy's Market.
The skills of the Chinese in agriculture led to the establishment of market gardens at Rushcutters Bay, Alexandria and Waterloo and when the gold rush ended, many became merchants. Chinatown offered medicinal herbs, bountiful produce from the market gardens, imported silks, tea, spices, and restaurants that were always busy and aromatic.
Today's Chinatown is characterised by oriental architecture, flashing neon across shopfronts, incense, street lanterns, dragons, bilingual signage and ceremonial archways or Paifang at each end of Dixon Street. But most of all, it is an area renowned for a multitude of restaurants with bamboo steamers full of plump dumplings, and woks with chefs stirring up a feast – a melting pot of exotic flavours and cuisines from the Orient – offering Cantonese, Northern Chinese, Sichuan, Vietnamese, Korean, Japanese and Malaysian cuisines, with speciality offshoots such as Thai Town in Campbell Street. Chinatown today is one of Sydney's most vibrant precincts.
I went in search of one of Sydney's most prominent Chinese Australians who owned a network of tea rooms, Mei Quong Tart (1850-1903). This leading Sydney merchant who imported silk and tea from China and owned tea rooms in the Sydney Arcade, Royal Arcade and King Street, and made a significant impact on the city's social and political scene. While tea houses have all but disappeared from Chinatown, but as a commemoration to Mei Quong Tart, a statue was erected in his home suburb of Ashfield in 1998.
It was here in Ashfield that I found a vibrant culinary crossroads, and marvelled at how the area had changed with the recent influx of people from China, Nepal, the Philippines and India joining the more established Greek and Italian communities who had settled in Australia after World War II. At a Greek cake shop, elderly men spoke Greek and sipped strong coffee as I selected shortbread biscuits laced with icing sugar, while nearby restaurants competed for custom, namely for Beijing and Shanghai Noodles.
Back near Chinatown I visited the White Rabbit Gallery that showcases cutting edge contemporary Chinese art; the collection is one of the world's largest and most significant, founded by a South African family who now call Sydney home. Here, herbal tea is served with crackers, a modern take on the tea rooms that once featured so prominently in the area. Cross-cultural influences enrich us all and Chinatown and Ashfield are among the most pronounced precincts of Sydney's transition into an international city, offering a world of dining possibilities.
Travel Notebook
Where to eat
Chinatown: There are so many dining options from which to choose. My favourites – Mamak, 15 Goulburn Street, where the highlight is the flaky roti served with curry sauce. The queues of Thai patrons suggests that the cuisine is authentic at Chat Thai, 20 Campbell Street. Further along, you'll find Lucky Thai Sweets for flavoursome desserts.
Yum Cha, choosing steamed or fried dim sum dishes brought on trolleys is immensely popular. Recommended restaurants include Marigold offering over 100 varieties of dim sum at 683 George Street, The Eight with 70 dishes to choose from at Market City Food court. Emperor's Garden, 100 Hay Street, specialises in Cantonese cuisine, while Golden Century, 393 Sussex and East Ocean, 421 Sussex Street, both feature seafood cuisine. Vegetarian dishes are limited. Check to ensure that they contain no fish paste or lard. When in need of tranquil surroundings, head for the Chinese Garden of Friendship (entry fees apply) or the White Rabbit Gallery whiterabbitcollection.org
Getting there
Ashfield and Chinatown are easily accessed by train. Trip planner: 131500 / www.131500.com.au