Reading Time:
3
minutes
Diwali is all about starting afresh. It is the Hindu New Year, and there's plenty of 'new' things: new clothes, a spring-cleaned home, new utensils, even major new purchases like a new car.
How about new flavours for your Diwali party? Read on!
ROASTED LENTILS
Lentils are full of protein and yet the most underrated ingredient in the pantry. Roasted lentils are an easy snack to make in your air fryer. Now this is a different Diwali treat!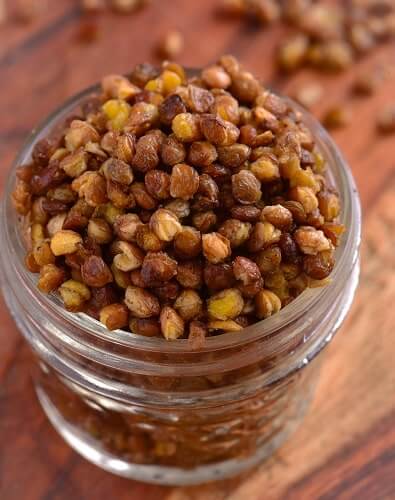 Ingredients
1/4 cup red lentils with skin, also called French lentils
1 cup water
1 tsp oil
Salt to taste
1/2 tsp cayenne pepper or any seasoning of your choice
Method
Allow lentils to soak in cold water for 4-6 hours, then drain.
Heat 1 cup of water in a big pot on the stove. Boil lentils for 4-5 minutes, then drain.
Preheat the airfryer 180 C for 5 minutes. Toss the lentils with oil.
Place a layer of lentils on the crisping tray or parchment paper.
Cook for 8-10 minutes at 180 C, making sure to mix 2-3 times. When finished, set it aside on a paper towel.
Add the spices and mix well. Store in an airtight container upon cooling.
SAMOSA PINWHEELS
Yes, we know samosa is best in its good old fashioned form. But have you tried making them as pinwheels? Yup, it's same same but differnt, anda  nice change as a Diwali treat.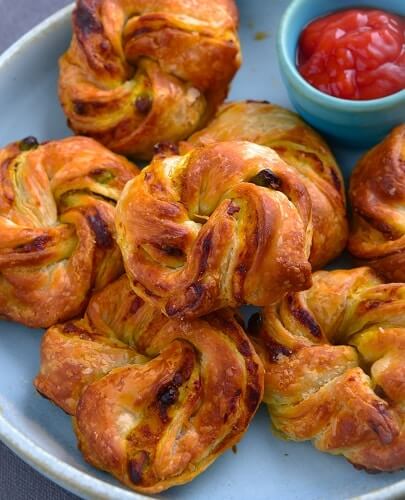 Ingredients
2 frozen puff pastry sheets (makes 10 pinwheels) with 2 pastry sheets.
Each sheet is approx 25 cm x 25 cm
For filling:
2 tbsp oil
1 small onion, chopped
1/2 tsp mustard seeds, optional
1 tsp ginger, grated
2 medium potatoes boiled, peeled and cubed
1 tsp curry powder or any other seasoning of choice.
Salt to taste
2 tbsp green peas frozen/fresh
Method
For filling
Warm up the oil in a skillet. Add mustard seeds and let them crackle. Add chopped onions and ginger. Cook until they become pink over medium heat.
Add curry powder, salt, and any other spices as per your taste. Cook for a few minutes.
Mix well by adding potatoes.
Add peas and mix well. Cook covered for 5-7 minutes. Set aside to cool.
For pinwheels
Allow the frozen pastry sheets to thaw for 5 minutes, then spread the filling on one sheet.
Place a pastry sheet on top of the filling.
Cut the filled sheets into approximately 8-10 strips using a knife or pizza cutter.
Roll each strip into a pinwheel and set it aside.
Set the air fryer to preheat at 190 C for 5 minutes. Put the pinwheels in the air fryer basket.
Spray oil on the pinwheels and air fry them at 190°C for 12-14 minutes until golden brown.
Serve with a tomato sauce of your choice, or store-bought samosa sauce.
GULAB JAMUN ICE CREAM
Hot gulab jamun with cold vanilla ice cream is a classic combination, you'll agree. Here's a special way to incorporate the two into one delicious dessert. A wmdeful Diwali treat for all ages!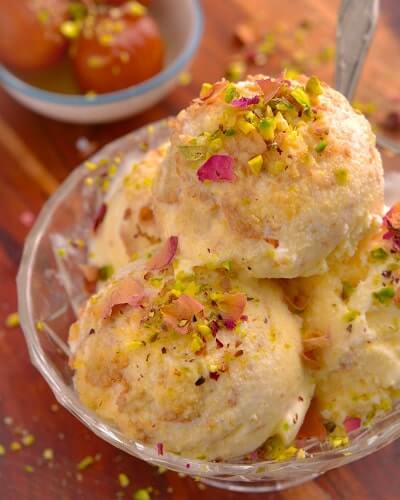 Ingredients
500 ml vanilla ice cream
¼ cup full fat milk
1/4 tbsp rose water extract
4-5 numbers gulab jamun
Dried rose petals for garnish
2-3 pistachios crushed for garnish.
Method
Combine the vanilla ice cream and milk in a blender.
Pulse for a few seconds, but don't run it for too long.
Place 1-2 gulab jamuns into the blender.
Blend again for a few seconds.
Put the contents into a container.
Cut the rest of the gulab jamuns into small, bite-sized pieces, and gently mix into ice cream blend.
Pour into ice cream container, then freeze for 4-6 hours.
To serve, garnish with crushed pistachios and dried rose petals.