Chandrahas Choundhury travelled across Australia pedalling Indian literature to an appreciative audience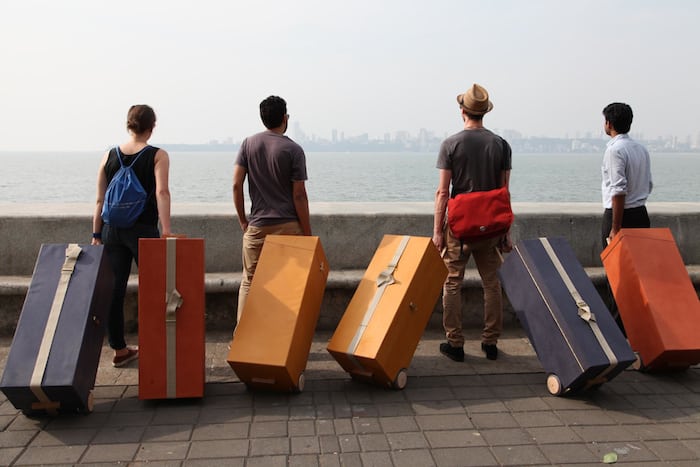 The 'Bookwallah' tour travelled along Australia's East coast from Melbourne to Brisbane recently. Organised by the Asia link at the University of Melbourne, Bookwallah was formed to make direct literary links between Australia and India. Chandrahas Choundhury, one of the writers from the tour spoke about the lack of direct literary links between the two countries as much of the literature read in India comes via England and America. In 2012, three Indian and two Australian writers journeyed via train through Indian cities and towns, conducting forums to promote Australian literature across India. The writers included Benjamin Law, Kirsty Murray Chandrahas Choundhury, Sudeep Sen and Annie Zaidi.
"Travel by train added to the idea of a connection between the works, us writers and the communities we visited," said Choundhury. "I believe Indian trains have a charm and things don't always go according to plan." The journey was documented by Catriona Mitchell in her lovely film, The Bookwallah. Travelling helped build the sense of connection with the audiences and friendships between the writers. For Choundhury it was a discovery of 'Australian books and writers that I hadn't read'. Packed into designer suitcases, the travelling writers carried 150-200 books with them. When they spoke in schools and community centres, the books were unpacked and displayed in a pop-up, purpose-built exhibition. Seeing so many books together helped students studying English to realise that there was a body of work from a different literary world – and that together they constitute a tradition. Many books were left behind as a legacy for the communities to borrow and read.
The idea of the Bookwallah tour in Australia is to replicate the journey undertaken in India – in the reverse. Zaidi and Choundhury chose Indian books as 'a representation of the Indian canon through our eyes'. The whistlestop tour started with a rural retreat in Victoria and included an exhibition at the State Library of Victoria while the writers travelled on trains from Sydney to Brisbane. It was Choundhury's first time in Australia, but he already had a connection here. "It's lovely to arrive in a country where the tour is organised and very welcoming. It's good to reunite with the Australian writers, Christie Murray and Benjamin Law and spend time together again," he stated. Choundhury has seen kangaroos in the wild, has read Christina Stead and is interested in Australian literary journalism up close, in journals like Meanjin and Kill Your Darlings.
I see Zaidi's and my contribution to the tour as talking about the works we have chosen and offering an insiders view of political, social and cultural views of India," he stated. The team will give group talks and separate sessions. So were the Indian writers chosen to represent their country because of the breadth of their knowledge? Choundhury has recently edited India: A Traveller's Literary Companion, a collection of 14 short stories from some of India's best writers. "Zaidi and myself were chosen because we write across different literary styles," he explained modestly. He is a novelist, literary critic and reviewer who also writes columns for Bloomberg, a US news service. Zaidi is an essayist, poet, playwright and journalist. "Indian literature, compared to mono-lingual literature like Australia, has around two dozen different languages spoken across the country. The works in those languages are often not translated and to discover them is a gigantic mystery," explained Choundhuary. "Some of the works are a hundred years old and haven't been available to be read by Indians in other parts of the country. Indian, like Australian writers, still have a specific view of the world depending on their background, such as white and indigenous views," he explained.
A surprising influence on Choundhury's writing is Australian cricket writer Gideon Hay, whom he describes as, "a good writer and a good proponent of the game. He is model of erudition across fields." Choundhury read his daily reports and even copied out sentences because they were so well written. He says Hay was a formative influence on his work."  He also met Tom Keneally, a venerable Australian writer, at the Jaipur Literature Festival and admired this powerful and inspiring writer. Choundhury has had conversations with others about Keneally's influence on Australian literature. "It is great being in Australia because you enter a culture and access a lot of different viewpoints. You also transmit one's own and pick up from others," he stated.
Choundhury's first novel, Arzee the Dwarf that was published in 2009 came from an idea born when working as a cricket writer. He saw a man, a dwarf, crossing the road. He was good looking, and that sparked the idea of how someone is disadvantaged in life and how unfair that is – a double joke. He writes: "He was good-looking- there was no doubt about that. But what of it? Looks weren't just about shape and colour, but also about size. Even in his reflection there was something irredeemably odd and stunted about him, like a thought that had come out all wrong in the speaking". Other elements in the story are resonant of Mumbai – Noor cinema where Arzee works becomes like a second body to the protagonist. "Mumbai has a great cinema culture which is close to being shut down. There is little privacy in Mumbai – millions of people all trying to coexist, so the cinema is one of the few places in which to lose sight of the world, and the illusion is so powerful that you forget your life. It's a novel where characters often do the unexpected and where turns and twists in their behaviour endear them to the reader," explained Choundhury. The novel was written over 3 or 4 years and took shape over time; "You get to know your character very well," he added.
The Bookwallah tour began in Melbourne on August 22 August and concluded at the Brisbane Writer's Festival on September 8.
Choundhury describes the central idea of the tour as writers as 'wallahs', merchants or helpers that belong to that profession. "As a writer you carry forward in the world and you belong to that world. We carry and communicate books and their meaning – we arrive under the sky of books," he stated.
Indian Link also caught up with the Bookwallahs in Sydney- read article here