Reading Time:
4
minutes
When waiting outside a popular street-food restaurant in Harris Park for a takeaway recently, I noticed a striking poster on the blank wall of the car-park. It was a picture, now frayed at the edges, of a turbaned man with the word 'AUSSIE' beneath.
A quick Internet search told me that the poster was the creation of Peter Drew, an artist from Adelaide. And so, my quest began.
The turbaned, moustached man in the poster was Punjab-born Monga Khan, who arrived in Australia in 1895 and was a hawker in rural Victoria until his death in 1930. His image came to Peter from the National Archives of people who lived here during the time of the White Australia Policy – 1901 to 1958.
"Did Australia inherit its identity from the people who created the White Australia policy, or does 'Aussie' have more to do with people who survived it?" Peter said, explaining the inspiration behind the poster.
It dates back to early 2016 when the refugee crisis was at its peak. While Europe welcomed thousands of refugees arriving from war-torn Syria and Afghanistan, Australia was smug about its effective border control policies. With the aim of reforming the meaning of 'Aussie' with his poster campaign, Peter hit back.
Few posters from his original street art campaign have survived, and the posters you see today are because Peter continues putting them, and new creations, all over Australia during two trips each year.
READ ALSO: India Links in Oz that go back 200 years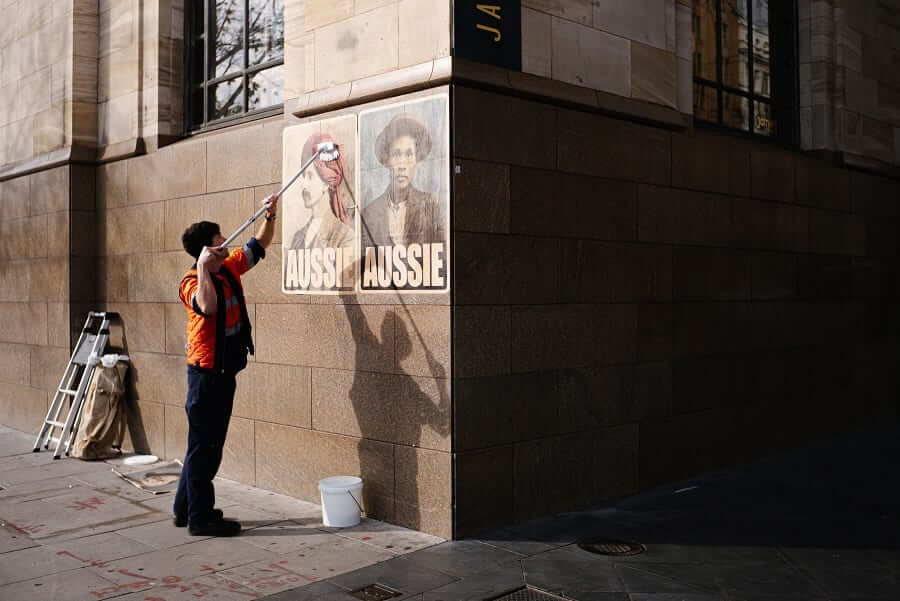 It's a hard haul, cooking glue from flour and screen-printing hundreds of posters in his studio, before he walks the streets to find suitable spots to put them up. The glue bucket, a mop and a fluorescent jacket are his usual gear, as he travels by public transport and sticks his posters up until his blistered feet can stand no more.
"It is ironic that the high-vis clothing makes you invisible! I very rarely get stopped by anyone who knows who I am," he told Indian Link.
"Many people have seen my posters, but most still don't know who I am. Who I am is not important, what matters is that the audience sees Monga Khan and wonder who he is!"
The artist's unintentional anonymity has even meant that Peter's Indian neighbours did not realise he was the person behind the 'Aussie' posters until his work came up in a conversation one day.
"It was very funny to see the look on the face when he connected the dots and realised that it was me who was putting up the posters that he had been seeing for a while now," chuckled Peter.
READ ALSO: The curious story of George Jarvis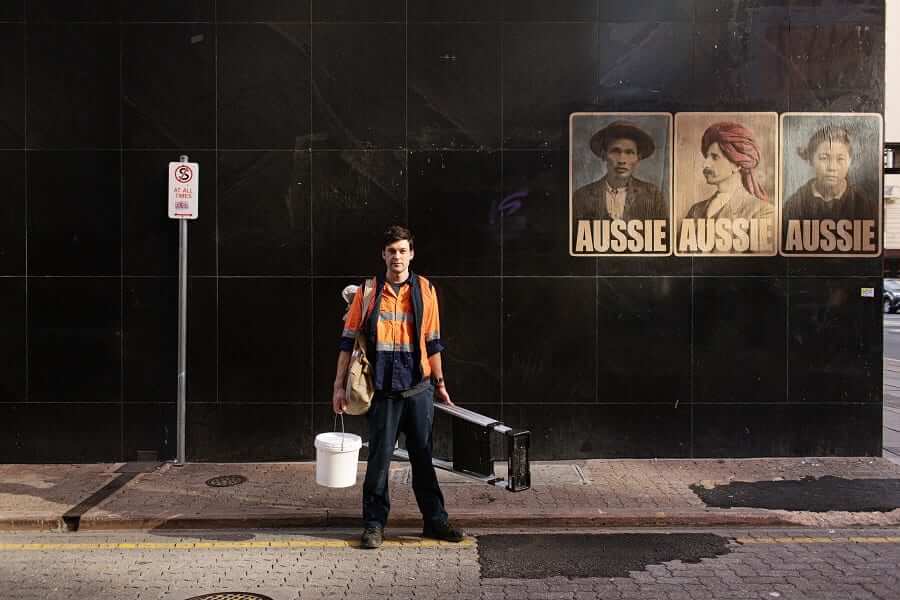 The pandemic has affected the artist's travel plans this year, but he used the time off to ponder over adapting his street art to a gallery format.
In his exhibition Flags 1, currently on at the Peter Walker Gallery, he uses the Australian flag blended with images of people from the National Archives to continue to explore the "implicit ethnic bias within the core of the nation state."
The response to his posters around the country over the years has been overwhelmingly positive, but Peter does not seem himself as an activist. He says that there are endless problems in the world and he does not go looking for the next big problem to solve.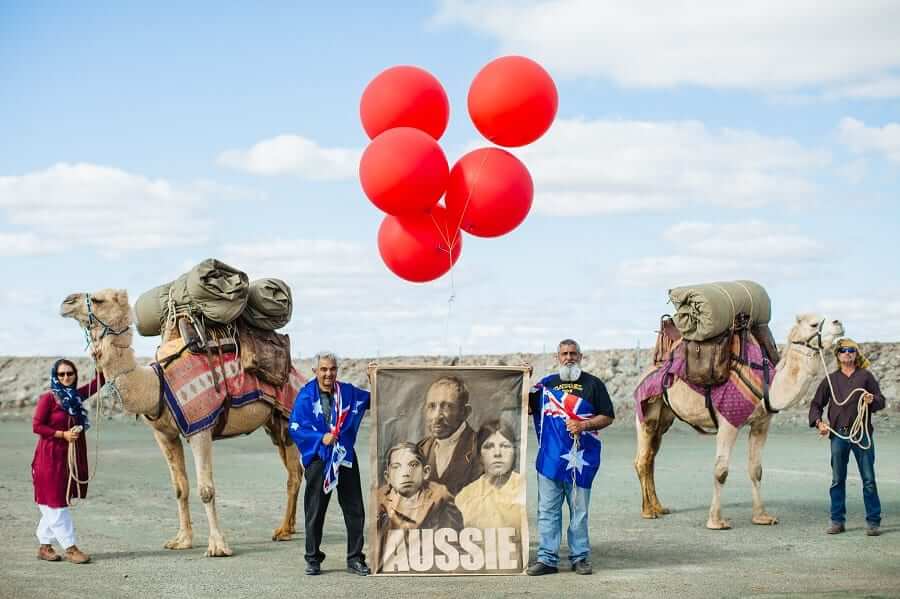 "It is more about me trying to discover what my own identity is by engaging with the idea of Australia. I would like to think that my place is not to fix problems, but to open a door where people can think about their identity in a different way," he said.
"What makes Australia a great place to live is its multiculturism."
The next time I saw the 'Aussie' poster again, in another unexpected corner of the city, it brought a smile to my face. I thought about Monga Khan and the journeys of all the migrants before me – thanks to Peter Drew.
READ ALSO: #myIndianlink