Reading Time:
5
minutes
Do you remember mucking around with friends when you were little? Do you wish those water fights, paint skirmishes and mud wrangles could go on beyond childhood? Well, in some cultures they do, and are celebrated as traditions by some societies.
There are annual festivals dedicated to fooling around. It's no joke! The order of the day is pandemonium, and people are encouraged to throw care into the air and let loose, en masse. Don't believe it? Here is a list of the world's top ten muck around festivals, that bring back the memories of good times!
10. Songkran (water festival) – Thailand
Thailand celebrates New Year with the world's largest water fight – the Songkran Water Festival. Attracting a crowd of more than 100,000, it is a spectacle to behold. Combatants carrying water guns, water balloons and cannons patrol the streets. Water is hurled freely, drenching everyone including the police. The festival promotes the symbolic purity of water to cleanse the soul on New Year. An organised public soak! Pretty cool, eh?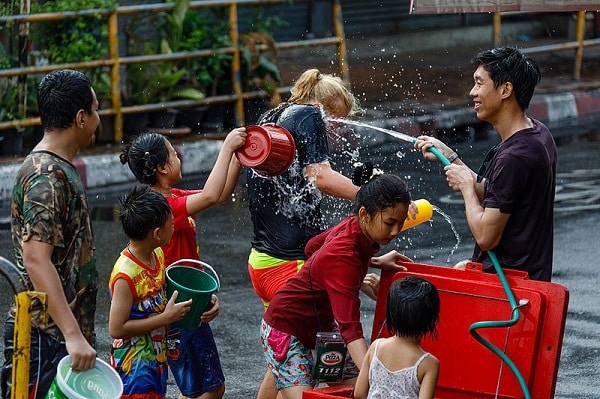 9. La Raima (Grape throwing festival) – Spain
To celebrate the end of the grape harvest, Spaniards make purple rain by pelting each other with grapes. Every year, tonnes of grapes are hauled by trucks and dumped in the midst of waiting throngs, prompting a grape throwing frenzy. The festival originated in 1930 when the people were left with loads of bad grapes unfit for wine making. Not knowing what else to do, they started launching the surplus stock at each other and a beautiful, but messy tradition was born.
8. Cheese rolling festival – England
Rolling with the cheese is actually what this annual tumble down Cooper's Hill near Gloucester in England, really is. Every year on the Spring Bank Holiday, people from all over the world gather on Cooper's Hill to kick off a tradition. A large round Double Gloucester cheese is rolled down the hill and people race after it. Falling, tumbling and crashing into each other to win. The first person to cross the finish line claims the grand prize – the cheese. Totally worth breaking a few bones for, don't you think?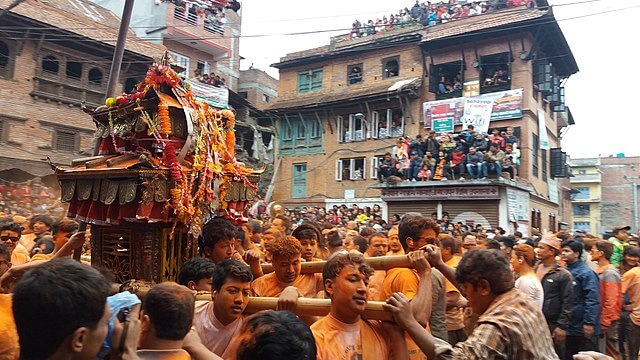 7. Sindur jatra (Vermillion powder festival) – Nepal
In the village of Thimi near Kathmandu, people celebrate the advent of spring and the Nepalese New Year by dousing each other in orange powder. The cold night turns warm as ceremonial torches are lit to welcome the spring season. Deities in wooden temple structures are carried through the streets. Then the fun begins, vermilion dye is showered over the deities, friends and neighbours as a token of good wishes, honour and respect.
6. La Tomatina (Tomato festival) – Spain
Held on the last Wednesday of August near Valencia in Spain, La Tomatina is the world's biggest food fight. Every year, thousands head to Spain to enjoy the tomato festival. More than one hundred metric tonnes of over-ripe tomatoes are hurled around, crushed underfoot and squished to a mush. Scenes of people covered in tomato juice, wading through streets resembling rivers of tomato puree are common.
READ MORE: A stunning Spanish getaway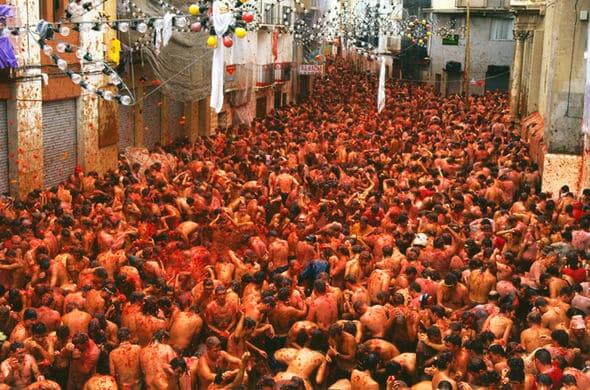 5. Ivrea Carnevale (Battle of oranges) – Italy
Many centuries ago a city tyrant tried to have his way with a young girl in Ivrea in Italy; instead she cut his head off and the whole town celebrated with a battle of oranges. Go figure that one out! Every year since, Italians commemorate the fortunate demise of this tyrant by staging a battle of oranges. People join one of the nine teams divided into two groups – the orange 'throwers' and the 'thrown-at'. This is the largest food fight in Italy, with prizes awarded for bravery and accuracy.
4. Els Enfarinats (Flour and egg throwing festival) – Spain
Kicking off on April Fool's Day in Ibi, Spain, this is really a massive flour fight, painting the whole town white in its wake. In a unique twist, if you beat the city council with your barrage of flour and eggs, you win the power to make rules for a day. The rules are implemented strictly and disobedience is punished with fines, with the proceeds going to charity.
3. Boryeong (Mud festival) – South Korea
You can't get muckier than this! Held in Boryeong near Seoul in South Korea, the mud festival attracts more than a million people every year. Tonnes of slimy, grey mud is dug up from mud flats and dumped on the town beaches for revellers to wallow in. The festival started in 1998 and features mud based activities like the human mud pyramid, mud massage courses and mud-slinging competitions.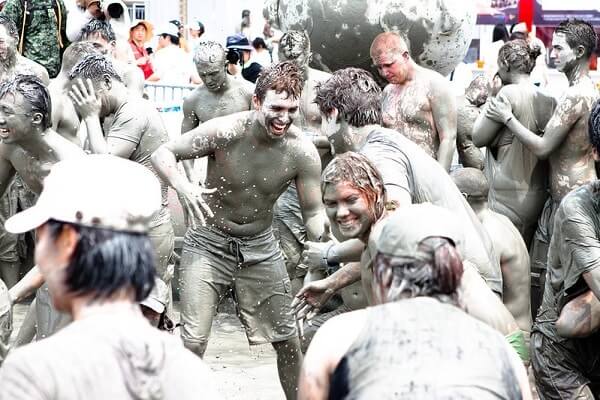 2. Holi (Festival of colour) – India
And then there is Holi, the Indian festival of colour. The country comes together as one big happy family to smear colourful dyes on each other, splash colour everywhere, dance under sprinklers and have parties. The atmosphere is of carefree abandon as bhang is consumed and differences are forgotten. On the eve of Holi, large bonfires are lit to mark the burning of the demon Holika.
READ MORE: Holi communion: all about this colorful festival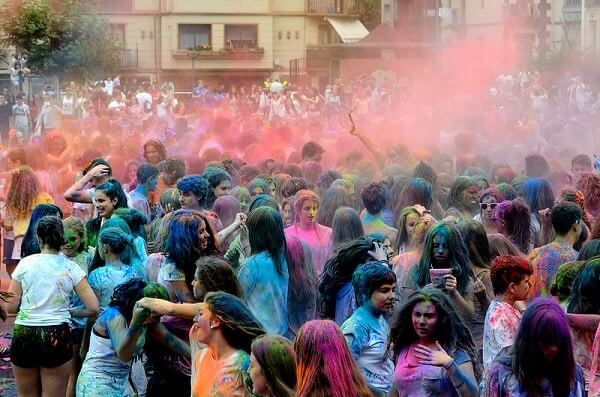 1. Moose Dropping Festival – Alaska
You must play the cards you are dealt with, and that's what the Alaskans do. They have dedicated a festival to their official state animal's poop. Alaskan town Talkeetna celebrates the annual Moose Dropping Festival by literally dropping moose poop on targets from hot air balloons. You stand to win big bucks if the droppings land on you. Wait! It gets better. Craftsmen sell jewellery made out of moose droppings on the day. Dung necklace and earrings anyone?