Reading Time:
3
minutes
In the 1950s and '60s, my favourite delight was attending every concert the music maestro Pankaj Mullick presented in Mumbai.
The last concert I attended was at the famed Metro Cinema in late 1969. I hummed and tapped to his melodies Ye raaten ye mausam, Chale pawan ki chaal, Guzar gaya ye zamaana, Tere mandir kaa hun Deepak, Ye kaun aaj aaya sabere, sabere… before the interval.
Then the opportunity arose which I had been dreaming of for over fifteen years. I came face-to-face with him during the intermission.
I hesitated to greet him. Should I walk up and say how much I have enjoyed his singing? What if he would get irritated, to be approached by a stranger?
Regardless, I picked up courage. I was migrating to Australia shortly, and thought I may never get an opportunity to tell him how much I loved his concerts and how much I admired his music.
To my delight, he greeted me warmly.
"What do you do, young man?" he asked, after formalities.
I told him that I am a research virologist and that I would be moving to Australia soon.
He wished me good luck, and said that he will sing a song especially for me. He kept his word, to my ecstasy.
He sang:
Kaun desh hai jana, babu, kaun desh hai jaana (To which country are you going) and added, Sambhal ke paav uthana (Tread carefully).
I shed quiet tears of happiness as I sat in my seat, quite overcome.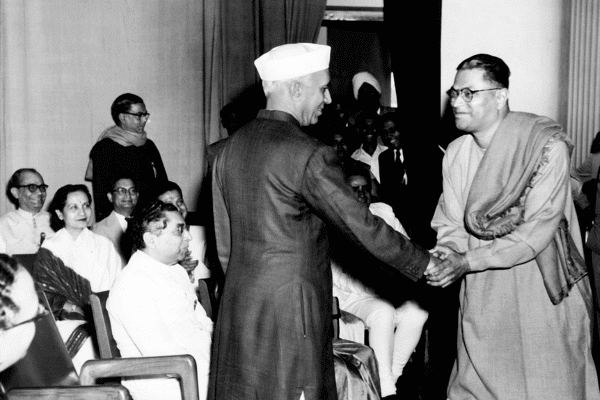 Only months later, on 26 January 1970, the maestro Pankaj Mullick was awarded the Padma Shri. I was perhaps more elated than he, and wrote a long letter congratulating him.
Just before I left Mumbai for Sydney, I received a two-page hand-written and beautifully worded letter from my hero, wishing me best for my success in Australia.
He wrote,
Heaven bless you for your kind congratulations and your goodness to me. May this warmth of love you have shown be repaid manyfold to your good self by him with whom all goodness dwells.
If one's art of letter writing reflects like a mirror of the noble qualities, merits and acumen of his, then what I have drawn from your excellent letter bearing many references of my songs embellished with your endearing and thoughtful comments, is a picture of not only a young man dedicated to the acquisition of wealth of learning and that along with his similarly worthy and beloved partner in life but possessed of many high qualities of head and heart.
Most sincerely I wish that both yourself and your beloved wife may attain success in your every laudable pursuits and may the Goddess of learning smile on you both and achieve the desideratum. Pray, long you live with undisturbed health, happiness, peace and prosperity.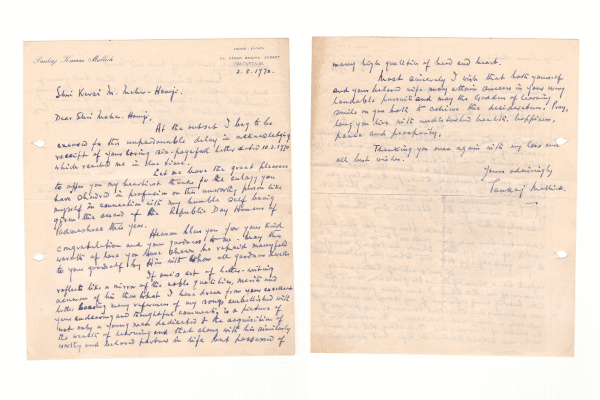 I felt ten feet tall when I saw how he ended the letter:
"Yours admiringly, Pankaj Mullick."
The letter lives on amongst my treasured possessions, 50 years later.
He adorned Indian cinema from 1931 to 1969 as a singer, musical director, composer, playback singer and actor. His most famous movie Doctor was made in 1941. He was pioneer of film music in Bengali and Hindi cinemas. He composed almost 5000 songs in fifty years.
The immortal KL Saigal, as also Sachin Dev Burman, Hemant Kumar, Geeta Dutt and Asha Bhonsle sang under his music direction.
Besides the Padma Shri, the maestro Pankaj Mullick was awarded the Dadasaheb Phalke Award by Indian Government in 1972 for lifetime contribution to Indian cinema. The Indian Postal Service released a postal stamp posthumously to honour him in 2006.
Born on 10th May 1905 in Kolkata he died on 19th February 1978 aged 72.
Guzar gaya ye zamaana. Like Saigal, Pankaj remains an immortal.
Also read: WATCH: Bollywood fan's musical ode to Kishore Kumar