Perth's Dr MAHARAJ KISHORE TANDON is awarded OAM for service to the community through a range of roles
Respiratory medicine specialist Dr. Maharaj Kishore Tandon took his MBBS (1961) and MD degrees in Agra, India, and then moved to the UK where he underwent specialist MRCP examinations in London and Glasgow. He then came to Melbourne as a guest of the Veteran Affairs Department, where he worked as a respiratory physician, before moving to Perth with his family in 1969. He worked in the Repatriation Hospital until 1994.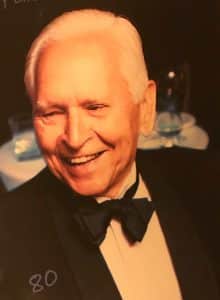 Dr Tandon has received an OAM honour thus Australia Day, for his community service in a range of roles, particularly those which help provide medical aid to those who are disadvantaged. His professional links have extended across a wide spectrum of institutions in his long career, including Red Cross Australia, Notre Dame University, OXFAM, The Fred Hollows Foundation, Caritas, Wheelchairs for Kids, St Vincent de Paul, World Vision, Doctors Without Borders and Australasian Palliative Link International.
"One of my favourite activities in this regard was conducting Equal Health medical camps in Tamil Nadu, India for 9 years (2002-2011), but unfortunately could not continue following a stroke," Dr Tandon told Indian Link.
He then continued with his passion for serving the underprivileged, by working with Indigenous Australians from rural and remote Australia.
Dr Tandon's strong humanitarian considerations have led him to believe that the cost of medical care should never be a barrier for those who could benefit from his treatment. Dr Tandon uses Medicare's bulk-billing as much as possible, which is particularly commendable for a specialist of his calibre and level of expertise.
Dr Tandon is a much loved and regarded member of the Indian community in Perth.  He was a founding member of the Indian Society of WA (ISWA) in 1972 before becoming secretary, and has been a patron since 2008. He is currently President of the Catholic Doctor's Association, and is Chair for Charity Affairs of the Australian Indian Medical Doctor's Association which has been growing in influence in recent years.
"I am very honoured to receive this recognition and see it as encouragement and enablement for me to continue serving more deserving members of society," Dr Tandon said about his latest honour.
His advice to new migrants?
"Do the best you can and you will be rewarded in time."
By Uma Nair