Reading Time:
4
minutes
'If you cannot reach dance, we will make sure that dance reaches you' claims the new promo for Bollywood Dance School Australia.  
When the COVID pandemic hit the world and their classes in Australia, Canada, UK and India got affected with lockdowns, the school decided to continue the joy of dance through their new programme they're calling Dance Digital.
According to Darshan Pawar, Manager of the Melbourne-based Bollywood Dance School Australia, this has proved to be a blessing for more than 1500 students worldwide, that can now participate through Dance Digital. It was challenging to begin with, as the teachers and students had to get used to digital engagement, but it did not take them long to get into the groove.
"Our students have adapted very well to the Zoom sessions," Darshan told Indian Link. "We constantly receive positive feedback on how much they enjoy the online classes and how dancing alleviates their stress and keeps them fit."
Bollywood Dance School Australia
The 'new normal' for dance schools is getting people to warm up to dancing in their own living rooms.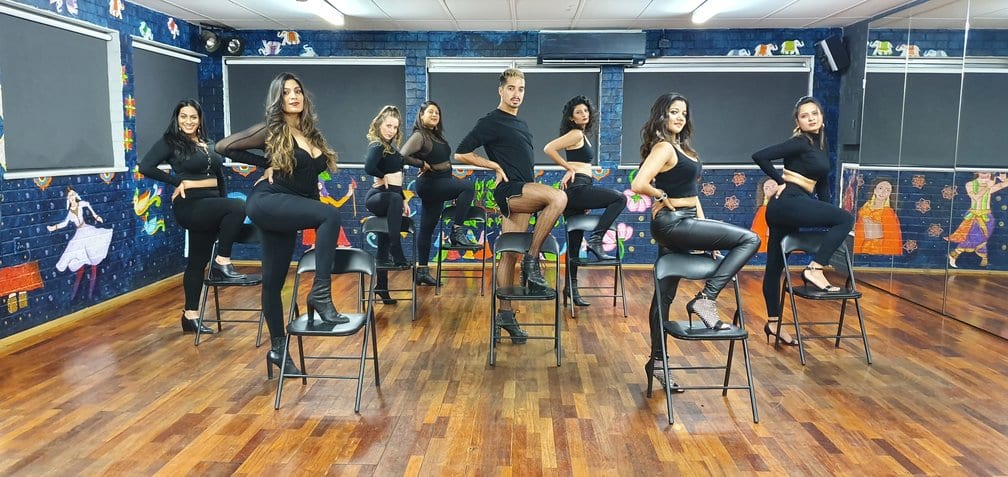 Jaya Karan from Studio J has a similar experience. According to her their online sessions commenced, reactively, around the initial phase of lockdowns in Victoria. With the help of her husband, a software developer, Jaya invested in a webcam and started online sessions. Her students and instructors came on board with great enthusiasm with nearly 70% taking up the option to learn online.
Studio J
"I couldn't have done this without the support and cooperation of our instructors and students," shared Jaya. "Currently some 170 students participate in our sessions and the response has been very positive. Over time we have continued to refine the process."
According to her the online sessions have a wider reach and attract a larger audience but they will never replace the traditional in person learning. They can, however, complement the studio sessions and present opportunities for an alternative revenue stream.
"Our classes have been popular and get sold out quickly," Jaya revealed. "We've had to sometimes refuse students due to limited space and number restrictions. However with online classes anyone can join us from their living rooms from any part of the world. The visibility and exposure is enormous and there is no geographical limit to who can learn from us."
The benefits of online classes are undeniable as they offer stability and continuity to existing students and maintain a sense of normalcy and routine, keeping them connected and happy in pursuit of their passion.
This was certainly the case for Odissi exponent Dr Sam Goraya and his two talented guests from India.  The trio were ahead of the curve in their move to the online portal. From a tentative step into the virtual platform to receiving over 10,000 views, their dance progress has been sharp and focussed.
The complete clamping of borders during COVID-19 adversely affected Samir and Santosh, two young dancers from India who got stranded in Australia during their recent tour to perform an Odissi dance creation called Kundalini The Awakening.
Sam Goraya's Kundalini – The Awakening
Samir and Santosh are renowned Indian classical dancers from the Rudrakshya Foundation dance school, Odisha.Sam, who lives in Melbourne, offered to host them till they could return and his partner Zlatko Varenina suggested the idea of taking their show online.
With the support of multiple technologies, they started Prarthna, a series of live-streamed short performances to wish for peace in the world.  A GoFundMe was also created to seek donations for the stranded artists and help with their visa extensions, medical tests, travel tickets and other expenses.
According to Sam they rehearse from 10-30 am to 2.30 pm and again from 6 pm to 10 pm every day, to bring the synchronised Odissi repertoire to their online audience. The 30-minute performance is conducted in full costume and makeup in front of a simple yet effective backdrop in Sam's living room. 
"I have never worked so hard on my performances before," Sam told Indian Link.
"Initially we thought it was just a few of our friends and families watching, but soon we realised that people around the globe are connecting and enjoying the dances, based on the overwhelmingly positive feedback we receive," he shared happily.
Sam, who has three decades of stage experience, confessed that he never imagined how quickly and effectively he could spread his art through the internet. This will be the way forward, he feels.
Darshan Pawar is similarly excited about future online options, especially after a recent success. "In a major event, we've just collaborated with Sony Music India and our dance schools in Australia, UK and Canada. In this exercise we taught a dance routine to the hit song Genda Phool by Indian rapper Badshah."
He mused, "We would love to reach out to various dance communities across the globe for more such special collaborations."
With tours cancelled and rehearsal studios closed, this happy-at-home movement has been successful in many ways: digital dance making may become an artistic genre in itself.