Did you know that one organ donor has the ability to save the lives of up to 10 people and improve the lives of many others?
A few of those who made the extraordinary decision to donate the organs of their dying or recently deceased family members, as well as the grateful recipients of the organs, got together to tell their life stories recently.
The theatre event featuring storytellers from culturally and linguistically diverse backgrounds was part of the Australian observance of DonateLife Week that began on 30 July and concluded on 6 August.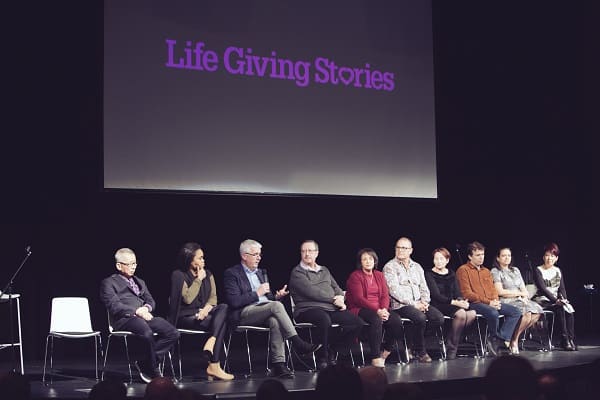 The NSW Multicultural Health Communication Service collaborated with the NSW Organ and Tissue Donation Service, the Contemporary Asian Australian Performance and the South Western Sydney Local Health District to present 'Life Giving Stories 2017' at the Bryan Brown Theatre in Bankstown.
DonateLife Week is the national awareness week for promoting organ and tissue donation and is initiated by the Organ and Tissue Authority in partnership with DonateLife agencies in every state and territory.
It is a key part of the Australian Government's national reform program to increase organ and tissue donation and transplantation outcomes in Australia.
Close to 300 people attended the show which was directed by leading storyteller and photographer William Yang and written and produced by Annette Shun Wah. The production, which won the 2016 Australian Multicultural Marketing Awards – Public Sector Category, aimed to increase awareness and highlight the importance of organ and tissue donation amongst multicultural communities.
The stories were accompanied by photographs from private collections, revealing engaging and inspiring insights into the families.
The show started with an introduction by Annette Shun Wah.
She emphasised the importance of organ donation in Australia in the light of the fact that over 1,400 people were, at present, awaiting a transplant and a whopping 12,000 were dependent on dialysis.
She said that one organ donor has the ability to save the lives of up to 10 people and improve the lives of many others.
The audience were allowed glimpses into the lives and circumstances leading to each of the four storytellers' amazing generosity in donating the organs of their loved ones or appreciating the lifesaving gift from someone else.
Rupesh and Mili Udani's narrative began with wedding photos and a prologue on how it all began for them back in India when they tied the knot in an arranged marriage. The couple soon moved to Australia where Rupesh already lived. They went on to have a daughter followed by a son, Deyaan.
The family was on an extended holiday in India when, a few days before returning to Australia, Deyaan, then seven years old, complained of an intense headache.
A week later, he was pronounced clinically dead due to brain haemorrhage. The couple then took the brave step of donating Deyaan's organs which resulted in giving a new lease of life to four recipients.
Sumaema Grace, originally from Fiji, opened up about what it's like to be on a donor waiting list. She narrated her heartbreak at being abandoned at birth and shared her journey through various adoptions, to end up with a loving family in Australia.
She was just 13 when her kidneys began to fail as a consequence of lupus. The young lady detailed her ongoing battle with health issues where, even after receiving a kidney, her struggles continued as her body rejected the organ after three years.
Today, she is hoping to get back on the waiting list for another donation. In the meantime, she performs her own dialysis every day. She concluded her narration with a song that left the audience applauding her amazing resilience.
Rosemarie and Oliver Zammit of Maltese Australian background recounted the story of how their son Dujon was beaten to death in the Greek island of Mykonos in 2008 when he was only 20.
The couple donated his major organs in an act of extraordinary kindness. Kosta Gribilis was the lucky recipient of Dujon's heart. He has maintained close ties with the Zammits and was even present as an audience at the Life Giving Stories event.
Lebanese origin couple Rita and George Germanos's son was just 17 when his kidneys started failing. A nurse by profession, Rita knew what it meant to be on a waiting list for a donor.
Despite her own health problems, when Rita learned that she was a good match, she did not hesitate to offer her own kidney to save her son's life.
The afternoon show ended with a robust question and answer session which dispelled many misconceptions regarding organ donation in various religions and cultures.
Milli made a very good point when she mused, "If receiving an organ is not forbidden in any religion, then why would it be not permitted to donate one."
In keeping with the theme of this year's DonateLife Week: 'Make your decision count. Register today to save lives at www.donatelife.gov.au,' the presentation succeeded in inspiring the audiences to have conversations with their loved ones about the importance of organ and tissue donations and to register as donors.
Photos: Helen Tran