Reading Time:
2
minutes
A record five South Asian women will be inducted into the Victorian Honour Roll of Women this year, following a ceremony on Wednesday night at Melbourne's Arts Centre.
The Victorian Honour Roll of Women recognises women from all fields of expertise who have made outstanding contributions to life in Victoria, and South Asian women were present in all four of the honour roll's categories.
Victorian Minister for Women Natalie Hutchins is proud to celebrate the achievements of these women and hopes the honour roll will help build a more gender-equitable society.
"Every year the Victorian Honour Roll of Women is helping ensure that we see and hear more about the women who have made significant, lasting contributions to the community, state or country," Minister Hutchins says.
"Thanks to the honour roll, hundreds of women over two decades have been celebrated for their skills, insights, actions and advocacy – and together they play a vital role in moving us towards a more gender equal society."
Since its establishment in 2001, over 700 woman have been inducted into the honour roll, including posthumous recognitions for prominent women in Victorian history such as Dame Nellie Melba.
This year's ceremony saw 22 women inducted into the honour roll, under the categories of Change Agents, Emerging Leaders, Local Champions, and Trailblazers.
This year's inductees
Anam Javed, one of 16 Master Teachers appointed by the Victorian Academy of Teaching and Leadership has been recognised as a Trailblazer. Javed has elevated the status of women as STEM practitioners and educators, and is the founder of SistaHub, a not-for-profit grassroots initiative helping the Muslim community to access COVID-19 information.
Thenu Herath and Anushka Vandani Phal were both recognised under the Emerging Leader category.  Herath is the former CEO of The Oaktree Foundation, Australia's largest youth-run international development agency and a women and youth advocate, and Vandani Phal is a practicing psychologist who established Umeed Psychology to address the gap in culturally responsive mental health.
Manasi Wagh is an educator and advocate who designed 'Let's Talk Money', a financial literacy program economically empowering migrant and refugee women and has been inducted under the Change Agent category.
Lalisha Thapa, inducted as a Local Champion, is the Vice President of the Nepalese Association of Victoria (NAV), and has encouraged gender equality through the establishment of the NAV Women's Forum.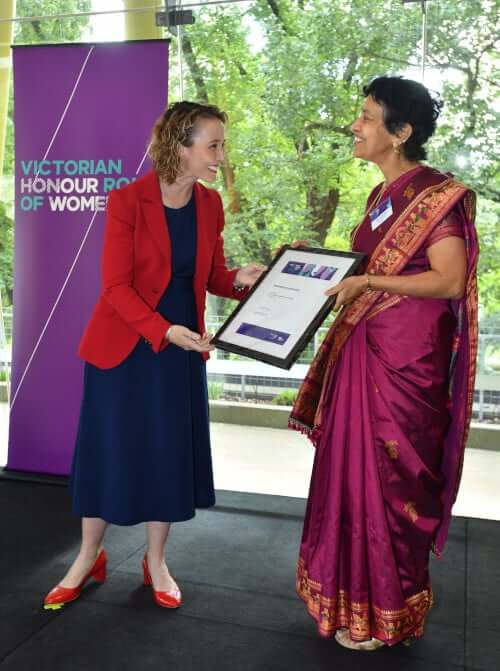 South Asian women have been recognised since the honour roll's inception; past inductees include climate activist Anjali Sharma (2022), Indian classical dance exponent Tara Rajkumar OAM (2001), and Associate Dean of Mathematical Science at RMIT University, Professor Asha Rao (2021).
Minister Hutchins believes this year's Victorian Honour Roll of Women inductees will encourage even more women to make lasting contributions to their communities.
"I'd like to congratulate this year's inductees for their incredible commitment and dedication to improving the lives of others and especially for paving the way for more women to achieve great things," says Minister Hutchins.
READ ALSO: The Durga Chronicles: Building gendered violence awareness