Reading Time:
2
minutes
Canada Post, the primary postal operator in Canada, has issued a new stamp celebrating  Diwali, the festival of lights observed by Hindus, Sikhs, Buddhists, Jains and other communities across the world.
Designed by Kristine Do and illustrated by Rena Chen, the stamp's design has been inspired by torans – garlands that are draped across the entrances and facades of homes and temples.
"This stamp highlights two traditional elements: marigold flowers and mango-tree leaves. The diyas (small clay oil) appear in the four corners of the stamp," the Canada Post said in a statement accompanying the release.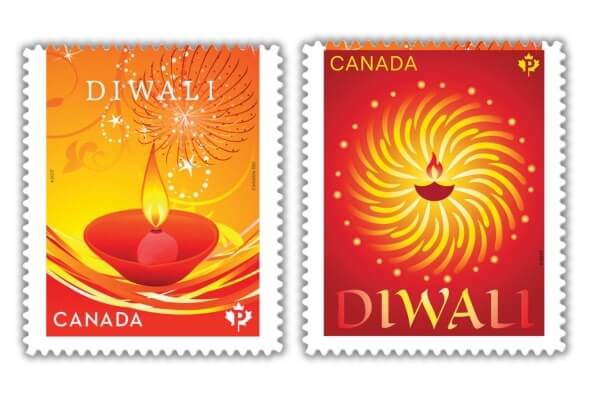 This is Canada Post's fifth Diwali stamp. The first four were issued in 2017, 2020, 2021 and 2022.
The stamp, which was released in a special booklet of six costing CA$ 5.52, is available for purchase at post offices across the country.
Several members of the Indian community in Canada attended the Diwali celebrations hosted by Indo-Canadian MP Chandra Arya – he raised a Hindu flag with sacred symbol 'aum' on Parliament Hill.
The event was attended by Conservative party leader Pierre Poilievre who wrote on 'X': "Joined hundreds of Canadians on Parliament Hill for a wonderful celebration of the triumph of light over darkness."
Earlier, on November 12, Canadian Prime Minister Justin Trudeau participated in an event on Parliament Hill organised by Cabinet Minister Anita Anand, President of the Treasury Board.
Trudeau told the gathering that the celebrations were "a symbol of the light we all need more of."
Chandra Arya later tweeted. "Great turnout with participants from Ottawa, Greater Toronto Area, Montreal and many other places. The event was supported by 67 Hindu and Indo-Canadian organizations across Canada. The added pleasure this year was Diwali is also part of the Hindu Heritage Month across Canada," he tweeted.
The Diwali celebrations in Canada coincide with the ongoing Hindu Heritage Month in the country, which is held annually in November to acknowledge the significant contributions made by the Indian community.
READ ALSO: Australia releases postal stamp in honour of Indian actor Mammootty