Anzac Day 2019 stories captured on Indian Link Radio.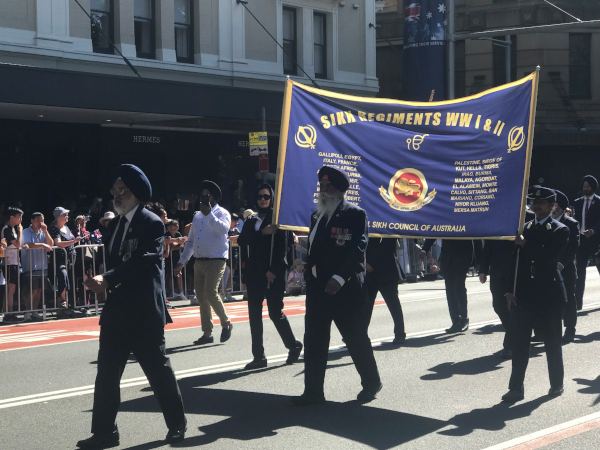 Manmohan Singh
The Sydney-based Manmohan Singh has very special childhood memories of his grandfather. Growing up in New Delhi's Defence Colony, he spent a lot of time with the family patriarch, who would regale the youngsters with tales of his youth. You see, he had been a soldier with the British Indian Army, and had gone to war in far-away lands.
Manmohan Singh said on Indian Link Radio to broadcaster Priyanka Tater, "I remember his stories of long voyages by ship, and what they ate, but most vividly, I remember his stories of battles."
The old soldier, who fought in both World Wars, would also bring out his medals to show the kids, "all attached on strips of ribbon."
One of these, the young Manmohan would learn later, was the Victoria Cross, now a cherished family heirloom.
As he sees the Anzac Day parade every year, particularly the Sikh Regiments, Manmohan Singh is overcome with emotion. This year, his interview on radio had to be truncated, as he choked up and was at a loss for words. But before this, he spoke of the long army tradition in his family. Influenced by the decorated soldier in the family, two further generations have gone on to become army men. Manmohan's father and uncle both served in India's defence forces, and Manmohan's brother became a doctor in the army. Manmohan himself was all set for a military career as a young man. "I dreamed of wearing the uniform as a second lieutenant, but on the day of the final assessment, my beloved grandfather passed away, and I could not make the test." He went on to university though and became a passionate NCC cadet.
"On Anzac Day, I wish I could see my grandad march down the street with the medals on his chest," Manmohan Singh told Priyanka. "I wish I could participate in this parade myself, perhaps with my own medals…"
Vickram Grewal
As Vickram Grewal spoke to Indian Link Radio on telephone from Canberra, he stopped short for a brief moment. "That was the Governor General driving past," he revealed, as he came back to the conversation. He was preparing for the parade with his RAAF unit, in which he serves as Director Of Strategic Communications Sustainment.
This was the second year in a row that Grewal was marching with his unit, but he has been marching in the Anzac Day parade for 12 years now.
Way back in 2007, as part of the Sikh Council of Australia, Grewal and others had successfully lobbied the RSL to allow the Sikh veterans to participate in the Anzac Day parade. They had presented evidence of the Sikh participation in Gallipoli, in the form of photographs, diary entries and memoirs. The Indian involvement is now a well-recognised fact, and the quintessential Australian event of the annual parade has of course now gone on to include not only Sikhs but also those of other ethnicities.
To this day, though, Grewal continues his passion for unearthing more Sikh stories from the two World Wars. He recounted to Priyanka Tater the story of Manmohan Singh, a British Indian Air Force pilot, who was in Broome WA in 1942 when a Japanese air attack destroyed his unit. He survived the attack, only to later drown in the harbour.
"I'm also keen to see more people of colour in Australia's Defence Forces," Grewal, a third-generation military man, revealed. "Currently I run a WhatsApp group of Sikhs in the ADF. I'd like to see parents encouraging their kids to take up this line of work, as opposed to the traditional – medicine and law and such."
Arnit Roychowdhury
This is my seventh Anzac Day parade, Arnit Roychowdhury said on Indian Link Radio. "I come to support my dad, who has been marching in Melbourne's parade for some years now."
His dad, (Ret'd) Col Samir Shankar Roychowdhury, has been instrumental in getting the Melbourne Indian contingent organised, and leads the group each year.
Ret'd Maj Gen Ranjit Nadkarni, who commanded this year's parade, told Priyanka Tater, "This is our tribute to the people who served the nation, often giving the ultimate sacrifice: we march in their memory and to show our gratitude and pride."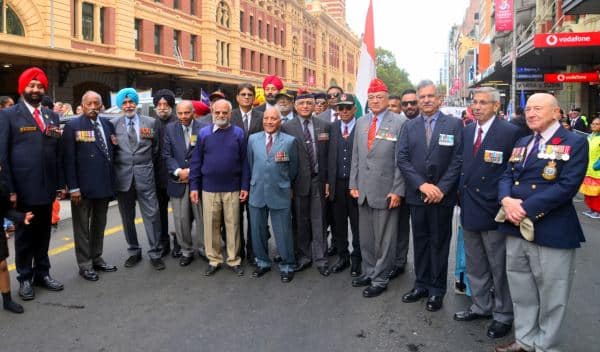 Meanwhile the chatty Arnit recounted fond memories of his own early life as an 'Army kid'. "For our dads it was a strictly disciplined life and the discipline often distilled down to us kids. Of course we moved cities every few years, having to change schools and make new friends constantly… but it only made us more resilient. I'm sure many army kids will relate to what I'm saying, and to all those other aspects of army life such as the canteen and the mess and all of that!"
Both father and son reiterated that they would like other Melbournians of similar background to come out of the woods and join in the iconic parade.
Shreya, Air Force Cadet, Sydney
Meet Shreya who is a part of the Anzac Parade for over a year now, this is what she has to say…

Posted by Indian Link Radio on Wednesday, April 24, 2019