Reading Time:
3
minutes
Raga and Tala are like father and mother to Indian music – whether Carnatic or Hindustani. It is their combination that produces the music that has endured for centuries. There are a myriad of ragas and a few Talas in both styles. Usually, it is the raga that steals the limelight, leaving the other to stay in the background. Hats off to Yuva Sangeetha Margam, Sydney, which showcased Talas in their unique program titled "Sapta Tala Pallavi Mela".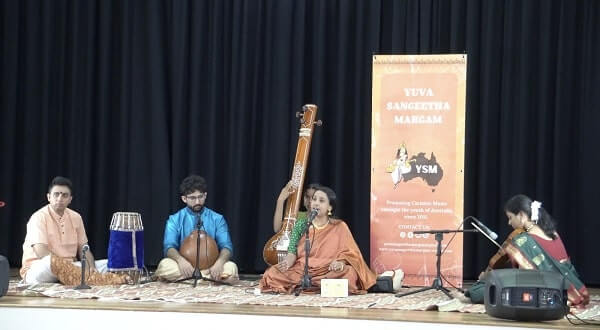 Yuva Sangeetha Margam is a group of young musicians in Sydney led by Krishna Ramarathnam that is infusing fresh blood into the Carnatic music scene. In its latest venture this month at Marayong Community Centre in Sydney, six of the major singers each performed a Ragam Tanam Pallavi (RTP) in their chosen Tala.
RTP is the most intricate part of any Carnatic music recital: calling for technical mastery, it puts the performers, including the violinists and the percussionists, to the test. First, the raga is explored in detail without rhythm, followed by Tanam. Then comes the embellishment of a line of Sahitya with Neruvals and Kalpana Swaras, ending in ragamalika with a few ragas.  (Let us not forget meanwhile, that while some Talas are simple, others could be quite complicated.)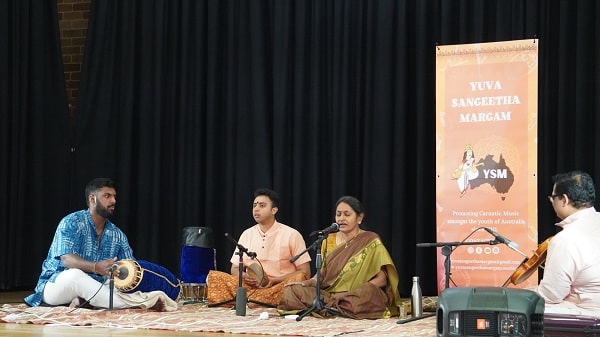 And of course, mere systemic rendering will not do. It has to be pleasing and entertaining to the audience. An uphill task indeed!
Yuva Sangeetha Margam's showcase musicians did this in sparkling glee. I sat there admiring the mature state that the performers in Sydney have reached. If one closed one's eyes, this could easily have been mistaken for a concert in Chennai. There was class, there was variety, and there was the bliss one seeks in music.
Namrata Pulapaka cleverly combined Keeravani and Kalyani ragas in her exposition, while Sangeetha Ayyar produced a masterly interfusion of Kalyana Vasantha and Mohana ragas.
Chitra Krishna Murthy presented a garland of pleasing ragas in her ragamalika rendering for us to take home.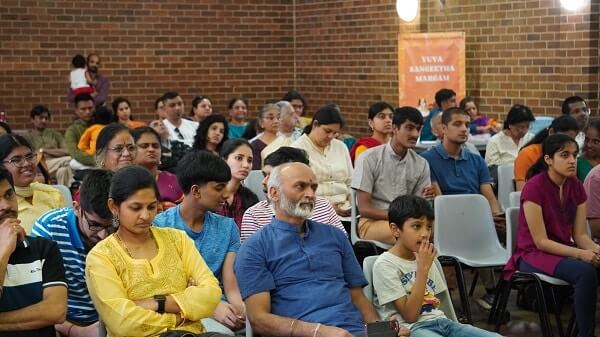 Prema Anandakrishnan produced several master touches in her elaboration of the Gowrie Manohari raga. The rendition was a testimony to her craftsmanship, cleverly introducing suggestions to the various ragas in her ragamalika.
Lakshmi Kumaraguruparan's treatment of Shankarabharanam and Krishna Ramarathinam's rare raga Thilang were gripping and superb.
The talas portrayed were Eka, Jhampa, Rupaka, Atta, Druva, Martya and Triputa.
Ayush Veturi, Mahathi Balaji, and Kranthi Kiran Mudigonda ably supported the singers on the violin. Mridangam, ghatam and Kanjira accompaniment were given by Sumukha Jagadeesh, Balu Mallela, Ramana Paheerathan, Pallavarajan Nagendran. It is admirable that Sumukha and Balu effortlessly played on Mridangam as well as Kanjira or Ghatam.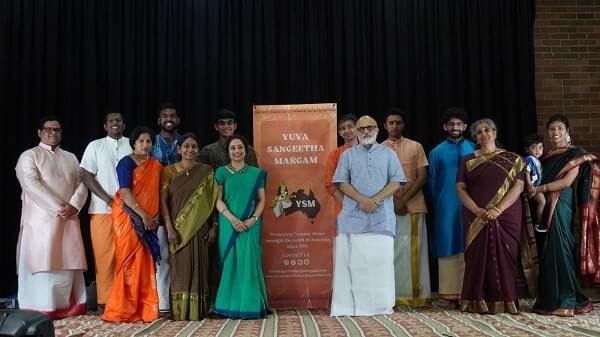 I came out of the auditorium fully convinced that the young musicians of Sydney's Indian community have successfully carried the baton, and that raga and tala are safe in their hands. Yuva Sangeetha Margam, keep up you good work.
READ ALSO: Bhairavi and Nanthesh: Reconciling identity through music