Reading Time:
4
minutes
Bhairavi Raman was six years old when she first picked up a violin, drawn to the instrument after hearing her mother play. When she was eight, her family moved to Melbourne, and she'd spend the rest of her childhood between two musical worlds. During the day, she'd learn Western classical music at school, whilst her evenings and weekends were filled with Carnatic music.
But just like many other second-generation Indian Australians, she struggled to consolidate these two burgeoning sides of her.
"As a teenager, you feel pressure to conform – I felt a bit lame, like I'd be made fun of for sharing [Carnatic] music [at school]," Bhairavi Raman remembers. "I'd miss my friend's 16th and 18ths because I'd be at Carnatic concerts, and if had a rehearsal, I'd make sure I got changed into Western clothes after. I was embarrassed to speak Tamil in public!"
Her collaborator and husband Nanthesh Sivarajah has a similar story; migrating to Melbourne aged eight to escape the Sri Lankan civil war, his mother enrolled him in Mridangam classes to stay connected to their culture.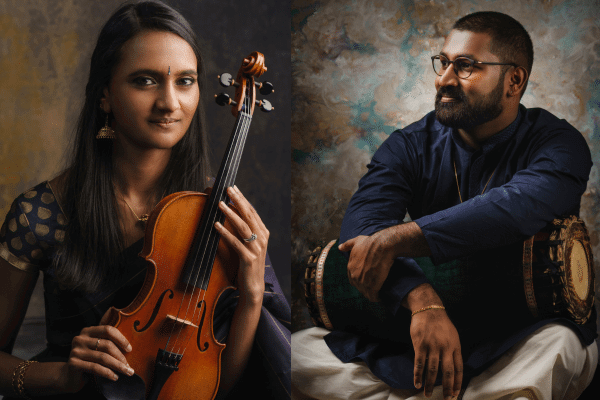 "In primary school, I'd lie about what I did on the weekend, because it was a headache to describe what the Mridangam was," explains Nanthesh Sivarajah. "Kids at school didn't know I could speak another language. I'd never get out of my car in anything other than Western clothes."
But towards the end of their schooling, they realised the power of Carnatic music.
"My parents never pressured me to practice or perform," says Sivarajah. "In Year 10 I started getting obsessed with Carnatic music and it clicked that I enjoyed it; until then I was doing it because every other kid was. I haven't looked back since then."
Now adults, Raman and Sivarajah are fully in tune with their upbringing. They've spent the last fifteen years producing acclaimed works together locally and internationally, performing at the prestigious Madras Music Academy and the Melbourne Recital Centre.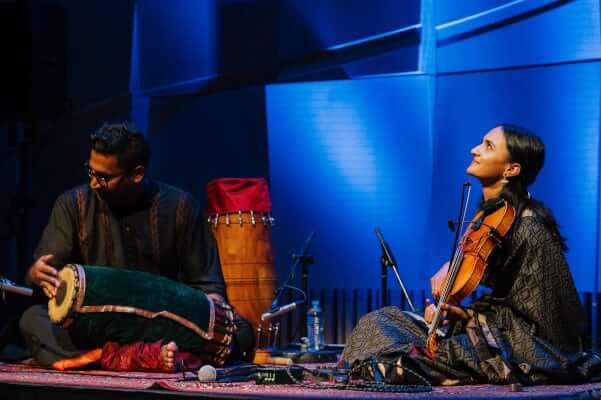 Raman and Sivarajah are part of a new generation of South Asian Australians bringing new perspectives to the classical status quo, blending Western and Carnatic classical styles in their performances to reconcile their compartmentalised identities.
Their piece 'A Classical Tapestry' merges Bach's famous Minuet in G with the Shankarabharanam and Keeravani raga, dipping in and out of major and minor scales, whilst 'A Bittersweet Reflection' draws on both Western and Carnatic approaches as a semi-composed, semi-improvised piece.
"As I've grown older, I've felt less like I need to code-switch. I've realised having this whole other identity is a strength, rather than a limitation, and I've allowed that to flow into my music," Raman says.
"There's something soul nourishing about this music," Raman says. "I'm juggling music, a Masters degree and a corporate job, and sometimes you dial down one part of your life to make room for others. I've realised if I dial down music too much, it makes me unhappy. It's my primary connection to culture and a way of expressing myself."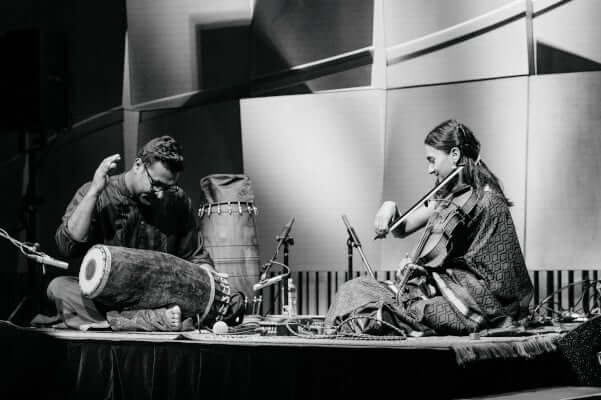 Inspired by the impact of music on their upbringing, Raman and Sivarajah have founded Gamaka, a not-for-profit organisation home to a thriving community of fellow young, bicultural South Asian Australians. Promoting grassroots engagement with Carnatic music, Gamaka is a valuable space for young South Asian Australians musicians to develop not only their practice, but their identity.
"When you learn Carnatic music, usually you only perform once at an annual school concert. There are few opportunities to challenge yourself," Sivarajah explains. "It's really hard to stay motivated and practice if you don't have opportunities to perform, and that's why we started Gamaka."
"These young people are learning music is an important aspect of identity," says Raman. "We want to provide a space for them to come together and show them there's a bigger picture, somewhere they can share their art and develop."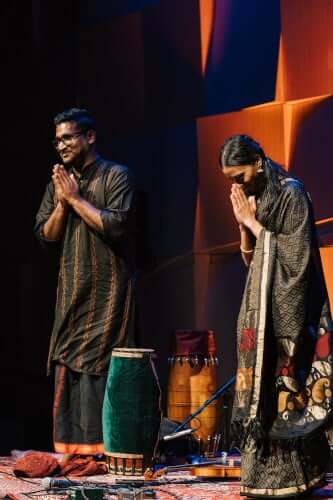 Blending musical traditions has also brought Raman and Sivarajah new insights around cross-cultural exchange and classical elitism. Much like the process of consolidating identities, the process of mixing two musical styles has been complex, experimental, and often uncomfortable, but they're both excited at the thought of innovation.
"There's a mental barrier in playing something different on the Mridangam," Sivarajah considers. "The instrument is so traditional sounding, and you feel like you're bastardising it by trying to play western music. The hard part is remembering it's just an instrument."
"You can do so much more working outside of the bounds of traditional understanding. Because it's an old music form, we make assumptions, but I think there's a lot of scope to do things differently."
Find out more about Gamaka via their website.
READ ALSO: Six young Aussie Desi musicians to follow