After 22 years, India's national carrier lands in Sydney on its state-of-the-art Dreamline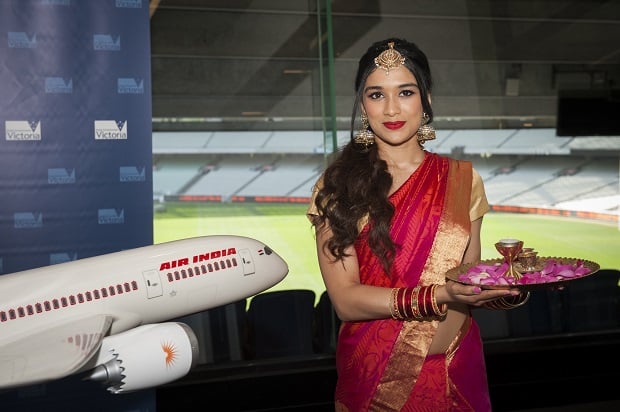 On the morning of Friday, August 30, the city of Sydney welcomed India's flag-carrier Air India to Australia following the landing of its inaugural Dreamliner flight at Kingsford Smith International Airport.
The touchdown of the Dreamliner passenger flight signified the return of direct services from Delhi to Sydney with Air India.
"Sydney airport is very pleased to welcome Air India back to Sydney after a 22-year absence," said Sydney Airport CEO Kerrie Mather. "This is a very special day for Sydney airport and our city".
Air India's new service AI 311 will be operating daily on a triangular route connecting both Sydney and Melbourne. On four days the flight will operate on the Sydney-Melbourne-Delhi route, and on the remaining three days the Melbourne-Sydney-Delhi sector.
With a shortened flying time of twelve and a half hours, these flights will also provide a major boost to trade, investment and tourist traffic between India and Australia.
With the trade and tourism relationship between India and Australia expected to grow by 44 per cent in the next five years, the introduction of Air India's direct flight services will benefit both economies.
According to Destination NSW estimations, Air India's new daily Dreamliner service will add more than 46,000 seats per year into Sydney, which could contribute more than $30 million into the NSW economy per year.
Mr Rohit Nandan, Chairman and Managing Director of Air India arrived in Sydney on board the first Dreamliner flight from Delhi on Friday morning, along with 200 other passengers.
Mr Nandan said that the relationship between the two nations has grown tremendously in the last 16 years and that the flights will be a major factor in strengthening this relationship even more.
"The flight is being looked at by both the Australian and the Indian travel market with a lot of enthusiasm and hope as it will not only serve the Indian diaspora in Australia and other countries like New Zealand and the Fiji islands, but also the student community from India to Australia and holiday travellers between India and Australia," he said.
Sydney itself is home to 217,000 people of Indian descent. It has Australia's highest number of residents with Indian ancestry, adding to the strong demand for direct services between Sydney and India.
According to Mr Nandan, NSW Premier Barry O'Farrell was very active in pursuing Air India to first land in Sydney. He said he was impressed by the proactive approach of the NSW government.
Mr Nandan also thanked Sydney Airport for their patience and claimed the process of getting the Dreamliner to Sydney has been a 'rollercoaster ride'.
"They (Sydney Airport) have been a constant partner and great help over the last three years," he said.
Speaking at a welcome ceremony at the Sydney airport, Destination NSW CEO Sandra Chipchase observed, "Air India's decision to schedule four direct flights per week to Sydney recognises NSW's status as Australia's first premier State for international tourism, visitation and visitor expenditure," she said.
"To year-end March 2013, more than 71,000 visitors from India travelled to NSW, spending more than 3 million nights – with most visitors coming to see family and friends, followed by holiday makers and business travellers," she added.
"India is Australia's largest unserved market. Last year, around 140,000 passengers travelled between Delhi and Sydney via Asian hubs," stated Ms Chipchase.
Delhi International Airport CEO, I Prabhakara Rao, said, "The Sydney service has been long awaited and with this, we have connected not just two great cities, but two great continents".
"Sydney has continuously ranked amongst our top five potential destinations, based on passenger demand, that needed connectivity. With the advent of a non-stop service to Sydney aboard Air India's Dreamliner, we are convinced that the market will only grow," he added.
The Dreamliner
Creating just as much buzz as the return of Air India, was the new Dreamliner aircraft, seen for the first time in Australian skies. Air India is one of the first airlines to introduce the Boeing 787 aircraft, or 'The Dreamliner'.
The Dreamliner is "the most modern, advanced and sophisticated plane in the world at the moment," Air India's Mr Nandan said.
It has a smaller noise footprint and features more comfortable cabins with larger windows and lie flat business class seats.
The airplane is also equipped with a system that senses turbulence and commands wing control to counter it, which means passengers can enjoy a smoother flight.
With 15% lower fuel consumption per passenger than any other aircraft off the same size, the Dreamliner is also very fuel-efficient.
The Dreamliner has the optimal size and range that allowed Air India to open up a new market in Sydney and gave them a 'first mover' advantage due to its lower fuel and operating costs.
Air India plans to expand its network even further in the coming months by connecting Delhi to Rome, Milan and Moscow with direct flights using the brand new Dreamliner aircraft.
Sydney's Indian community cheers
The local Indian community has welcomed the return of their national carrier with much pride. At a welcome event managed by Multicall Connexions, a Sydney-based multicultural marketing agency, the mood was upbeat as community members expressed enthusiasm to try out the product.
The general feel was that, if the service is good, the uptake will be favourable. (First-time Australia traveller 63-year-old Manjeet Kaur raved about the service on the inaugural flight. She flew from Delhi to Melbourne to visit her son).
Air India is also looking to attract other travellers such as those flying from London into Australia. Boasting the shortest connection between London and Sydney, it is hoping to get a fair share of the nearly 450,000 passengers that frequent this sector.
Meanwhile, Sydney hotels are preparing for an influx of Indian travellers. Leading the way is Accor, who were the first hotel group to introduce "Optimum Service Standards" for Indian inbound travellers. Currently, 12 Accor hotels have been accredited for Indian Optimum Service Standards in Sydney, the Blue Mountains, Melbourne, Gold Coast, Brisbane and Cairns. "Australian operators have in the past found dealing with the Indian market quite a challenge and that's why so few hotels have embraced the market," says Greg Brady, the Mercure Sydney Central general manager, who first went to India five years ago as a "pioneer".
"The key is building relationships with Indian tour operators and then ensuring the hotel suits the needs of Indian travellers. That means getting the food right, understanding the Indian culture and appreciating the specific needs of Indian travellers.
"The Indian market wants quality product and service. Translating materials into their local language isn't as imperative as it is for the China market, but getting the food and culture side of hospitality correct is really important".
"We've invested considerably in developing the market. We have our own Indian chef who cooks exclusively for Indian groups. We have the Curry Leaf Indian restaurant and we have a range of Indian items – such as poha, upma, marsala chai – on our breakfast buffet. Food is a really important ingredient in the Indian travel experience".
Another hotel that is seeking to build the Indian inbound business is the Fairmont Resort MGallery in the Blue Mountains. This hotel used to be "honeymoon central" for the Indian market in the 1990s and early 2000s, and with Accor now operating the hotel, it will once again retarget the Indian honeymoon, incentive and leisure markets.
Facilities offered under the Indian Optimum Service Standards program include: Indian dishes on the breakfast, restaurant and room service menus; hotel welcome kits in Hindi; Indian adaptor plugs; Indian television channels and newspapers; and Indian snacks and drinks available in the minibar.
It will be interesting to see if the airline can indeed fill up seats, but country manager Ravi Bodade is quietly confident that the relaunch will be successful.
Air India is offering special attractive promotional fares on the Sydney to Delhi route in both directions, which will be available for a limited period. Details are on the Air India website.
With reports by Vivek Trivedi and Rajni Anand Luthra