Reading Time:
5
minutes
Questions have been asked to NSW Minister of Multiculturalism Geoff Lee about recent incidents in Sydney's Indian community that have raised concerns about social cohesion.
These incidents have put the Indian community in mainstream spotlight in recent days. An unprovoked attack on a car driven by Sikh youth in Harris Park, caught on CCTV camera, was featured on Channel 7 news.
AT A GLANCE
Questions were raised on rising tensions among sections of the Indian diaspora at a Budgets Estimate hearing last week
David Shoebridge MLC highlighted the need to call out extremist elements
He also brought up questions of scripture instruction in NSW public schools
This followed other similar events including a car rally that police described as intending to drive past a local Gurdwara.
These events took place as the local Sikh community demonstrated in support of farmers in India agitating against the Government's new agricultural laws. Many local Sikhs hail from farming backgrounds.
On Friday 5 March at a Budgets Estimate hearing for the portfolio area Sport, Multiculturalism, Seniors and Veterans, Member of the NSW Legislative Council David Shoebridge asked the Minister and the CEO of Multicultural NSW Joseph La Posta about these events.
In response, Minister Geoff Lee referred initially to the incidents as 'difficulties from time to time' within an otherwise 'harmonious and cohesive community'. He went on to condemn the attacks and 'any racism or hatred or violence against our fellow citizens'.
Shoebridge, a social justice activist, has attended a number of Sikh community events recently and has an understanding of the issues stemming from the farmers' protests in India and in Australia.
In response to his persistent line of questioning, Minister Lee spoke about efforts taken by his office to resolve the serious matter, with community input as well as police help.
Backing him up, Joseph La Posta provided details of a joint statement facilitated by Multicultural NSW, produced after a meeting with eleven community groups, in which signatories pledged to 'work together to maintain trust and harmony across our community'.
The joint statement has since been put out by the attending organisations on their social media platforms, though it has failed to make a mark at the community level.
Significantly, Shoebridge pointed out at the hearing, two of the attending community organisations did not sign the joint statement – the Australian Sikh Association and Turbans 4 Australia.
"(They) did not sign it because, as I understand it, they did not believe it reflected the seriousness of the concern and the particular violence directed around their communities."
Talking to Indian Link, Amar Singh of Turbans 4 Australia agreed that the statement was not strict enough action.
"The statement was issued on behalf of a meeting held with Multicultural NSW and the Asst Commissioner of Police," he said. "But the new events sort of released the emotion in the community. (If you've seen the video you'll agree) it is a pretty violent attack by a group using baseball bats and some other sharp object. Someone could have been killed if the driver had lost control of the car. This madness has to stop. We need police action before we sign any statement. We are more than happy to sit down to meet any community group to discuss these issues."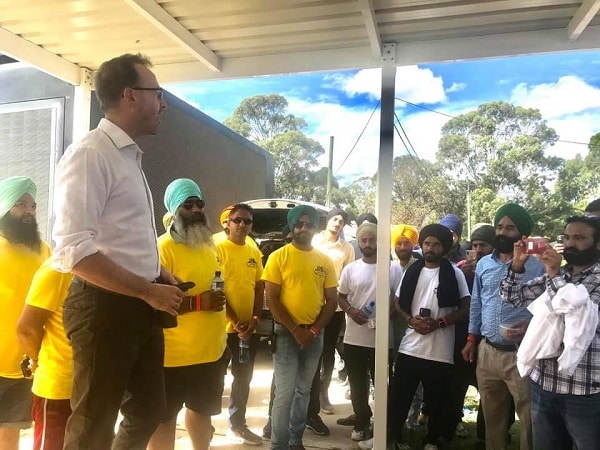 Shoebridge revealed at the hearing, "The assailants identified the reason they were smashing, was because of the occupants being from the Sikh community, and it came from a far-right extremist political position."
The Minister jumped in at this point to reject any form of "extremism – the right, the left, whatever it is, any violence within our community, and rest assured we are doing what we can in terms of addressing the situation."
La Posta agreed with the Minister's comment. "I am not sure a narrative around extremist views right now – far right or, potentially, what other members of other areas of the Hindu community are trying to do, which is make it a separatist issue – are necessarily helpful right now."
Shoebridge persisted. "I have not seen a single report of a violent act coming from any other part of the political spectrum from the Indian community, other than the extremist right-wing Hindu nationalist part of the community. Have you got any other incidents that you can report?"
Minister Lee interjected, "I think it is wrong to jump to conclusions, and we do not want to vilify any particular group at the moment. It would be wrong to classify until the police do their investigations and we have come up with the evidence to base our decisions on."
"Yes, but sometimes being the champion of harmony in the community involves naming and calling out extremist elements that are tearing down that harmony in the community," Shoebridge countered. "General platitudes may not be the best response if the violence and the aggression is coming from a known source."
Only days before, Shoebridge had spoken at a press conference on the issue, organised by the Australian Alliance Against Hate and Violence, in front of the Indian Consulate in Sydney. The Alliance says that Australia is not prepared for the rising threat of Hindu far-right extremism and urges government to take steps to counter it.
The Australian Alliance Against Hate and Violence (AAAHAV) held a Press Conference to raise awareness of the growing threat that Hindu far right extremism poses to social cohesion in Australia. Thank you @ShoebridgeMLC @turbans4aus @leerhiannon @MHaroon https://t.co/0LrZoCU9Uu

— The Humanism Project (@HumanismProject) March 2, 2021
At the hearing, Shoebridge also asked about a different but related issue. "Does Multiculturalism NSW have any oversight of the fact that one far-right Hindu extremist organisation called Vishwa Hindu Parishad, which is designated as a militant extremist religious organisation in the Central Intelligence Agency's The World Factbook, is providing scripture instruction in NSW public schools? Do you have any role in vetting that or speaking with the education department and reviewing who is providing scripture lessons?"
(The VHP and Bajrang Dal were in fact listed by the CIA as 'militant religious organisations' in 2018 but have since been removed from that list.)
La Posta offered to have a COMPLAN committee look into the matter and "whether there are elements of these sorts of divisive angles… permeating our Department of Education." (COMPLAN helps identify, assess and respond to issues impacting on community harmony in NSW.)
Circling back to the Indian community disturbances that began this debate, Amar Singh lamented, "The wider Indian community has lived peacefully in Sydney. It's a shame that now it's come to this: a simple act of protest against a government policy, that people are dragging religion in to."
With Bageshri Savyasachi
READ ALSO: Big Indians No Chief
---
Link up with us!
Indian Link News website: Save our website as a bookmark
Indian Link E-Newsletter: Subscribe to our weekly e-newsletter
Indian Link Newspaper: Click here to read our e-paper
Indian Link app: Download our app from Apple's App Store or Google Play and subscribe to the alerts
Facebook: facebook.com/IndianLinkAustralia
Twitter: @indian_link
Instagram: @indianlink
LinkedIn: linkedin.com/IndianLinkMediaGroup