Reading Time:
3
minutes
Since its launch in September 2014 as The Pink Sari Project, a group of dedicated volunteers has worked tirelessly in the cancer domain to improve awareness, increase screening uptake, educate community about early detection, and more importantly break the taboo that invariably surrounds a cancer diagnosis. They have offered culturally appropriate information and support in a range of dialects, with utmost care and sensitivity.
Offering support that is non-religious and non-political, Pink Sari Inc (PSI) President Shantha Viswanathan believes PSI's biggest USP is its ability to recognise and respect each family circumstance as unique, while being aware of individual parenting styles and appreciating the sensitivities of personal space and mindful interaction.
"We understand how diverse the cultural requirements of our communities are and conscious of parenting in a South Asian context," she observed.
Besides Shantha, the creative brains trust comprises Anoop Johar, Aparna Tijoriwala, Dr Rugmini Venkatraman, Rupa Parthasarathy and Viji Dhayanathan, with ambassadors Dr Usha Salagame and Padmini Peris, providing advisory support.
Moving beyond their initial mandate of improving breast cancer detection, PSI has successfully forayed into bowel and cervical cancer prevention and more recently provided vital assistance for a crucial but often overlooked linkage in the cancer journey – care for carers.
Beyond Pink thus emerged from the need to provide culturally appropriate and sensitive support to families touched by cancer.
As part of the yearlong project funded by Cancer Institute of NSW, PSI organised several on-line and in-person community outreach programs. Adopting a community-centric approach, creative writing, art, music and dance workshops as well as psychotherapy sessions were designed and delivered at various locations across the Greater Sydney region to nurture mindful self-awareness, equipping participants with appropriate skills and coping strategies.
READ MORE: Giving cancer patients more of a voice in their treatment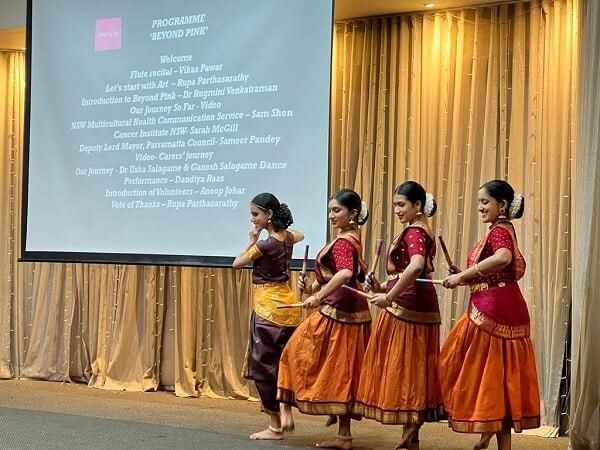 Beyond Pink celebrated its successful community delivery with a valedictory congregation at Parra Villa Function Centre, bringing together various stakeholders, including cancer patients, carers, medical professionals, representatives from peak government bodies, community groups and political leaders.
The beautiful ceremony commenced with a flute recital by Vikas Pawar and concluded with Raas Garba by students of Hamsa Venkat's Samskriti School of Dance.
Speaking on the occasion Sarah McGill, Deputy CEO and Director, Cancer Screening and Prevention, Cancer Institute NSW acknowledged the critical role Pink Sari has played in starting crucial conversations within Indian Australian communities about issues such as cancer risk and early detection, as well as the need to challenge any shame or stigma related to cancer that might add to people's suffering.
"Pink Sari's 'Beyond Pink' Project is an important step to providing much needed support to Indian Australians affected by cancer, and their carers. By working together, we can make sure these important messages reach the Indian Australian community," she added.
Lauding PSI for continuing to deliver milestone projects, Deputy Mayor of Parramatta Sameer Pandey pledged support for future initiatives.
While its empathetic grassroots approach has been a huge draw card in rallying the community, PSI's big success has equally been its ability to leverage both mainstream cancer support services such as Cancer Council NSW, Carers Gateway and South Asian medical professional networks. They hope to foster further collaborative relationships with mainstream Cancer services and centres.
To date, Pink Sari's path breaking work has also been recognised by a string of awards from local community organizations such as Rotary Granville, SEVA International, Boronia Multicultural Services and the Sri Lankan Australian Womens Network.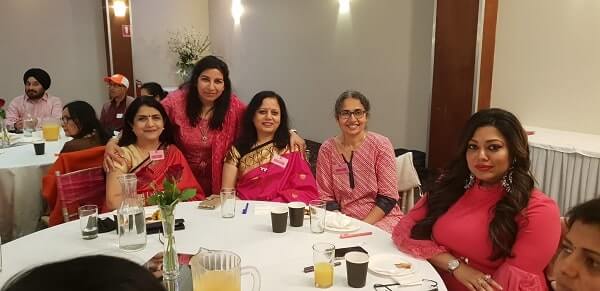 Shantha and her team are both touched and spurred on by the community response and recognition. Behind every Pink Sari is a chapraasi (peon), she often quips, gratefully acknowledging the support of their "other half". Without their constant inputs and constructive criticism, we would not be able to deliver, she admits.
PSI now plans to set up a much-needed support group for South Asian carers and cancer survivors and expand the existing volunteer base to be able to provide culture and language specific support across Sydney.
"It is now Pink Sari's challenge to grow this initiative by exploring innovative ways to secure resources and funding. This is a small step. We have many more steps to climb, and we hope our community and supporters will join us in this climb," she concluded.