It's a laugh riot on UZMA BEG's morning show on Indian Link Radio, and yet there are some life-changing moments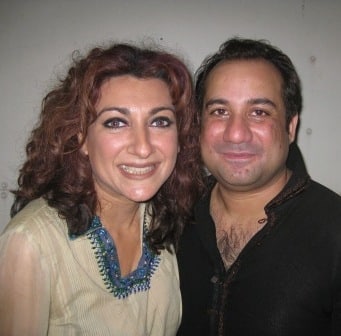 If you're looking for a show with a twist, tune in to Morning Masala!
On Mondays we go from jokes to poetry to discussions about children and what on earth to do with them once you've had them!
Every Tuesday on Morning Masala I tell you what to do with your kids so you're not tearing your eyes out when they're tearing your house down! Relax, I am not telling you what my grandma told me; I back my advice up with a lot of research.
Wednesday is a very special day on Morning Masala not because the weekend is two days away but because our show brings hope to a lot of people. I encourage people to share their troubles so all the listeners can come together as a family and lend a helping hand. Those who want to remain anonymous most certainly do. Together we've helped so many unfortunate men and women find their vocation in life!
What's a show without celebrities and gossip? That would amount to Mornings Without Masala! Hear the most candid interviews of celebrities and their juiciest gossip right here on Morning Masala! Well, they have it all, so I am sure they won't mind!
For instance my dear friend Rahat Fateh Ali Khan came on air with no notice at all and I can never thank him enough for that. People loved hearing "Rahat the Friend" on air as opposed to Rahat the celebrity who thinks before he speaks to the press. People were blown away by the humble man behind all that talent. His amazing self deprecating sense of humour shines through when you know him as closely as I do: people loved the interview! He told us the uncut version of how he lost his manager Chitresh Shivastav in a road accident while touring the US and how he escaped injury – or worse, death – by a last minute decision to sit with his musicians in their van.
Johnny Lever may be a comedian to the world but my listeners got to know him as a healer! The way he prayed for me day after day when I lost one of my twins was at the time unbelievable to me. The fact that he called me everyday of my pregnancy from Mumbai right from the time he met me to pray for me and the safe delivery of my baby, just blew me away! He may be a comedian to his fans but to me he's the most amazing healer who helps people through the power of prayer!
Wasim Akram agreed to give me a very rare interview where he was at his candid best and had me in stitches with his amazing sense of humour. My listeners got to know him for the direct, frank, candid and humorous person he is. He narrated the whole horror of being accused of match-fixing in the Cricket World Cup of 1999 when Pakistan reached the final and lost to Australia. He couldn't believe that his people were so ready to blame him for the team's loss instead of congratulating him for leading the team to the finals.
Cricketer Shahid Afridi gave only one personal interview when he was in Sydney last and that was to me. His spirit of charity and his compassion for the underprivileged really struck a nerve in me. When I got to know him better I realised what a lovely, obliging, fun loving and patriotic person he is.
I was thrilled to bits when multiple award winning director of award winning TV series East West 101 Peter Andrikidis came to my show along with lead actor Don Hany. We talked from Bollywood to Hollywood to all aspects of acting and directing including the episode of East West 101 I had acted in. It was a pleasure to act for Peter Andrikidis a treat to see him in action and learn so much from him. An even bigger treat was to have him on my show and get to know him as a person. Most definitely one of the most humble, down to earth and unassuming people I've ever met.
Some memorable moments:
* When the listeners all got together as a family and helped a grieving sister find her missing brother.
* When we helped a young man through wedding jitters and convinced him to go ahead with his marriage. Soon we heard all about his happily-ever-after from India!
* When we convinced a suicidal lady that the man she was giving it all up for was nothing but a fraud and life had much better in store for her!
….and many many more… each show done for people on Wednesdays is a memorable one because it changes someone's life.
So if you're looking for a show that gives you fun, laughter, seriousness, gossip and a chance to lose your inhibitions and be crazy, tune in to Morning Masala. We do it all here, from Antakshari to composing poetry together to making a movie script from just a couple of lines! Bored of your mundane daily routine? Well, no more… pick up the phone and participate your heart out. I am just a phone call away!
Morning Masala with Uzma Mon-Tue-Wed 9am-12 noon