Reading Time:
2
minutes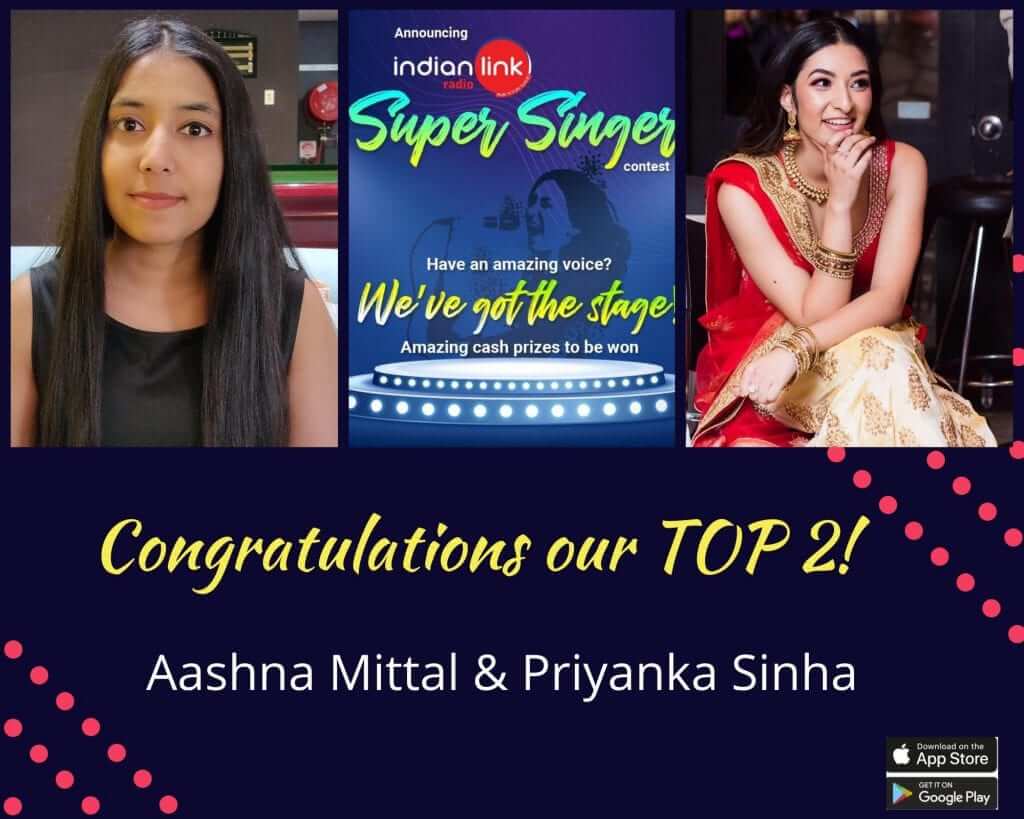 After two gruelling rounds of competition, Indian Link Radio's Super Singer Contest has finally come down to its final two contestants.
After the much-anticipated "Super Six" round held on 9 August hosted by RJ Ekta and Sagar, Aashna Mittal and Priyanka Sinha rose to the challenge to become the finalists.
They impressed the esteemed judges Radhey Shyam Gupta OAM, Dr Madhvi Mohindra, and Uday Bagri, in the much-anticipated Judge's Round.
"All the contestants were very talented and we see the best contestants getting into the finals," Radhey Shyam Gupta OAM said.
AT A GLANCE
Indian Link Radio's Super Singer Contest is down to its two finalists: Aashna Mittal and Priyanka Sinha
The much-awaited finale will take place on on 15 August starting 10 AM.
Tune into the Indian Link Radio app to find out who will emerge victorious!
The top 6 contestants were judged on a variety of parameters such as voice quality, pitch, and diction. Thousands of people tuned in from different parts of the world like Singapore, India, US, and the United Kingdom, eager to find out who would receive the exciting cash prizes of the Super Singer contest.
Priyanka Sinha, who sang "Moh Moh ke dhaage" from the film Dum Laga Ke Haisha (2015) for judges choice round, was thrilled to hear the news that she was in the finals. Coming from a musical family, she began singing from a young age. In fact, living with her family in Sydney, Bollywood music and movies was the way she learnt Hindi in the first place!
"I am very proud that I have made it this far. I would be so humbled and honoured if I were to win," she said. "I would love to continue singing and maybe get the community involved in singing shows, competitions and fun activities to keep spirits high during these tough times and stay 'linked' with back home!"
The talented Priyanka was a chorister at the Australian Girls' Choir from the age of 5 years till she was 18 years old. She has also learnt Indian classical music for about a year.
Meanwhile, the other young finalist, Aashna, is a postgraduate student in Sydney. She performed 'Mohe rang do laal' from the film Bajirao Mastani (2015) in the judges choice round and impressed with her classically trained voice.
Aashna says her guru Shubha Banerjee is the reason for her love of music, and credits this competition with keeping her connected to this passion despite her academics.
"Getting recognition of your skills motivates you even more. But reaching this far has also been a great journey and has sparked the same dedication in me as it did eight years back," Aashna told Indian Link. "I really look forward to rehearsing more till I do justice to my favourite Shreya Ghosal songs!"
Both Aashna and Priyanka will perform in the Indian Link Studio on 15 August for the exciting finale starting 10 AM. The performances will also be streamed live on the Indian Link Radio Facebook page.
Tune in to Indian Link Radio to find out who will emerge victorious!
Have you downloaded the Indian Link Radio app yet?
Android – https://bit.ly/33jWdG7
iOS – https://apple.co/2XkbhQn