Reading Time:
2
minutes
As the world looks towards a cleaner energy future, hydrogen technology and the development of green hydrogen will play a crucial role. Dr Gurpreet Kaur and her team are at the forefront of new technology to produce green hydrogen, and their work is contributing to a greener and more sustainable future.
The development of hydrogen technology is becoming increasingly important, and one of the most promising technologies being developed to produce hydrogen is the Solid Oxide Electrolysis (SOE) technology developed by Australia's Commonwealth Scientific and Industrial Research Organisation (CSIRO).
Adelaide based Indian-Australian Dr Gurpreet Kaur, a senior scientist at CSIRO and a strong advocate for clean energy, is leading the team.
Dr Kaur says the SOE technology efficiently produces hydrogen with low operating and capex costs, as it uses non-noble materials and waste or low-cost heat as an energy input. The technology can also use captured CO2 and H2O to produce syngas – a carbon-neutral fuel that other technologies cannot produce.
Dr Gurpreet Kaur moved to Australia from India and acknowledges that balancing motherhood and career has been challenging. However, she is grateful for the continuous support from both home and CSIRO.
"My earlier studies at IIT Delhi and my hard work under the supervision of Prof. Suddhasatwa Basu made me a strong candidate to grab such opportunities in Australia. Though it has been challenging as a mother of two growing kids, continuous support from both home and CSIRO has been tremendous," Dr Kaur told Indian Link.
However, there are still challenges to scaling up this technology and bringing it to market. While CSIRO's technology is modular and scalable to a multi-kW scale, the integration of such systems with renewable sources of electricity is currently in trials with leading industrial partners.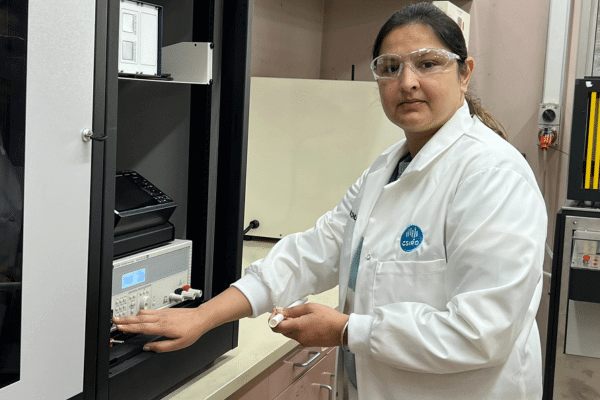 Despite the challenges, Dr Gurpreet Kaur believes that the impact of this technology on reducing greenhouse gas emissions could be significant. "Electrolysis converts water into hydrogen (and oxygen), which can help to reduce emissions significantly. However, electrolysis requires a large amount of electricity, and electricity production may result in emissions. Our SOE technology requires less amount of electricity for the production of hydrogen," explains Dr Kaur.
The technology can also use H2O and captured CO2 to produce syngas – a carbon-neutral fuel that other technologies cannot produce.
Dr Kaur also highlights the potential for SOE technology to produce hydrogen, syngas, and oxygen, which are the feedstocks for multiple value-added products such as gasoline, methanol, and dimethyl ether.
As renewables are emerging in the market globally, there is strong interest from industries to use green hydrogen in the feedstock of various value-added products. However, Dr Kaur says the adoption and integration with existing technologies are still in the early stages.
"For example, by 2030, the Indian government has set a target of 500 GW installed renewable energy, so penetration of these technologies for green hydrogen will be emerging fast," she said.
Read More: Indian-origin research scientist is helping Australia and India tackle environmental issues