Community theatre presents Natak Vihar, a series of skits that explore the dynamics involved
They carry the body-shaped bundle across the stage, humming low and reverential as they go. They lower it to one side and it stays there for the rest of the performance; it remains out of sight of most of the audience but its message, however brief, can't be denied.
Women die from domestic violence.
Two women are now killed every week in Australia. The body on stage symbolises these women, says Dr Rosemary Blight, but it also represents the fact that "there are many deaths apart from physical death".
Rosemary, Foundations Studies Drama teacher and Subject Leader at Melbourne University, has trained non-actor volunteers from the community to stage a series of skits as part of 'Natak Vihar', a project conceived by the Australasian Centre for Human Rights and Health and funded by the Victorian Multicultural Commission.
The performance not only explores the dynamics of different types of domestic violence, but invites the audience to participate as well.
"You are going to give us the answers," Dr Manjula O'Connor, executive director of the ACHRH declares, looking around the small but packed theatre of the ISKCON Melbourne Temple in Danks Street, Albert Park.
She explains that the audience will be called upon for ideas and possible solutions during and between the skits, which will look at domestic violence in Indian families – although Rosemary was quick to point out that domestic violence is "not just an Indian problem". "The Indian community is taking a lead on this," she says.
Nevertheless, I'm both fascinated and apprehensive as to how it will all go down.
But as the scenarios unfold, an unexpectedly open and eager discussion unfolds with them. After the scene on "Arranged Marriage", where a boy and girl are coaxed into marrying for no other reason except that they'll be "well-settled" – with dysfunctional consequences – several Indian audience members say they recognise this scenario.
Bits of scenes are replayed by the actors as the audience discusses honour and shame, choice and obligation, culture and love, gender equality and patriarchy, violence and jealousy. The actors even rerun scenes, completely off the cuff: in one, we see a working daughter-in-law treated like a servant and an ingrate by her mother-in-law, with no support from her husband, who eventually hits her for calling his mother "troublesome".
At the audience's suggestion, they rerun the scene so the mother-in-law asks her to put her feet up after work, and obligingly goes to make her tea. "This is all very nice, but this never happens in India," an Indian man quips, eliciting wry laughter. "He needs to stop being a 'Mama's boy'," a young Indian woman beside me says.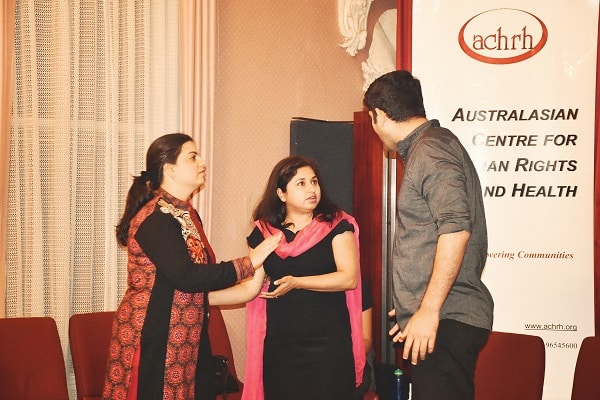 The last scenario, in which a young woman is killed by her jealous, paranoid husband, has the most palpable impact. I can see one of the other actors, not in the scene, crying silently as the girl is choked slowly to the floor, and the scene finishes on her weeping parents. The audience too is completely silent. There is no applause. And the discussion that follows, around the nature of male jealousy and insecurity, is the most intensive and contentious one yet.
This is theatre at its most intimate, raw, and powerful. Because everyone in the room is a participant in this performance, including the actors, who offer their own thoughts during the discussions, and as they replay and rerun scenes.
And as we watch marriage being treated as an obligation and financial investment, women disempowered by both men and other women, and men allowing their insecurities to build up until they become deadly, we recognise what's happening. This is not just a performance for any of us.
It's all real.
***
Photos: Hinal Arya
Read about SAHELI's Keeping Families Safe program