Reading Time:
6
minutes
Last week, the Australian Prime Minister Anthony Albanese visited India, making him the first Prime Minister to land on Indian shores since 2017. The visit was an important step in strengthening bilateral ties between the two countries, with important progress being made in areas of education, business, defence and culture. Here's what you need to know.
Howzzat for some cricket diplomacy?
Mr Albanese got together with Mr Modi – and some 100,000 other people at the Narendra Modi stadium in Ahmedabad – to watch the first day's play of the fourth cricket test match between India and Australia in the Border-Gavaskar Trophy series.
"It was quite simply one of the honours of my life and will be an incredible memory," he said later.
The PM Albanese's India visit also commemorated the occasion of 75 years of test cricket between Australia and India, going back to when Donald Bradman was the captain of the first Australian cricket team at the time.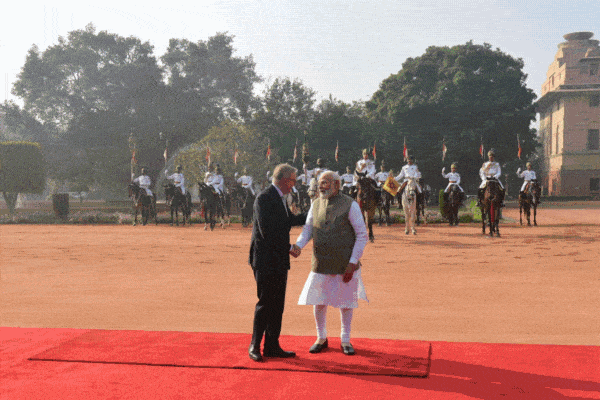 He met with the cricket teams of both nations along with Indian cricket legends Sunil Gavaskar, Harbhajan Singh and VVS Laxman.
The crowds cheered during the two prime ministers' lap of honour around the stadium on a cricket-themed chariot. It was not without its detractors, though, for whom it was a rather unusual start to a day out at the cricket.
Later the two leaders toured the hall of fame, taking in a new exhibition featuring a photo gallery of mementos from 75 years of India Australia cricket history.
Do me a favour let's play Holi?
Prime Minister Anthony Albanese was delighted his visit coincided with the festival of Holi, as he was greeted with warmth and a bit of colour by senior Indian political leaders, which is customary during the festival.
"This isn't my first Holi – it's definitely a highlight on the Australian festival calendar – but it is my first in India," the PM said. "Holi is a chance to renew ourselves – and each other. And it's little wonder it has been so heartily embraced back home in Australia, by people of all backgrounds."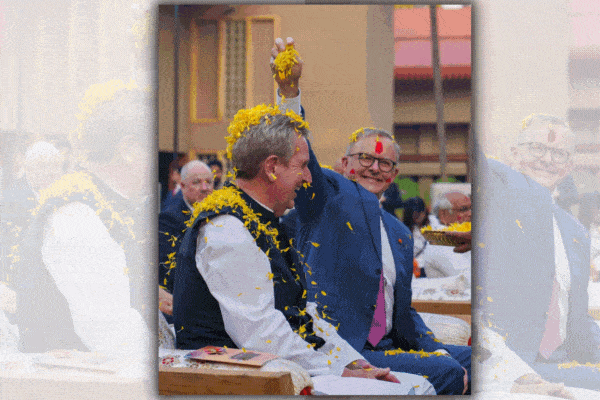 He took the opportunity to highlight and recognise the meaningful contributions of the Indian-origin community back in Australia and re-enforced the strong, historical bond that the two nations share.
"They've given so much – and, in doing so, live out the message of Holi: making connections, building communities and enriching lives," he said.
"And I know that when the gulal we scatter today has drifted away, the ties between us – hearts and minds, family and friendship – will endure and flourish."
New and exciting strides in education
A bit of cultural immersion ticked off the list, it was straight down to business, with education the first item on the agenda. A new Deakin University initiative was announced – the first overseas university to launch a branch campus in India. The new campus will be built at the GIFT district near Ahmedabad in Gujarat, and will offer students the opportunity to study cyber security and business analytics courses with Deakin. Along with Deakin, the University of Wollongong has also signalled intentions to establish a campus at GIFT City.
Another important educational milestone between the two nations was the mutual recognition of equivalent educational qualifications, thanks to the finalisation of the Australia-India Education Qualifications Recognition Mechanism.
"This new mechanism means that if you're an Indian student who's studying – or about to study – in Australia, your hard-earned degree will be recognised when you return home," said PM Albanese.
📰 | #Deakin will become the first university in the world to open an international teaching campus in India.

The campus in the heart of the smart business district GIFT City will give students access to future-ready postgraduate courses.

🔗 https://t.co/nPpqaV8ZZO pic.twitter.com/FJrlmoGPTy

— Deakin University (@Deakin) March 8, 2023
"If you're a member of Australia's large Indian diaspora, you'll be able to feel more confident that your Indian qualifications will be recognised in Australia."
A new scholarship program called the "Maitri Scholarships", aimed at Indian students intending to study in Australia for up to four years was announced during PM Albanese's India Visit.
It's important to remember that education remains Australia's largest services export to India and as of the end of January 2023, almost 70,000 Indian students were studying in Australia, making them the second largest cohort of international students.
A closer defence alliance
The PM took the time to climb aboard the INS Vikrant, the first aircraft carrier built in India, and met with the Indian naval personnel on INS Vikrant who have exercised in Australia.
Australia will be hosting the Malabar operations for the first time on its shores later in the year, making security in the Indo-Pacific an important focus for PM Albanese during his India visit.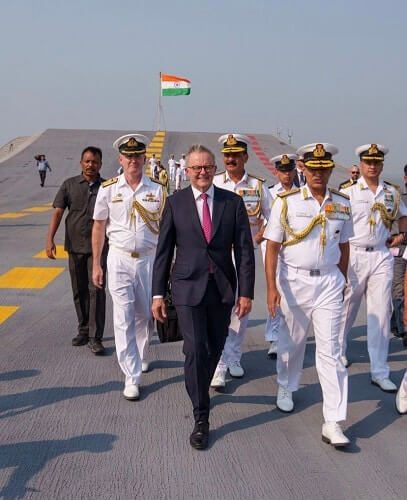 "We've had the participation of Australian defence personnel here in India, and exchange the other way around as well. That builds on the people-to-people relations that we have with India," said the PM.
He added, "Prime Minister Modi and I discussed the increasingly uncertain global security environment and committed to strengthening the Australian-Indian defence and security partnership to address shared challenges and work towards an open, stable and prosperous Indo Pacific."
Welcoming the "significant and ambitious progress under the defence and security pillar of our relationship," he referred to India as a "top-tier security partner" for Australia.
Business – the final frontier?
PM Albanese attended a roundtable with CEOs and business leaders from Australia and India to discuss new trade opportunities under the Australia-India Economic Cooperation and Trade Agreement (ECTA), and future areas of growth for trade and investment. He also witnessed the signing of a Memorandum of Understanding (MoU) between the Business Council of Australia and the Confederation of Indian Industry (CII).
"You are Australia's sixth largest trading partner, we can do so much better than that, I have no doubt," he said. "And as you rise with the extraordinary growth in development that we've seen over recent periods, we are very jealous of your economic growth rates."
He added, "This is the most serious business delegation that I've seen leave Australian shores. [Our] relationship is growing, but it has much greater potential. In the last seven years, we've seen our two-way trade double," said the PM. "India has manufacturing scale, has high domestic demand, a growing middle class, and enormous research capacity. Government investing in Australian business literacy is really important to leverage the opportunities which are there. So I see this as, in my first year of my prime ministership, a first step in what will be an era of unprecedented growth in our relations."
Jab Dabbawalas met Masterchefs! pic.twitter.com/Stv95WUWjZ

— Piyush Goyal (@PiyushGoyal) March 9, 2023
New cooperation was also announced on solar and hydrogen technologies, towards a Renewable Energy Partnership. This includes an Australia-India solar taskforce, co-chaired by Australian solar expert Professor Renate Egan and eminent Indian scientist Professor Anil Kottantharayil.
The nations are also set to work more closely on supplying critical minerals as India seeks to meet ambitious goals of 50 per cent renewable energy and 30 per cent electric vehicle usage by 2030.
PM Albanese's India visit has seen an extension of the Australia-India Critical Mineral Investment Partnership. Five target projects have been identified – two lithium and three cobalt – which should start the process of building a sustainable supply chain between India and Australia for battery materials.
Lithium is crucial in the transition to a carbon-free world. The lightest metal in the world, it is essential in the manufacture of batteries for EVs and the digital devices we have to come rely on so heavily. Australia provides 53% of the world's lithium.
At the Annual Leaders' Summit, PM Albanese and his Indian counterpart PM Narendra Modi announced their intentions to conclude the ambitious Comprehensive Economic Cooperation Agreement (CECA), which will build on the landmark trade agreement signed last year. The CECA will be a transformational deal that will create new jobs and opportunities in both countries. Mr Albanese said he was hopeful the deal would be wrapped up by the end of the year.
On Bollywood (…and 'Aussiewood')
Both Prime Ministers also discussed the potential of an India-Australia Audiovisual Co-Production Agreement to support skilled jobs, creative exchange, and the development of culturally significant screen projects in both countries. Projects in both countries will get access to government funding including grants and tax offsets.
Australia and India will collaborate on an audiovisual co-production deal designed to "bring a slice of Bollywood to Brisbane" following the prime minister's whirlwind tour of the Asian economic powerhouse.
Religious harmony
The recent vandalism against Hindu temples in Australia also came in for discussion. Mr Modi raised these concerns with Mr Albanese, who assured that the full extent of the law will be used to bring perpetrators to justice.
"Australia is a country that respects people's faiths," Mr Albanese said. "We don't tolerate the sort of extreme actions and attacks that we've seen on religious buildings, be they Hindu temples, mosques, synagogues, or churches."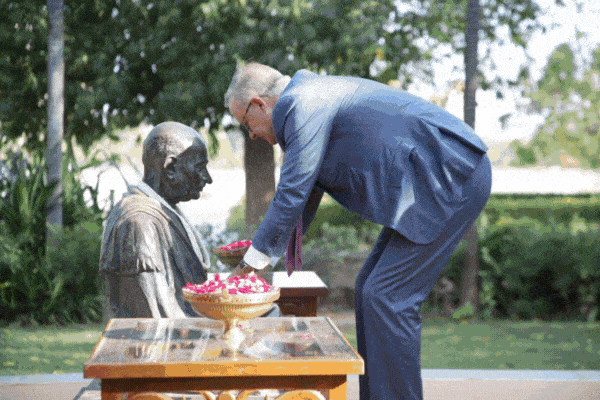 As well…
… Mr Albanese can tick off on his India bucket list:
· coming face to face with the Mahatma at Sabarmati Ashram
· leaning to say "Kem Cho" in Ahmedabad
· opening a dabbawalla delivery lunch box in Mumbai (with instructions from Piyush Goyal, India's Minister of Commerce and Industry) and
· hearing some homegrown Aussie hits get the sitar treatment.
Read More: Albanese visit: The view from India