Reading Time:
5
minutes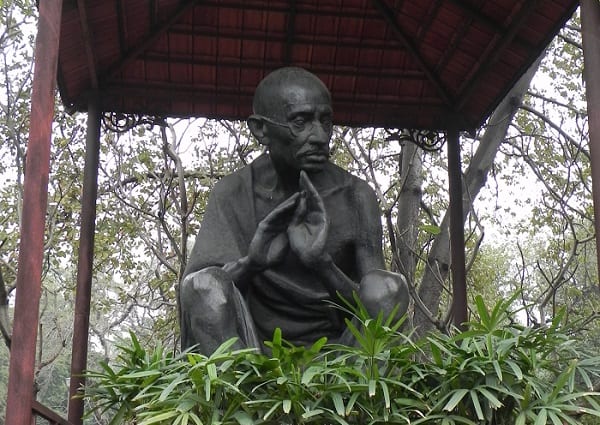 When someone asks which site in India's capital Delhi generally ranks at the top of the itinerary of any visiting heads of the state and world leaders, from Queen Elizabeth and Crown Prince of Abu Dhabi to Barrack Obama and Nicolas Sarkozy, the answer is unmistakably Raj Ghat – the memorial of Mahatma Gandhi on the bank of River Yamuna where the great leader was cremated on 31 January 1948, the day after his assassination.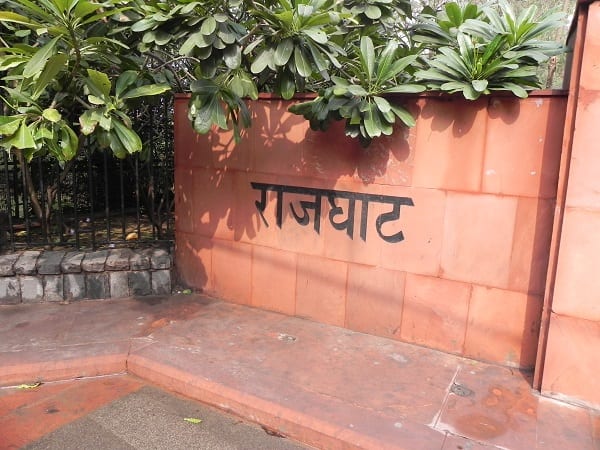 The simple square platform in black marble with an eternal flame burning on the eastern side with a low stonewalling on all sides is also one of the capital's most tourist-infected sites. Over 10,000 visitors during pre-COVID times dropped by daily to pay homage to the humble man who is treasured as the Father of the Nation in India.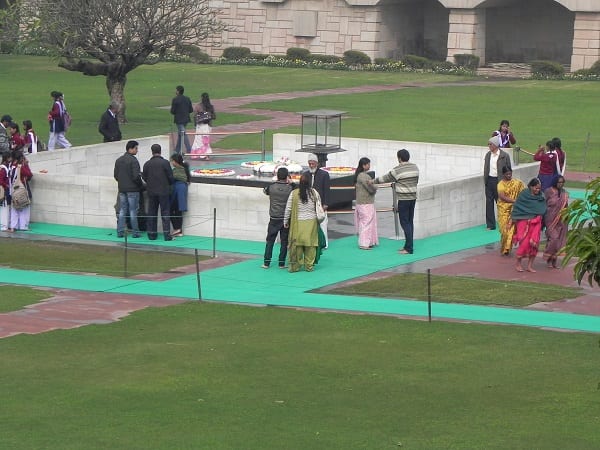 Admiration for him has not waned even after 72 years of his death. Many from today's generation are keen to take an insight into his life, particularly to know what exactly this scantily dressed man with round rimless glasses and a bamboo stick in hand achieved to have his statue in almost every country in the world and to be remembered as an emblem of peace. Interestingly, he never received the Nobel Peace Prize despite being nominated five times.
Born in Porbandar in the present-day Indian state of Gujarat in 1869 as Mohandas Karamchand Gandhi, he lived his life in different parts of undivided India and overseas, mainly in South Africa. Gandhi first arrived in Delhi at the age of 45 in 1915, following his permanent return from South Africa. He then only stayed for a couple of days at the famous St Stephens College as a houseguest of then-principal Sushil Kumar Rudra. Later, his first call to Indians for non-cooperation with the British was issued from the halls of this hallowed educational institution where he also addressed the students.
READ ALSO: Mahatma Gandhi's way of life still followed at this temple
Though he never lived in Delhi for an extended period, Gandhi fans nominate this historic settlement as one of the best venues to know more about him. This is because the city is host to two significant museums that exhibit a decent account of his life.
Located opposite Raj Ghat, the National Gandhi Museum, undoubtedly one of the city's best academies, draws visitors to showcase a rich assortment of original books, relics, documents, journals, audio-visual clips, photographs, art pieces and a lot more, all closely connected to the great man. Among several memorabilia, the ones that attract attention are the audio visual collections which include several of his recorded speeches, and a special photographic gallery for ten phases of his life, from childhood until moving to Delhi in September 1947, with descriptions for each phase.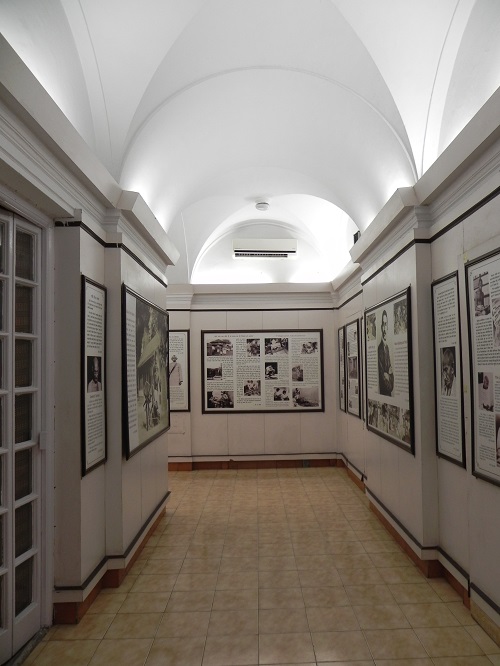 During his stay in the city for the next 144 days, the sprawling Birla House on 5 Tees January Marg was his home.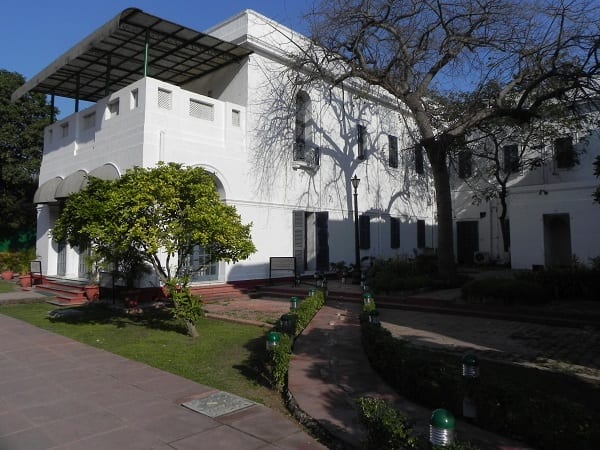 Today the revered complex, called Gandhi Smriti – a National Memorial in Delhi- is open to the public to engage with many of his legacies during the last period of his life. It was in the praying ground of this building he was felled by the assassin's bullets. A martyr's column stands today on the spot where he was shot.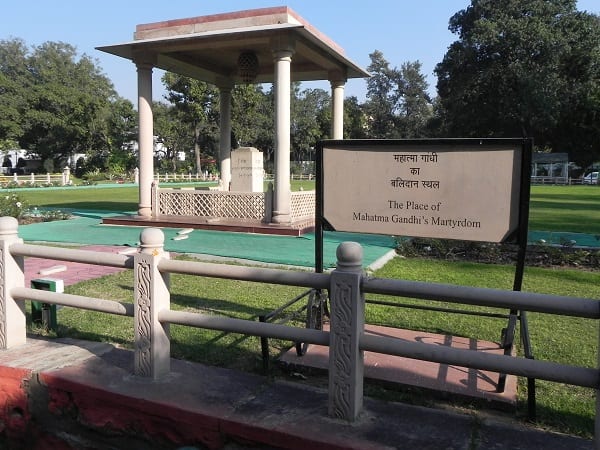 The building and the landscape have been preserved as they were 72 years ago. Nothing has been changed in the room where he slept until the day of his assassination with all his possessions – glasses, walking stick, a knife, fork andspoon, charka and the rough stone he used instead of soap – on display.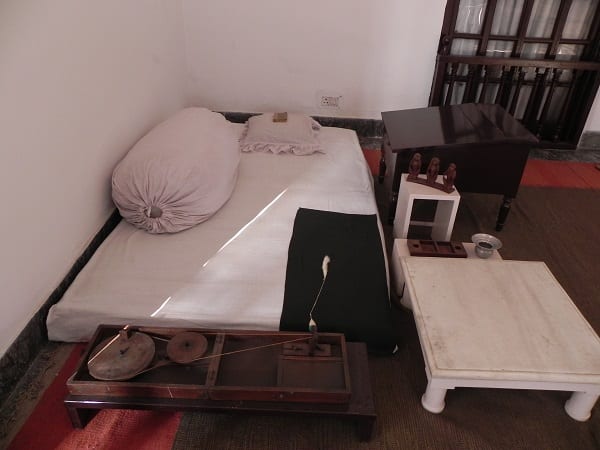 An ordinary mattress on the floor was his bed with a low wooden writing desk by its side, portraying how simple his lifestyle was. The building entrance gate itself is of great historical significance, as it was from its top Jawaharlal Nehru, then India's Prime Minister, announced the passing away of his mentor by saying "The light has gone out of our lives and there is darkness everywhere".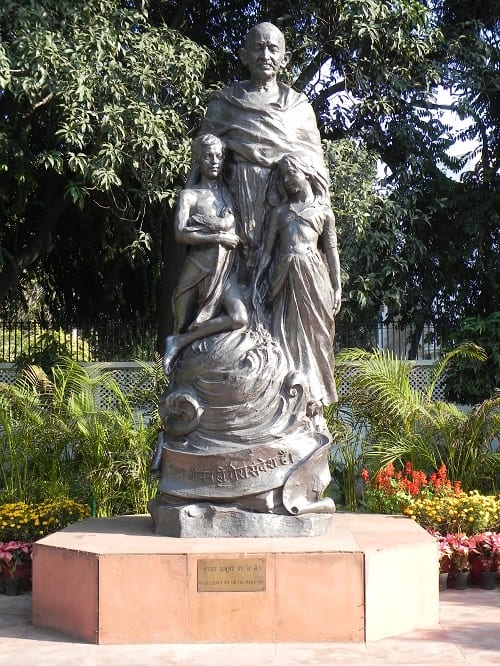 On show inside the building are numerous photographs, sculptures, paintings, frescos, inscriptions on rocks, and relics pertaining to Gandhi's life. These exhibits not only provide a deep insight into the man but also depict the story of India's fight for independence from the British.
This rare assembly of visuals at both the museums are of great educational value to the newer generation to understand India's struggle for independence but also to know hordes of other personalities who worked with Gandhi and contributed for India's independence, names of many of whom unfortunately have been wiped off from recent memory.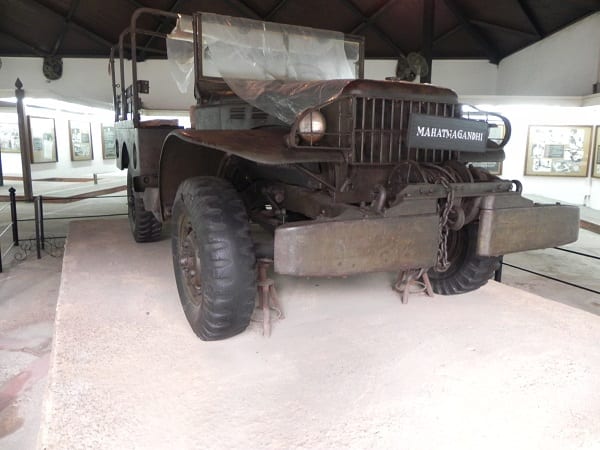 The vehicle which carried the body of Gandhi from the Birla House to the cremation centre still stands at the compound of the National Gandhi Museum. It reminds many visitors of the opening scenes from Richard Attenborough's 1982 film Gandhi where this vehicle slowly snaked along the streets of Delhi with a sea of people in procession.
What's interesting to remember from the scene is the commentary by a radio broadcaster describing Gandhi as a private man in a loincloth with no wealth, property or official title, who was not a ruler of any vast land, commander of an army or owner of any scientific achievements or artistic gift, yet highly esteemed by ordinary people, dignitaries and governments from all over the world.
Almost every visitor taking an insight into Gandhi's life will no doubt agree with this extraordinary testimony.
TRAVEL NOTEBOOK
Getting There – During pre-COVID period several airlines had regular one-stop flights from Australian capital cities to Delhi, Air India operating direct flights from Sydney and Melbourne
Stay – No shortage of staying outlets to suit budget from luxury and budget hotels and backpacker hostels to Airbnb accommodation
Museum Info Check www.gandhimuseum.org and www.gandhismriti.gov.in
READ ALSO: Mahatma Gandhi's glasses to go on sale in UK