Reading Time:
2
minutes
ANZ Banking Group raised more than $150,000 for Cancer Council Victoria in a Diwali fundraiser at their Melbourne office on 8 November.
The colourful celebration with music, dancing, pageantry and delicious food and drinks marked the company's first Diwali fundraiser since COVID-19 emerged.
ANZ Tribe Performance Lead Rathika Rahuraman, who organised the fundraiser, told Indian Link the event was held in honour of a former ANZ employee.
"This year's charity, Cancer Council of Victoria, was chosen in memory of a longstanding colleague and friend who passed away after battling cancer," Ms Rahuraman said.
"To Andrew Campbell, our beloved team member who has sadly departed far too soon due to cancer, this event is dedicated to you and we hope we have made you and your family proud," ANZ employee William Teittinen posted on Linkedln.
Fundraising included auctions for coffee and coaching sessions with ANZ executives and leaders.
"There were so many great moments and watching (ANZ CEO) Shayne (Elliott) leaping onto the stage with gusto in support of the event and our charity partner was definitely gold," Mr Teittinen posted.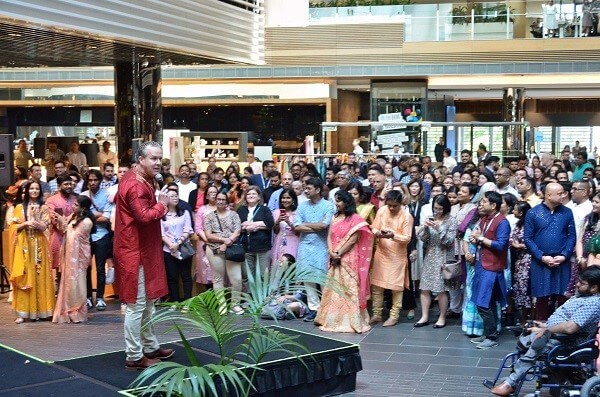 ANZ CEO Shayne Elliott said the company celebrated with an incredible day of activities.
"I'm incredibly proud of the Diwali organising committee who used the celebrations as an opportunity to raise more than $150,000 for Cancer Council Victoria," Mr Elliott posted on LinkedIn.
The Cancer Council Victoria said they were grateful for the donation.
"Thank you ANZ for your incredible support, all funds raised will go towards life-saving cancer research, prevention & education programs, and support services for those impacted by cancer now," the Cancer Council Victoria said in a post on LinkedIn.
ANZ employees have combined Diwali celebrations with donation programs and fundraising since 2014.
Since then, the company has raised more than $300,000 for various charities, including the Lighthouse Foundation, Make-A-Wish Australia and Beyond Blue.
READ ALSO: ASX celebrates Diwali with diyas and dance