Mere prabhu, mujhe itni unchaai kabhi mat dena, gairon ko gale na laga sakun itni rukhai mat dena (God, don't ever give me such heights that I'm not able to embrace strangers).
Abbas Raza Alvi narrated the first lines of Vajpayee's book of poems Meri Ekyavan Kavitayen with the ease that can only come from a genuine love for poetry. "Vajpayeeji's words are replete with irony, pain and empathy for the common man's problems," Alvi said.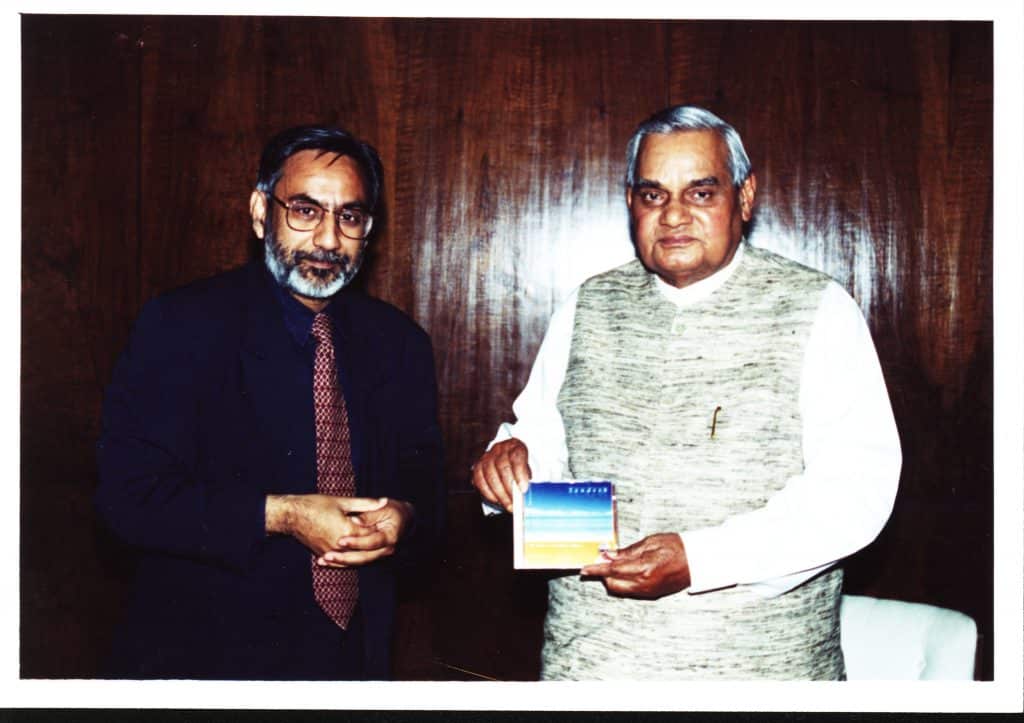 He was speaking on Indian Link Radio in a tribute to the former Indian prime minister who breathed his last on 16 August 2018. The Sydney-based poet and musician set to music a select sample of poems from Vajpayee's book, in an album entitled Sandesh. "The selected works espouse the message of peace and a better future for the world, hence the name Sandesh," Alvi explained.
The album features local artistes Alka Kumar, Anita Barar, Gargi Mukherjee, Jaya Sharma, Pushpa Jagadish, Rachna Bhatnagar, Anand Arora, Anup Kumar, Ashok Chetty, Pupinder Mintu, Riaz Shah, Surender Bhardwaj, Iqtedar Abdi, Michael Raj, Zafar Siddiqui, Namit Bimbhat and Diana Kropman.
Alvi had been influenced by the late leader's works in poetry for a long time. The project Sandesh commenced in 2001, he revealed, with the blessings of the man himself, and concluded with a launch in Sydney in 2003.
Just as much as his poetic works, Alvi was influenced also by Vajpayee's efforts in building bridges with neighbouring Pakistan.
"No other political leader made a more earnest effort to thaw the tense relationship between India and Pakistan," Alvi observed. "When I met him in 2003, he told me how much he liked one of the compositions, Jung na hone denge (We won't stand for war). He was appreciative of the fact that I had roped in both Indian and Pakistani singers for this song."
Bharat Pakistan padosi saath saath rehna hai,
Pyaar karen ya vaar karen dono hi sehna hai.
Vajpayee the poet, Alvi recalled, was not very different from Vajpayee the politician. He talked about the ordinary man and his daily struggle, but he talked about politics in his poems too. "Desh ki rajdhani me Sansad ke saamne dhool kab tak udegi? Meri ankhen band hain, mujhe kuch dikhai nai deta (How long will dust fly in front of the Parliament in the nation's capital? My eyes can't see anything). That's Vajpayeeji talking politics. What other politician writes about things like these?" Alvi asked.
Giving music to Vajpayee's poems was no mean feat, but Alvi insists that it was a gratifying experience to breathe life into the words of the man who gave so much, both to the country and the common man.
"His death is a great loss to us. Vajpayeeji was a Prime Minister for Hindus, Muslims, Christians, Parsis, everyone. He was India's true Prime Minister."
Sandesh's Team
Music composer: A R Alvi
Singers / Artists / Voice: Alka Kumar, Anita Barar, Gargi Mukherjee, Jaya Sharma, Pushpa Jagadish, Rachna Bhatnagar, Anand Arora, Anup Kumar, Ashok Chetty
Pupinder Mintu, Riaz Shah, Surendrer Bhardwaj
Production Support: Iqtedar Abdi, Michael Raj, Zafar Siddiqui
Art Work: Namit Bimbhat, Diana Kropman
Listen to Hum Jung Na Hone Denge.